"How can you write for my industry?"
It's probably the number one question we at Weidert Group get from customers early in the process of working with our team. There are a number of fears industry marketers face in working with an agency, and letting a team write on behalf of their company is a big one. The truth is, no agency can really do a niche industry justice when they work on the outside of it. That's why we focus in on just four specific industries and develop rich research practices to become experts in the field. Learn more about our empathetic approach in this video:
Using Vertical Depth & Research To Develop Powerful Client Content - Transcript
We get asked this question a lot: "How can you write for my industry?"
Say we're pitching a new account, and it's company is in an industry we know only a little bit about, which happens occasionally.
And, they say, "Well, Weidert Group, we can't do a blog because we'd need you to write it, but you don't know how to write about it because you don't know our industry."
We've gotten very good at writing about those industries that we focus on:
Insurance & Financial

Equipment Manufacturing

Distribution

A/E/C Industries (Architecture, Engineering, and Construction)
We take what we know about those, and we can usually apply a significant amount of knowledge to a new industry. You're talking about understanding vertical markets and understanding customers, go-to-market strategies, how you make money, where you make money, etc. But for the things we don't quite understand—the nuances of an industry—we just know how to research. We've done it a lot; we can do it quickly. We know how to get at those nuances of your business and truly understand it to be able to sell it to your customers and your prospects.
Empathy for the Buyer's Journey Drives the Content Marketing Process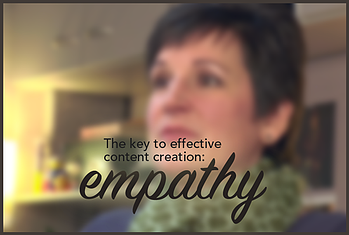 When I was much younger, I was interviewing for a job in Minneapolis (which I did not get), and the vice president of a big agency asked me, "What is the primary characteristic that an advertising person should have?" (At that point, I was in advertising, not digital marketing.)
And I sat there for probably 30 seconds, which seemed like a week, trying to think of the answer. I didn't know what it was, but I think I probably said, "oh you have to be creative"—which is, of course, what everybody says.
Probably on a monthly basis now, I wish I had answered that question by saying: "To be a good marketer, you have to have empathy."
The key to inbound marketing is to have empathy with a prospect. We can't just talk about what we want to say or ramble on about topics that are important to us; we have to have empathy for what the prospect needs in their buyer journey— what they need to hear, what they need to feel better about, what they need to compare against in order to get to the point where they say, "I like your style; I like what you have to offer. I know I'm going to benefit from your product. I want to buy from you."