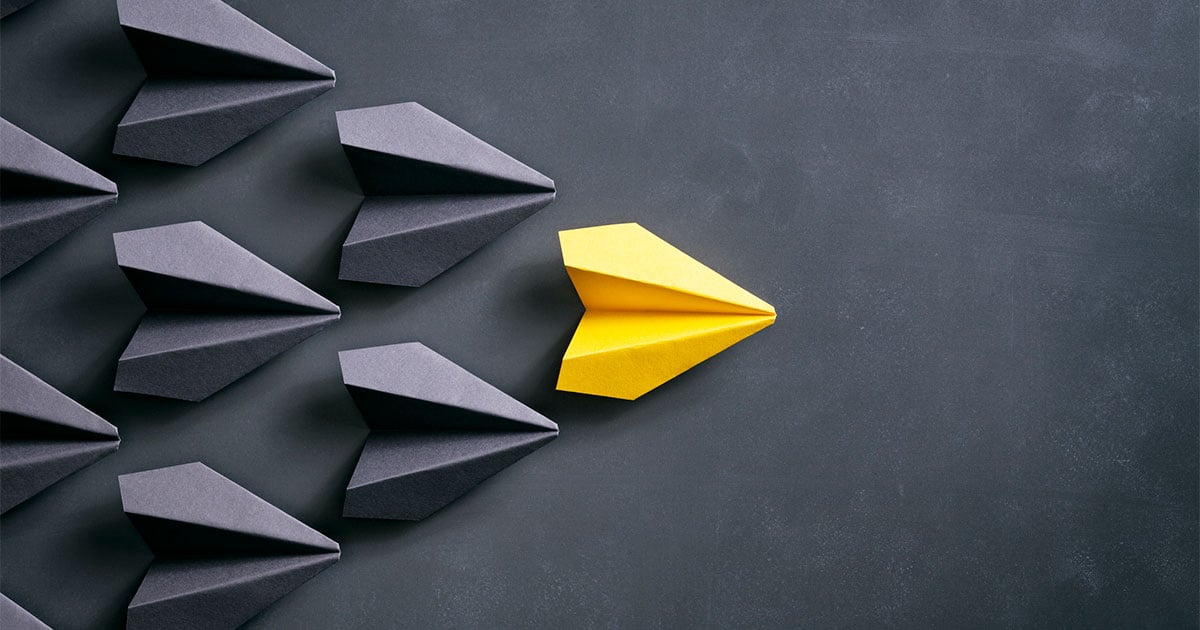 LinkedIn boasts about 600 million users.1 Of those, 61 million are senior-level influencers and 40 million are in decision-making positions.1 It's no wonder that 94% of B2B marketers target LinkedIn for content distribution1 and that LinkedIn is responsible for more than 80% of a business's social media leads.2
The impressive statistics suggest a captive audience of potentially ideal targets, but simply posting to the masses and hoping the numbers break your way probably isn't the best use of your time on this powerful social platform.
Where should you focus your efforts when leveraging LinkedIn? There's a lot of talk about tactics. LinkedIn weighed in with its 34-page LinkedIn Content Marketing Tactical Plan. Weidert Group has also dissected LinkedIn social selling and best practices for LinkedIn company pages. There's no shortage of shared knowledge about what's possible and the tools available to do it when it comes to LinkedIn. Getting your arms around which LinkedIn tactics to prioritize for lead generation when you're a marketer in a complex B2B industry proves a bit more challenging.
To help you better plan and execute your marketing strategy, we categorized some of the most popular LinkedIn lead gen tactics into those that need to happen, those you should do when the situation calls for it, and the "maybes" that should be considered but aren't necessarily of primary importance.
Must-Do: Need to Happen
1. Optimize your company profile page
Choose eye-catching header images that grab users' attention and compel them to keep reading and learning more about you
Develop a company description that speaks directly to your target audience and communicates what you can do for them. Keep in mind that LinkedIn initially displays just the first two lines of the description, so don't wait to be dynamic or ask for that button click that leads to your website and conversion opportunities
Make the Recent Updates section relevant to your target audience and inspire clickthroughs. You may selectively include blog post updates and similar information, but focus on conversion opportunities
2. Share content
Tag people who are quoted or otherwise mentioned in your LinkedIn content so your information appears in their connections' feeds
Use hashtags to help users find and follow your information, even if they don't interact with other influencers on topics of your specific expertise
Encourage employees to help increase reach by posting content to their LinkedIn pages and on any other social platforms that they may use
3. Use video
It's no secret that video is a content marketing essential. On LinkedIn, posts with native video (a direct upload of a video instead of using a video link) generated more than 300 million impressions — 3 times more than text-based content!3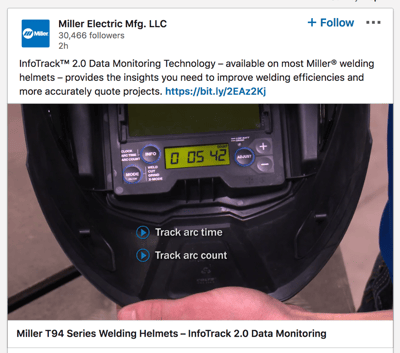 Situational: Should Happen
1. Use sponsored content when warranted
Use native ads in news feeds to put your content in front of targeted prospects you want to educate and convert
Advertise key positions for which you're hiring; the LinkedIn audience of B2B professionals likely contains ideal candidates, or they know someone who might be a good fit
Promote professional events you're attending, hosting or sponsoring to build credibility, generate interest, and network with decision-makers and other influencers
2. Have thought leaders publish "long-form" articles
LinkedIn Company pages are limited in that you're not permitted to post long-form content (aka "Articles") to your activity feed. However, that doesn't stop your company's leadership team from doing so on their individual pages by republishing blogs and articles they've authored elsewhere. You get the content out there, of course, but you also carve out your team as thought leaders in your industry — an appealing differentiator for prospective customers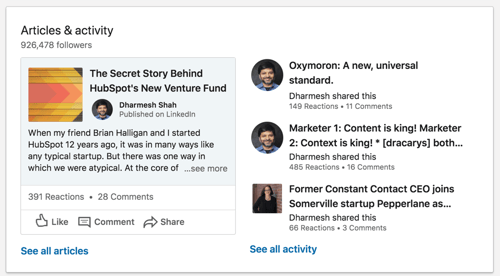 Maybe: Might Happen
LinkedIn SlideShare gets more than 70 million visitors per month who are seeking to learn about their industry, and sharing it's as easy as uploading presentations you created in Keynote, PowerPoint, Google Slide or another program for other purposes to get the information in front of those visitors. Even better, if those presentations have links back to your website content there's a good chance their presence on SlideShare will boost Google SERP ratings.
2. Participate in LinkedIn Groups
While they've declined in visibility the last few years, LinkedIn Groups are indeed still alive and they're in fact investing in new features. LinkedIn describes its Groups feature as "a place for professionals in the same industry or with similar interests to share their insights and experiences, ask for guidance, and build valuable connections."4 The value of including it in your marketing and sales strategy is multi-faceted — you connect with prospects, but you also grow your knowledge and professional network. Regularly contributing to groups you subscribe to likely also increases referral traffic to your website.
LinkedIn is an important part of your inbound lead generation strategy, provided you produce relevant content, know how to network on LinkedIn and put your efforts behind the most impactful tactics. Be intentional with your actions and use these 12 LinkedIn Best Practices to optimize your profile for maximum results. Click the button below for your copy of our popular visual tip sheet now!