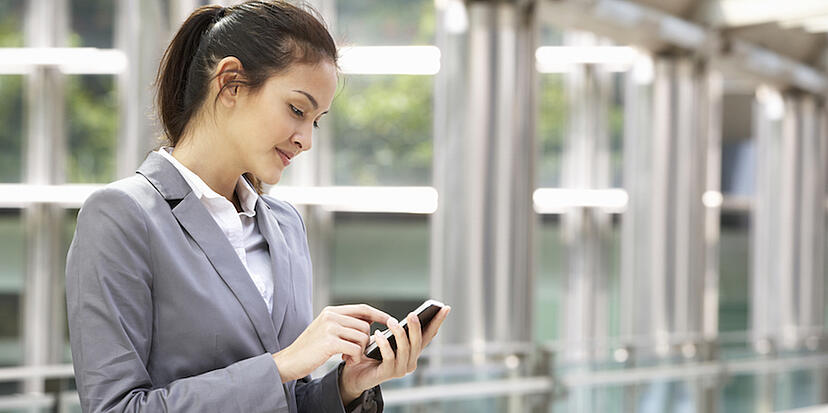 It's now a well-known fact: with more than 50% of all web traffic originating from mobile devices, creating mobile-friendly content is a must for any successful inbound marketing strategy. But as headline after headline drives this point home, it's surprising how slow some organizations are in making the move to mobile. Maybe they're wondering what kind of content these analysts are really talking about. After all, most B2Bs sell highly considered purchases, not typical commodities. Are reports looking at eCommerce or retail outlets? Is mobile only important for large corporations? Do surveys include a wide range of businesses or only B2C industries?
In short, they're asking, "Does mobile apply to my B2B?"
In short...yes! No longer do B2Bs need to make a "best guess" based on B2C trends and research data. There are a lot of studies proving that mobile-friendly content is crucial to B2B marketing success.
So, here's the lowdown on why mobile functionality is actually MORE important for B2B companies than B2C.
As shown in Forbes Insights report, "The Connected Executive: Mobilizing the Path to Purchase," there's a lot of evidence to show that the best kind of B2B marketing is mobile. As Forbes puts it:
"...business leaders and decision makers—many of whom already conduct their personal day-to-day affairs on mobile devices—are recognizing the capabilities their devices bring to daily business operations. Increasingly, decision makers are using their mobile devices both inside and outside the office—on the path to purchase—to obtain information, conduct research and buy products and services for their organizations."
By the numbers
Forbes' stance is consistent with surveys conducted by many other organizations. Here's a compilation of several striking facts we discovered.
90% of executives use smartphones on a day-to-day basis, but more and more they're switching to tablets for their business-related tasks
The majority of people believe their mobile devices are essential to their work. Millennials lead the way, with 84% stating mobile was vital (and half of all B2B researchers fall in this age category). Older generations, however, were not far behind: 76% of Gen X and 60% of baby boomers also said mobile was necessary to their work
50% of B2B queries are made on smartphones, and that figure is expected to grow to 70% by 2020
70% of executives use smartphones and tablets to look up product or service information upon first learning of an offering. 33% say they still reference information from their mobile devices when a purchase decision needs to be made
25% of executives say that they've purchased a product or service for their business directly from their mobile device. The same number of executives say they've used mobile to research purchases exceeding $100,000
68% of respondents used their mobile devices to read news related to their business or industry
Overall, there's been 91% growth in researchers using smartphones throughout the path to purchase
Now, here's what you really want to know—the hard numbers on sales. If you want to increase B2B sales, look at the kind of mobile purchases that are already being made, according to Forbes:
32% of executives – a purchase under $1,000
27% of executives – a purchase between $1,000 and $4,999
23% of executives – a purchase between $5,000 and $9,999
14% of executives – a purchase between $10,000 and $100,000
4% of executives – a purchase over $100,000
And that's just purchases actually made—not even counting the pre-purchase research that most B2B buyers go through!
The hard numbers from multiple sources leave no doubt. Every business—even special, non-traditional B2B companies—needs to leverage the increasing prevalence of mobile in every aspect of their inbound marketing campaigns.
When working with clients, we do this by default because we know that no company should go without a strong mobile presence. Mobile functionality is just one element of an inbound strategy; there are other new technologies and trends to consider as well, such as video, voice assist, machine learning and innovations yet to be discovered that will change the way we work, live and play. At Weidert, we stay on top of current and emerging trends to ensure our clients remain relevant and, most importantly, competitive in today's marketplace. Need to talk about your marketing needs? Reach out. Also be sure to check out our guide on creating a stellar B2B website for manufacturing below and learn about other considerations as part of your inbound marketing plan.