You set up a sales funnel for your business. But the sales funnel conversion rates you're getting aren't anywhere near what you're expecting.
While this can be frustrating, the truth is that all sales funnels aren't created equal. The difference between those that have a high conversion rate and those that don't isn't in the framework. Instead, it's the strategies these businesses implement within their funnels.
If you're looking for a way to give your sales funnel conversion rates a boost, here are 10 strategies that have been tried and tested to do just that.
1. Be generous with your opt-ins
Before you can increase your sales funnel conversion rates, you first need to fill up your sales funnel with leads. For that to happen, you need to make it easy for your visitors to subscribe to your email list. So, don't be afraid to spread opt-ins all over your website.
HubSpot's blog is a perfect example.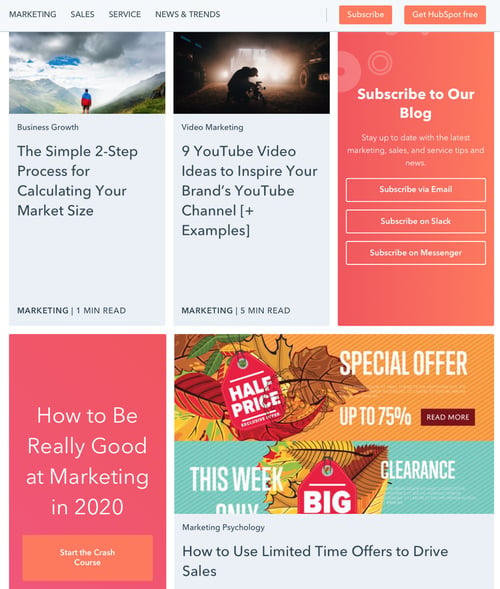 Screenshot from HubSpot's blog
On this page alone, HubSpot's got not one, but five different opt-ins for their visitors to click and subscribe.
Not only does this get more visitors in their sales funnel, but their visitors now can choose how they'd like to receive the content they'll send.
2. Make your offers irresistible
The landing pages and opt-ins on your website won't do much good if your visitors won't find your content offers appealing.
That's why it's crucial that your business has clear buyer personas. With this element in place, you can create content offers that solve your target market's pain points.
For example, Weidert Group created a buyer's journey guide and template that business owners can use to develop their buyer's journey and incorporate it into their inbound marketing funnel.
Understanding the buyer's journey is a challenge faced by marketers and business owners alike, and this worksheet can help solve this problem.
3. Map your content throughout your sales funnel
Your leads are in different stages of your sales funnel. Mapping your content ensures you provide your leads the content and solution they want and need. That's why businesses that include content mapping in their marketing strategy can boost their sales funnel conversion rate up to 72%.
In the video below, Weidert Group's strategist, Frank Isca, explains what kinds of content are ideal to include at the top, middle and bottom of your marketing and sales funnel.
Read the full article here: ToFu, MoFu & BoFu: Serving Up The Right Content for Lead Nurturing
4. Segment your email list
Segmenting your email enables you to send your leads content that's specifically targeted to the most pressing challenges they face. This will also help you find out where they are within your marketing funnel, so you know whether it's the right time to offer one of your products or services.
For example, if one of your visitors downloads a guide about mutual funds, you can now provide them with more related content. That way, you're being helpful by providing further education on the topic and, at the right time, you can strategically offer your mutual fund products for consideration.
5. Automate your lead nurturing campaigns
Lead nurturing is the method of building a trusting relationship with your leads so that they'll convert into customers. Businesses that use a lead nurturing campaign convert 50% more leads to customers.
Even better is the fact that lead nurturing helps you boost your ROI because the cost to launch a lead nurturing campaign is 33% less than other marketing strategies.
The key to an effective lead nurturing strategy is sending the right content at precisely the right time.
RELATED: How to Shorten Sales Cycles for B2B Companies
However, writing an email can be a tedious task. According to a study done by Smart Insights, nearly one-third of businesses say that writing emails takes the most time.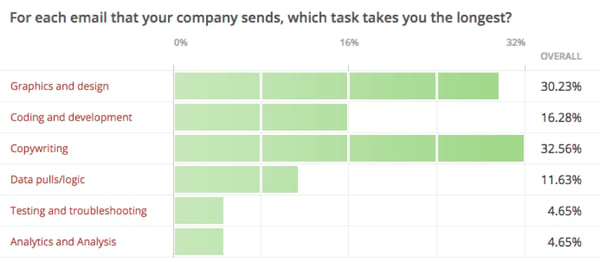 Source: Smart Insights
Automating your lead nurturing campaign makes this possible, especially if you're targeting a global audience. You can create all the emails and then schedule them to be sent on a specific day and time.
One way to automate your lead nurturing strategy is by using behavior-based marketing. This allows you to automatically email your visitors based on the actions they take on your website.
For example, if one of your leads frequently checks out your services page, you can automatically email them to ask if they would like to set up a free consultation or offer them a special discount.
Another way to automate your lead nurturing campaign is by setting up a lead scoring system on your marketing automation platform based on your buyer persona. By doing this, your sales team can find which of your leads are hot and ready to buy so they can reach out to them (and close the deal).
6. Craft eye-catching email preview text
In addition to showing your email's subject headline, Gmail and other inboxes can also display text previewing the contents of your email. This is the first 90-140 characters of your email's content, or pre-defined text you specify, depending on what email software you use and what mailbox provider your lead is using to browse their emails.
Other than the subject line, the preview text is the main driver that helps determine whether your lead will open your email. The content of this short segment of copy is just as important as the entire body of your email because, if it never gets opened, it never gets read.
Take this opportunity to give them a summary of your email's content. At the same time, you should leave them hanging so that they want to open your email and read what's inside.
Admittedly, this takes practice. Invest in some good copywriting books to get ideas on how to craft your preview text and develop your overall writing skills.
7. Spread out the timing of your emails
Space the time between your emails so that they're close enough to maintain your leads' interest levels yet, at the same time, are far enough apart so they don't find your emails annoying and easy to ignore.
How often you should send out your emails greatly depends on your buyer personas, your industry, your buying cycle and your product or service. Studies show that B2C business should send between 2-5 emails a month while B2B businesses should send one email a month.
The best way to find the right email frequency for your business is to start with one email a month and then slowly work your way up. Do this for a couple of months and then review the analytics to see how they perform. The frequency that has the highest open and click-through rates would be your sweet spot.
8. Use graphic elements wisely
There's a lot of buzz these days about how using emojis, GIFs, and even memes in your emails can increase open rates and click-throughs.
However, according to Aaron Haynes, CEO of Loganix, this isn't necessarily the case.
"It all depends on whom you're targeting," Haynes said. "If you're a business that's targeting a younger generation, then yes, adding these to your emails would significantly improve the performance of your emails. But if you're targeting key decision-makers of multinational corporations, these elements may give them the impression that you're someone they can't take seriously. Instead of increasing your conversion rates, it can cause it to drop."
On top of this, one study shows that people now prefer plain text emails over those that include images and other graphic elements.
So how do you know if you should include images, emojis, and GIFs in your emails? Perform an A/B test before sending emails out to your entire list.
Most email marketing platforms let you create two versions of the same email and test them to see which will perform better based on your target audience. By taking the time for this step, you'll increase your open and click-through rates.
One tip when doing an A/B test is to change one element at a time. This makes it easier for you to find which parts of your email you need to change or keep to get the best results.
9. Practice omnichannel marketing
Emails still deliver amazing results. However, the truth is that some of your customers would prefer receiving updates, offers and relevant content through other communication channels like live chat and messenger apps.
Incorporating these channels in your sales funnel when engaging with leads will help you increase the chances that they'll consume your content and convert into a paying customer.
10. Retarget your leads
There are lots of reasons why your leads may not complete a purchase or follow through on a transaction. Sending content to retarget these leads can help you remind them of their abandoned purchase or incomplete request, encouraging them to come back and finish what they started.
Businesses that retarget leads using social media ads and other content not only increase conversion rates by 51% but increase repeat purchases, too.
Of course, the results won't happen overnight. However, if you stay consistent in implementing the strategies shared here, you will see a significant increase in your sales funnel conversions. Start with one approach and then observe the results before you go to the next. That way, you and your team can know which tactics provide the greatest ROI of time and effort. It also allows you to quickly make any adjustments so you can meet your marketing goals.
Of course, attracting and converting leads throughout your marketing and sales funnel requires you first get to know who you're trying to reach. Use our Life of a Lead infographic below — an essential tool for lead generation and nurturing.