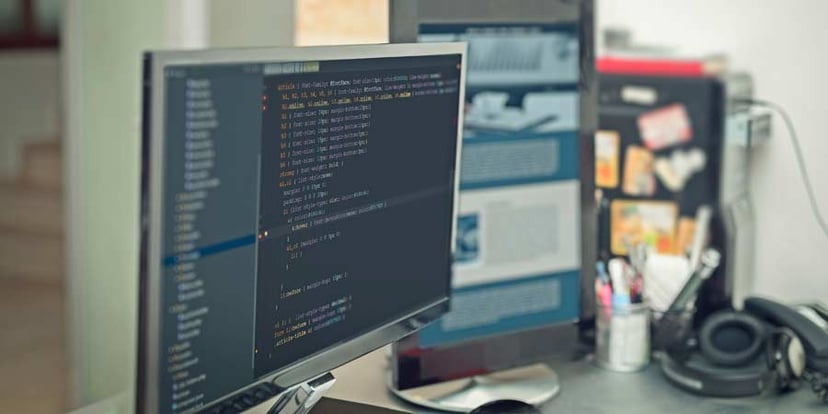 Deciding to create an app is no small undertaking. Apps are expensive and time-intensive to develop, launch, and support on an ongoing basis. Generally, apps also tend to focus on large public audiences, not niche B2B targets. But that doesn't mean that just because you're a B2B marketer, you should write them off completely from your marketing plan. There are plenty of B2B companies who've launched successful apps that have helped them achieve business growth objectives.
To help you decide if an app could work for your business, here are 6 questions to ask yourself before diving in.
1) Do You Really Need an App, or Will Mobile Optimization Suffice?
First thing's first. Many marketers are eager to jump on the app bandwagon because of the huge growth potential of digital marketing and the increased engagement potential that apps provide.
However, just because you can build an app, doesn't mean you should. Many, many apps are developed that never show a return on investment. With all the clutter in the app marketplace—not to mention the significant resources it takes to pull off a successful launch and ongoing support—always start with a simple check of whether optimizing your website and content (landing pages, forms, content offers, etc.) is really what you're trying to achieve.
In other words, if the primary purpose of your app is to basically replicate the same content as your website, there is no need for it. Simply reallocate the time and dollars (which are far less than the cost of an app) to optimizing your website for mobile browsing.
2) Is Your App Helpful to Your Prospects and/or Customers?
If your app is all about you, and only you, why would someone download it? Instead, think about whether your app makes it easier for everyone in your marketing ecosystem to do business with you—prospects, customers, sales people, distribution channels. For example, an app that facilitates interaction between prospects and sales people and provides supply ordering functionality for customers would be very helpful. It could house past ordering information, quantity guidelines, status of current orders, and even send push notifications when projected levels are low and it's time to reorder.
3) Will It Make a Prospect's Buying Decision Easier?
The answer to this question is still directly tied to being helpful. For instance, a content library app that allows users to sort through your offers by date, type, or topic and store their favorites for easy access. Interactive calculators are another attractive type of app for the buyer journey, since customers tend to appreciate companies who are transparent more than low prices. Think about your personas and what type of information will keep them engaged by answering their questions throughout their buyer journey.
4) Does the App Help you Maintain Relationships With Your Prospects and Customers?
Today's B2B buyers are looking for the same convenience and intimacy they've become accustomed to personally as B2C customers. One of the big benefits of apps is the ability to stay in contact with your audience. You can push information out to them in an instant, set reminders or alerts when new content is posted, etc. And, you can get feedback from app users as well. Many apps have community features built so that users can interact with one another. This creates feedback loops for you on what resonates with your audience, and it also creates the opportunity for your existing customers to become evangelists or advocates for your business.
5) Will it Help or Hurt You When it Comes to Meeting Customer Expectations?
One of the struggles with B2B apps has been the ability to create a seamless omnichannel experience for the customer the way a B2C business can. The last thing you want is for your app to backfire because it isn't consistent with the experience customers have come to expect. If your app is going to help your enterprise achieve a business goal, be sure you invest properly in the data infrastructure, technology, and people to power the customer experience across all channels.
And finally...
6) Is the App Worth it?
Much has been written about the total cost of an app, which goes well beyond initial development. In order to know if it's worth the time and effort required for your organization, you must weigh several factors:
Development: The average cost of develping an app can range from $50,000 to $250,000, depending largely on the number of platforms you want to support (iOS, Android, desktop, etc.).
Deployment: The old adage "if you build it, they will come" doesn't hold true with apps. You need to position your app correctly across multiple digital storefronts (iTunes, Google Play, Shopify, etc.) in order to gain maximum exposure. And, you need to monitor the chatter about your app constantly so that you can see what's working best and make adjustments to continue getting downloads.
Maintenance: This is perhaps the largest part of your app budget that's susceptible to scope creep. Depending on the platform, most mobile apps require updates whenever operating systems change or new devices are released. Some estimates state that the cost of maintaining an app for 18- to 24-months can be as much as 2.5 times the initial development. So make sure you know exactly how many platforms you'll support and have the right conversations during the development process to help control your maintenance costs.
Cover Your Bases to Get the True Cost of an App
If you have an idea for a B2B app that answers 'yes' to a number of the questions above, take the next step to flesh it out and determine its viability. While apps to date have primarily been B2C, the mobile marketing trend is not going away and there is ample opportunity for B2B to get in the game. Just make sure you've covered all your bases so you know the total resources needed and can decide whether your app can truly help achieve your business objective.