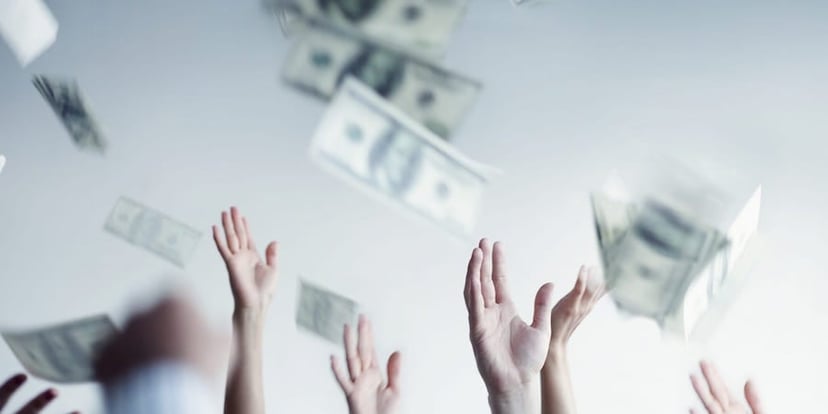 By now, in 2017, the majority of businesses can be found online, and many have branched out into the world of social media. In fact, according to the B2B Content Marketing 2017: Benchmarks, Budgets and Trends report, you'll see that behind email, social media networks are the second most-used channels for B2B businesses when it comes to sharing new content, and are actually the most popular content marketing tactic overall. However, with everyone and their brother using social media these days, the competition to get noticed is about as thick as it's ever been.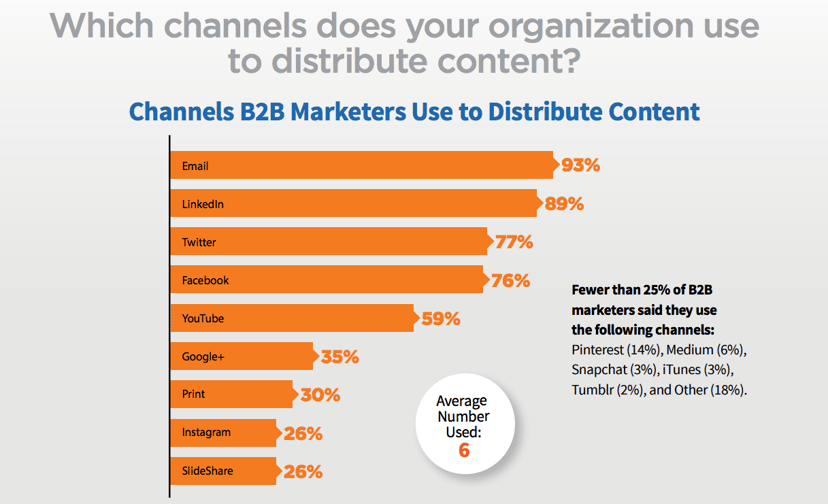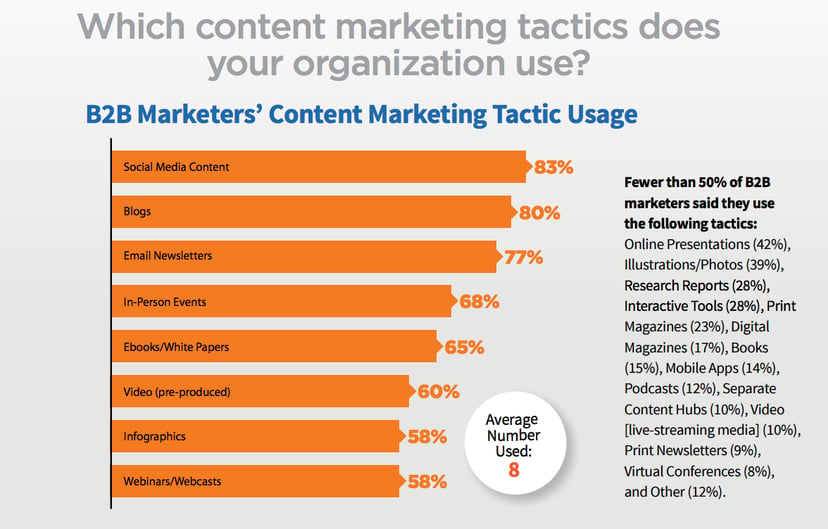 Cue the paid social advertising options.
In order to fight through the noise and help ensure that your content is seen by the right audience, paid social advertising has basically become mandatory for any businesses seriously looking to generate leads via social. Not only do paid ads allow you to target specific audiences in order to increase your content's appeal, but they also give your ads priority in the news feed so that more eyes see your posts. Of course, it's up to you and your content to earn any clicks, likes, comments or conversions, but getting noticed is half the battle in today's social environment. For B2Bs looking for the best possible place to get started with paid social media, here's a quick breakdown of where your money is best spent:
1.) LinkedIn Ads
When it comes to social media for B2Bs, LinkedIn has forever been the gold standard, as no other social network plays quite into the B2B wheelhouse like the one built specifically for business professionals. It's the reason why you see it used almost as frequently as email in the graph above, and the reason why B2B content marketers themselves believe it's the most effective social network. With LinkedIn Ads, you're able to target an audience based on job function, job title, seniority, employer, location and much more, and have a sponsored post placed directly in that audience's news feed, as well as smaller ads on the sidebar and text ads at the top of the site. It's the perfect place to share middle and bottom of the funnel content offers with your target audience, as people are more serious about finding business solutions and helpful content when browsing LinkedIn (as opposed to Facebook or Twitter). If you're looking to dip your toes into the B2B advertising water, LinkedIn is the best place to start, and typically provides the best results.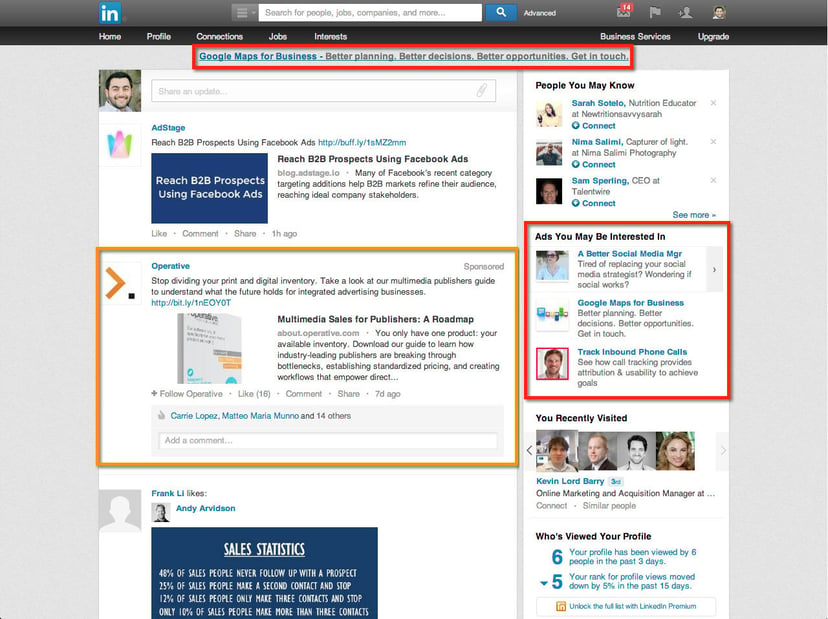 2.) Facebook Ads
Facebook might get a bad rep among B2Bs for being a little too personal, and not "business-y" enough, but all that's starting to change. In the post-election era, Facebook has become a place to debate just about anything, and today, more interesting business-related stories are starting to filter through. The key difference in what makes a Facebook ad successful, however, is the content and context in which it's shared. Like LinkedIn, businesses can target users in a surprising amount of ways (e.g., age, location, gender, Pages Liked, Pages recently interacted with, job title, interests, etc.), and can use this to create a unique, highly-targeted audience. However, the trick is sharing attention-grabbing, bottom-of-the-funnel material, rather than the "boring" and sometimes oddly specific middle and bottom-of-the-funnel offers. Remember, people primarily use Facebook to stay up-to-date on friends, family and current events, so you need to share content that's interesting in an everyday sense—not just as it relates to business.

3. Twitter Ads
A year or two ago you probably would've seen me rank Twitter ahead of Facebook as far as B2B advertising options go, but it hasn't been a great year for Twitter. Even with Donald Trump lighting up the Twittersphere, Twitter's user growth has actually decelerated since Q3 2016—a sharp contrast to the growth seen a couple years ago. Not only that, but the network is shifting more toward becoming a go-to source for the latest news and commentary, leaving less and less room (and interest) for everyday content promotion. Where Twitter does seem to excel, however, is for businesses who interact with lots of customers on a daily basis, and for businesses in tech industries (e.g., SaaS). You can target users similarly to LinkedIn and Facebook, and unlike regular Twitter posts, your sponsored ad will be prioritized in the news feed—ensuring your entire audience has a chance to see it, regardless of the time it was posted. However, with Twitter users getting better at tuning out non-important, uninteresting posts, you'll want to do more than just share a link. At the very least, pair it with an eye-catching image or interesting video.
When drummers get into a beat, what happens in the brain? Our quest to explore #TheNextFrontier is just warming up.https://t.co/i0saZBrT6b

— General Electric (@generalelectric) December 2, 2014
Whether you choose LinkedIn, Facebook or Twitter (or all 3) to run your paid ads, make sure you understand the nuances of each network and the type of content your audience will best respond to. If you need help getting things set up, or would like some pointers or "how-to" tips, don't hesitate to contact any of the networks' ad teams. They'll give you advice for reaching the widest audience, help you set benchmarks, explain the bidding system and much more. If you really want to generate leads from social on a consistent basis, however, now is the time to start experimenting with paid ads.