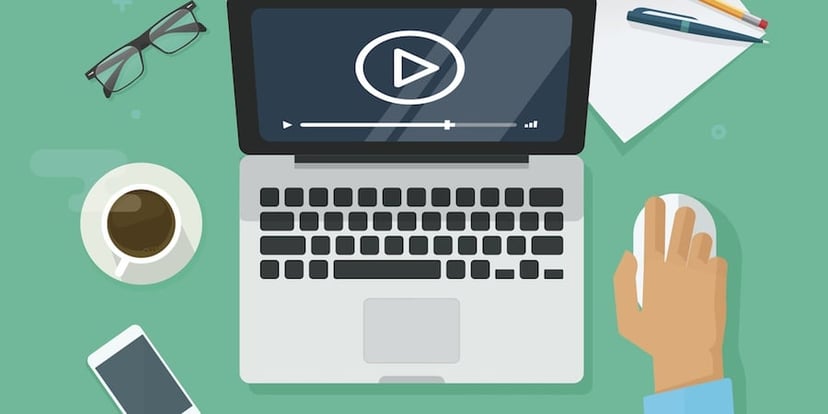 If you're anything like our clients, you put a lot of work into your videos and, being the savvy marketer that you are, you know that the final cut of a video is just the beginning of its life. Now that your video is ready to step onto center stage, you need to be sure that it spends the rest of its life on the best video platform possible. With countless online platforms to choose from, this can seem like a difficult decision, but one contender made this choice easy for B2B marketers. Wistia is a video marketing platform built for businesses. Here are my top five reasons you should be using Wistia for all of those snazzy videos you've made:
1. Your
Videos Live on
Your
Website
Think about it: when was the last time you searched for a company's website after watching their vlog on YouTube? If you're like me, the answer is never. The same applies to your potential leads if your videos are living on a YouTube or Vimeo page. At the end of the day, if your viewers aren't watching videos living on your website, you are missing an opportunity. With Wistia, all of your videos live right on your website and visitors have greater potential of turning into leads.
2.
Video Analytics that are Genuinely Helpful
Sure, most online video platforms provide analytics, but do they allow you to see how many times your aunt in Florida re-watched you talking about video marketing? (Shout-out to you, Aunt Cherie.) With Wistia's granular analytics data and HubSpot integration, your videos can become even more valuable and provide greater insights, unlike competitors' products that provide incomplete and sampled analytics data. My favorite analytics tools are Wistia's heatmaps which allow you to see what viewers watch and re-watch, giving me a better idea of what content viewers find valuable or entertaining.
3. You Are the Master of Your Creation
Another great feature Wistia offers is the creative control you're given in customizing the user experience. Aside from being the fastest player on the web with playback quality up to 4k, the Wistia player is also the most customizable. From the color palette to player controls, you call the shots, which gives the ability to present viewers with a perfectly branded and aesthetically pleasing viewing experience. If your video is as amazing as you are, viewers are able to share it with customizable social sharing buttons or keep in touch with you with email collectors.
4. Say 'Goodbye' to Boring Advertisements
You put a lot of work into your videos and the last thing you want is a dull pharmaceutical advertisement playing before the video you spent the last two days perfecting. With Wistia, the days of hovering over the 'Skip' button are over, allowing your potential lead to soak in the uninterrupted glory of your company culture video.
5. Say 'Hello' to the Wistian Community
On the rare occasion an issue arises, troubleshooting with Wistia feels a lot like calling up a friend for advice. The folks at Wistia are fun to work with and helpful. Whether it's via email, video chat, Twitter, or Slack, their team is consistently responsive and engaging. For example, Tom at Wistia answered my onboarding question in a delightful correspondence that included expert GIF usage and he sent me a Wistia shirt to wear at our agency. After that experience, you'd better believe that I am Wistia's biggest fan!