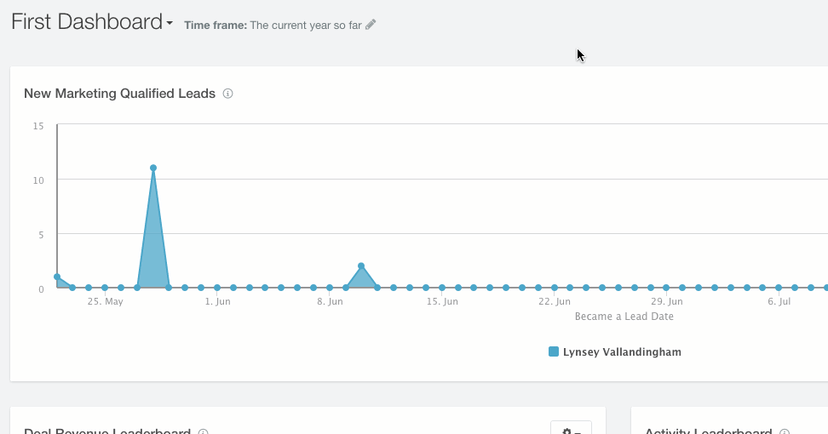 In case you haven't yet learned, last week at INBOUND 2015, HubSpot made some major announcements about the company's marketing and sales platform. Chief among these was the release of a new reporting dashboard, which comes as a $200 add-on.
For everyday HubSpot users like us, the announcement was received with both a sigh of relief and a gnashing of teeth. While HubSpot has many strengths, the platform's reporting capabilities have often seemed just sufficient enough (a bit average), but nothing that would expand your horizons. Now, that advanced reporting has finally arrived (which pretty much takes you to infinity and beyond), many users will be at least mildly annoyed that they don't get the reporting dashboard for free.
After all, HubSpot has primed its audience to expect things for free. In 2013, HubSpot's website platform, the COS was included for free. Then in 2014, the CRM was made available for free. Even this year, LeadIn, HubSpot's new entry-level product for Wordpress and other website types was released with a $0 price tag.
So, Why then, is Advanced Reporting an Additional Cost?
Well, it probably has something to do with the fact that HubSpot users, no matter what they think now, will (almost certainly) pay for it down the road.
The beauty of HubSpot's marketing product is that the all-in-one platform enables you to do so much that when you first get started, monitoring and reporting doesn't seem like that big of a priority. All-in-one inbound marketing means that from within the same tool, you can manage content, create context, and distribute information quickly and efficiently. That's a lot to get a handle on. Reporting is an important part of the all-in-one approach, but most marketers don't start realizing the limitations of HubSpot's included tools until after they've made quite a lot of progress in their inbound marketing plan.
Make no mistake, HubSpot's main marketing product has an effective set of reporting capabilities built-in. But with the Reporting Add-on, the fact is, your team can literally create reports for any set of properties in HubSpot—within both marketing and sales.
What the Reporting Add-on Means to Existing HubSpot Users
From the perspective of existing HubSpot users, the bitterness about having to pay $200 extra comes from the belief that advanced reporting should be part of the all-in-one inbound marketing philosophy of HubSpot. If reporting is part of the inbound process, then why doesn't HubSpot include it? In reality, we're forgetting how advanced the add-on is. It's great because it allows you to dig into the data and assess your entire funnel from a bird's eye view. Few just starting out in inbound marketing need such capabilities.
What the Reporting Add-on Should Mean to Future HubSpot Customers
By making the Reporting Dashboard a $200 add-on, HubSpot lets companies just beginning to adopt inbound marketing buy advanced reporting later, rather than having to pay a higher cost up-front. In other words, they've kept the barrier to entry low, while adding an added cost later on.
Guaranteed, any advanced inbound marketing program that relies on HubSpot as a technology platform will want this add-on. It's that good. But, it's important to remember you may not need it now if you're just getting started.
For more information about HubSpot's new Reporting Add-on, check out this entry-level, how-to article by the HubSpot Academy. All companies with a HubSpot license can access the Reporting Dashboard on a 30-day trial basis.