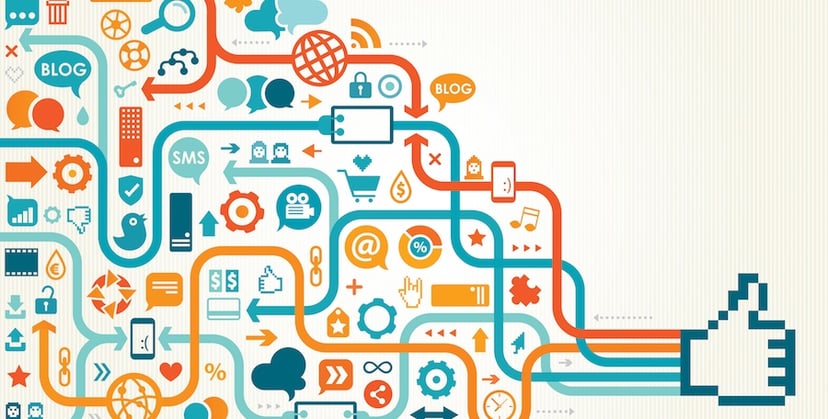 Without question, the first half of 2016 has brought significant change across nearly all social media platforms. From the recent news of Microsoft's acquisition of LinkedIn to major algorithm updates on Instagram, Twitter and Facebook, it's been difficult for B2B companies to ignore the news and its potential implications on social marketing.
At the heart of many of these changes, however, lie two key trends: the ability for users to see hyper-targeted content, and an increased emphasis on visual media. So what does this mean for your company? We'll help you address this question by taking a look at some of the major social media news from the last six months, and evaluating the positive and negative implications for B2B brands.
LinkedIn: Account Targeting and Dynamic Ads
In March, LinkedIn rolled out account targeting, which allows marketers to customize Sponsored Updates and Sponsored InMail to specific account lists. While LinkedIn advertisers could already target specific companies through Updates and InMail, it's now possible to direct helpful content to specific influencers at the timing and frequency of your choice.
Perhaps the best result of LinkedIn Account Targeting is that it inherently requires some alignment between your sales and marketing teams around shared goals. Both teams must discuss which account list money will be allocated toward, the content that will be sent to specific accounts, and how to best follow-up with individuals. This update gives marketers on LinkedIn the opportunity to become even more intentional with their content, and additional features in the coming months should continue to make the network a highly effective prospecting tool for B2B compaines.
Just two weeks ago, LinkedIn also introduced Dynamic Ads, which allow marketers to clearly locate calls-to-action and create well-designed and personalized ads for individual prospects. According to LinkedIn, Dynamic Ads are designed to help adverstisers "drive website conversions, new followers to their LinkedIn Company Page, or showcase job opportunities." In fact, Dynamic Ads make it possible to target specific job candidates, directing them to click an "apply now" button, which ultimately takes them to an application form on your website. This is a direct way to reach the best job candidates, and increase website conversions, a win-win for companies who are highly active on LinkedIn.
Twitter: Timeline Algorithm and More Characters
Similar to Facebook's algorithm change, this March, Twitter also began prioritizing tweets that align with users' preferences in their timelines. While Twitter isn't exactly the top prospecting tool for B2B companies, the change is an obstacle to increasing organic reach on the social network. Companies will now need to decide whether it's best to pay for better placement, or find alternative ways to increase their organic reach besides meeting a quota of tweets each day.
In better news, Twitter also recently announced that the "@" symbol in replies as well as media attachments will no longer count toward the 140 character tweet limit. Twitter hopes this move will encourage less abbreviated conversation, making the network more personal.
On all fronts, this is positive news for organizations, as there will no longer be a tug-of-war between whether to include an image in a tweet, or eliminate an image in favor of more words. Given that tweets with images receive 150 percent more retweets than those without images, brands will soon have opportunity to increase the likelihood that prospects who do see your tweets are fully engaged.
Facebook: Newsfeed Algorithm Change and Off-Site Ads
In May, Facebook announced that marketers can now target online users' when they aren't logged into the social network. This means you can use the Facebook Advertising platform to reach prospects wherever they are on the Internet. While this might seem a bit intrusive to some, there's a definite advantage to those companies heavily invested in Facebook Ads, as the change provides more pathways to reach your ideal prospects online.
The biggest and latest news from Facebook, however, is their latest algorithm change, which prioritizes posts from friends and family over publishers and third-party content. Starting immediately, users will see posts from the people and pages they interact with most at the top of their newsfeed.
This "user-friendly" approach puts companies with previously low engagement in a difficult spot, as it will become increasingly difficult to place content in front of those who haven't frequently interacted with your page. Since organization's organic reach has been trending downward for quite some time on the platform, this is another sign that Facebook is nudging companies toward paid advertising.
With this in mind, now is the time to re-evaluate your current efforts on Facebook, and decide whether it's best to shift strategies (e.g., showcase more of your company culture), or increase ad spend to ensure your content is visible.
Facebook Live: New Real-Time Video Streaming
What began in December 2015 as a tool for public figures and verified Facebook pages, Facebook Live, a live streaming video tool, similar to Periscope & Meerkat, has recently expanded to anyone with the Facebook mobile app. As video content has quickly become a necessary tool for marketing strategists, Facebook Live, is the new game changer for social engagement, lead nurturing and even talent recruitment.
While recording mobile videos is nothing new, livestreaming is unique for its ability to create uncut, unedited videos in real-time, making a more realistic and personable experience for your audience, as if they're right there with you. It's great for events, conferences, how-to's and Q&A sessions, where viewers can watch, like, comment and ask questions in real-time and for you to immediately respond on camera.
Before you choose to "go live," be sure to promote your livestreaming prior to the event so people know to tune in at a specific time. Videos can last up to 90 minutes and will automatically save to your profile once you're finished for those who missed the livestream to view later, on their own time.
Additionally, Facebook live allows people to tailor their target broadcasting audience based on location, language, gender and age. Viewers can also choose to follow your live video and receive notifications the next time you go live.
Instagram: Selling Tactics and Recruitment Opportunities
Instagram usage for B2C & B2B is a growing trend that is underutilized by many businesses looking to build personalized relationships with their target audience, as well as recruit like-minded talent.
B2B companies, may utilize Instagram to provide an insight to company culture, showing their more personable, relatable side—which helps a lot with recruiting. For B2C businesses, Instagram allows businesses reach and interact with consumers at a more personal level, with their products appearing directly in consumers newsfeed on their personal device.
One downside to Instagram, however, is it does not lend itself directly to a funnel marketing process because consumers can't buy directly from the app and only a single URL is allowed in the "website" box in profile's biography.
Businesses have found a few loopholes to Instagram's idiosyncrasies by using their Instagram along with another service such as Paypal, placing the business's Paypal email on their profile description for consumers to directly contact the seller or asking people to post their email in the comments to be reached.
Additional applications have been designed to direct consumers to another website that mimics the design of a business's Instagram and providing a payment option. Businesses and individuals can also indicate items for sale with hashtags such as#instasale, #clothesforsale, #shopmycloset etc. or popular hashtags indicating the type of payment accepted such as #paypalaccepted.
Tailor your Instagram marketing strategy to your target audience, whether it be B2B or B2C, and know how to measure success from sales to engagement rates. Be sure to reseach specific hashtags and long-tail keywords utilized by your specific target persona to optimize your reach.
Also keep in mind current algorithm changes, as Instagram is currently moving in a similar direction as Facebook & Twitter, along with other updates, like Instagram's future Business Profiles!
Ramp Up Efforts to Reach Those Who Matter Most
While there are positive and potentially negative implications to the Facebook and Twitter algorithm changes, B2B companies must continue to produce and promote high-quality content with visuals on the two social media channels. Additionally, it might be worth considering whether to increase ad spend on the networks to reach the right people at the right time.
LinkedIn's most recent updates, on the other hand, have given both marketing and sales teams the opportunity to be even more intentional with their prospecting efforts. While you'll certainly want to make strategic adjustments on Facebook, Twitter and Instagram, LinkedIn's most recent updates are another sign the network should be at the center of your marketing and sales efforts for the remainder of 2016, and beyond.