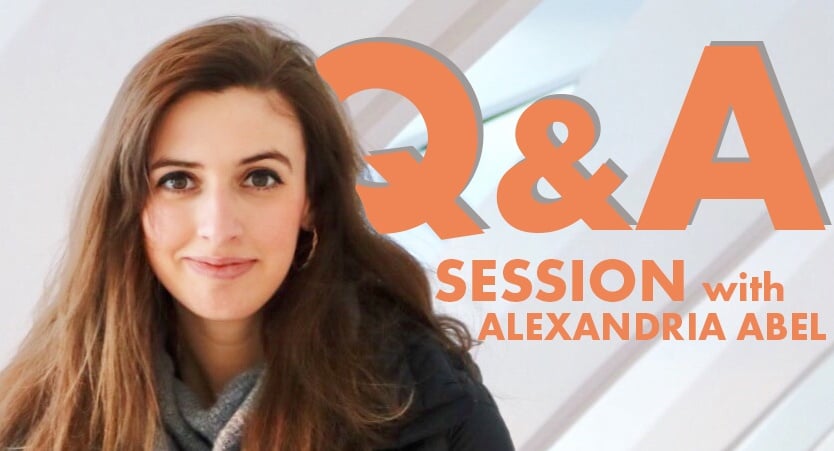 An Interview with Weidert's Video Expert, Alexandria Abel

We recently sat down for a Q&A session with Alexandria "Alex" Abel, our amazingly talented video producer, to get her perspectives on B2B marketing as it relates to video.
At Weidert Group, we understand the importance of incorporating video into an inbound marketing strategy, and Alex has helped take our clients' inbound efforts to new levels with her creative approach to B2B video. She'll be presenting at an upcoming event, so we want to give you an opportunity to catch a glimpse of what you can expect — whether attending the event or working with her and our team on an upcoming video shoot.
Q. What types of video are most effective for B2B?
A. Two of my top recommendations are product demonstration and company culture videos. The product demonstrations are especially helpful for industrial B2B businesses because they help communicate concepts that are often difficult to understand in an easy to digest format. And the company culture videos are very important in a time when many manufacturers are experiencing a skilled labor shortage. Highlighting employees and why they love working for you can offer a major competitive advantage when recruiting.
Q. What do people on camera struggle with most when being interviewed?
A. Much like public speaking, being in front of the camera can be intimidating. People often lack confidence in their appearance or delivery before the camera even starts rolling. My recommendation to people who struggle being in front of the camera is to take the pressure off themselves and feel comfortable knowing that it will likely require several takes. That's ok! It's also important to get plenty of practice before they hear "Action!"
As their director, I also take it as my responsibility to give talent as much confidence-boosting encouragement as possible. And how great is that job?! I love helping people realize how much potential they have. In the end, it's my responsibility to make them "look good" on camera. There are some tricks and techniques when shooting and editing that can smooth out transitions or cover up mistakes without skipping a beat.
Q. What makes B2B video challenging?
A. I grew up around B2B industrial manufacturing, so I felt I knew enough to know how much I didn't know. Some of the industries we work with are very complex and, unlike a lot of today's video production that's flashy, fun and entertaining, their video needs are very different.
It takes a lot more creativity and work to produce a video that keeps the attention of someone when the subject matter is industrial equipment or a professional service as opposed to a B2C product featured in a quirky viral video. So, when we create a final product for clients that communicates what they do in an engaging and worthwhile way, it's extremely rewarding. I also get to learn so much about them, discover what their story is and then tell that story through video.
Honestly, B2B video is somewhat of an unexplored territory. There's not a lot out there compared to B2C. That means there's so much potential to create great content and make a mark, and we get to explore and discover that with our clients. That's exciting to me.
Q. You'll be presenting at an upcoming HubSpot User Group (HUG) event. What can attendees expect?
A. I'll be sharing about the state of video in 2018 and what marketers can expect going forward. People are increasingly choosing video as their preferred way to digest content, so how can marketers stay on the leading edge of that trend and leverage its power? I'll also be talking about the different types of video that B2B needs to consider. As I said, there aren't a lot of good examples out there, so it can be hard for marketers to know where to start or what to focus on.
Then, I'll go over the basics of video production, equipment needs, what you can do on your own versus when to hire a pro, etc. People will leave with a better idea of how to realistically execute video within their company without having to come up with a Hollywood studio budget.
Please join us for this free event!
HubSpot User Group (HUG)
"How to Leverage Video"
Tuesday, March 6, 2018 at Noon
Appleton Beer Factory
603 W. College Ave., Appleton, WI
Q. What is the best video project you've ever worked on or are most proud of?
A. I have three that come to mind:
We had a video project to commemorate a client's company founder. It was a pretty big production where we went to the headquarters, set up sound, lights and cameras and conducted multiple interviews with executives and family members. In editing, I was able to incorporate historic photos and really create a beautiful, nostalgic video. I loved how it both honored the founder and his legacy and demonstrated how the company still upholds the values he established 60 years ago. The human brain was created to receive information best through stories, and the final product just oozes "story."
I'm also proud of a video that highlighted our company culture and was a spinoff of The Office sitcom. The idea was conceived at 7 a.m. in the morning and I filmed coworkers, edited and produced the final video by the end of the day. Crazy timeline, but so fun! I love that it highlights what wonderful people I get to work with, and they were hilariously funny.
Lastly, on a personal note, I took a recent trip to Africa to help document some humanitarian work there. It was an amazing experience and stretched me personally and professionally. When in Congo, we interviewed young women who were being taught vocational and literacy skills. Their faces lit up when they talked about how much worth and value they felt despite living in a culture that doesn't value women. They were overwhelmed with gratitude because people cared for them and were willing to provide funds so they could get an education, feel a sense of purpose and provide for their families. It was remarkable.