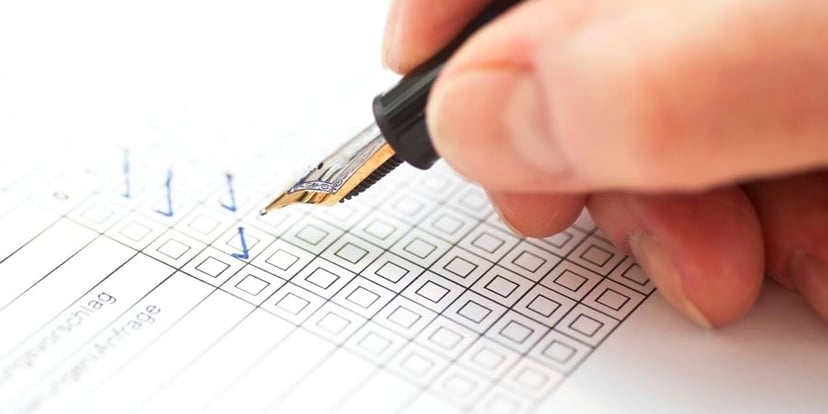 It's the time of year for lists and self-assessments. From cleaning out the old, making room for the new, and setting new year resolutions, it's all about moving forward on the right foot. As a B2B marketing professional in 2016, this means you should include sales enablement as part of your annual marketing plan.
Sales enablement extends your efforts from the marketing funnel of visitors and leads to the sales funnel, where sales-ready leads are then converted to revenue. Execution of the right sales enablement plan can help your sales team:
attract more qualified leads
increase productivity
improve closing ratios
shorten the sales cycle, and
close the loop on reporting.
What should be part of your plan? Use this 2016 sales enablement checklist to assess the strength of your sales team's inbound power:
1. Develop Sales Content for all Stages of the Buyer's Journey
Does your content library include sales-specific content pieces? And, if so, how well has your sales content kept up with today's buyer behaviors and the changing sales process? Is your team using this content as part of their sales regimen to close more sales?
Chances are, your B2B sales team needs your content help. Most sales people are less than thrilled with the idea of writing blog content, but when it comes to knowledge about your products, your processes, your industry, etc., your sales team has the wealth of information that your potential buyers are looking for. Help your sales team share that helpful information and position them as thought leaders in the industry by interviewing them for blog articles on your website.
Collaborate with your sales team to produce other great content that will be helpful to potential buyers in the sales process and will help them close more deals. Consider a sales resource page, individual and targeted website pages for each sales rep, competitive analysis content pieces, workflows designed for leads engaged in the sales process, etc.
Remember to make all content easy to share and track.
2. Leverage Social Media for Leads
According to a recent survey from Feedback Systems, 72% of sales professionals feel that they are not proficient with Social Selling, yet 61% of organizations engaged in Social Selling report a positive impact on revenue growth. Is your B2B sales team using LinkedIn to prospect and sell? If not, start with the basics—the right training, a documented plan of action, and metrics for measuring success.
3. Establish a Process for Lead Management
Does your sales team have protocols and a process in place for managing leads from Marketing? Do Sales and Marketing agree on the same definition of a Sales Qualified Lead (SQL)? What does the timing look like between attempts to connect with leads? How many attempts are made before a lead is returned to marketing? Is each attempt a phone call, email, or both? What content is shared in each attempt and is it specific to the stage the buyer is in during the sales process?
If you cannot confidently answer "yes" to some of all of these questions, grab your Sales leaders and collaborate on a Service Level Agreement (SLA) to establish the right Marketing and Sales processes for effective lead management.
4. Equip Your Sales Team with the Right Tools
Does your sales team have tools that help them close, complete tasks faster, and become more efficient?
At the top of the list should be a CRM, which directly correlates with successful sales teams. At the most basic level, a CRM should store customer and process data to help manage customer relationships. HubSpot reports that "unsuccessful sales teams are 2x more likely to use Excel, Outlook, or Physical Files to store lead and customer data." However, a CRM may become more of a hindrance than a help if you're not using the right one for your organization. When evaluating CRM's, choose one that provides the capabilities you need and integrates nicely with your inbound marketing platform.
According to the State of Inbound 2015 report, "more companies are evaluating sales tools spanning a variety of categories than last year." Sales tools under consideration include digital transaction services to manage contracts and orders, business data software for prospecting, content sharing tools, and email tracking.
5. Establish KPI's to Measure Success
Lastly, does your team have key performance indicators (KPI's) established for both marketing and sales?
Establishing and tracking KPI's can help your sales team evaluate productivity on a regular basis, providing visibility to the activities that have the most impact on sales success. If you're not on target, your KPIs can point you in the right direction to improve results.
Next Steps
There you have it. These are just some ideas to help enable your sales team for inbound selling success and start off on the right foot. Make 2016 a year of frequent communication and collaboration with your sales team to establish and execute the right sales enablement initiatives for your organization.