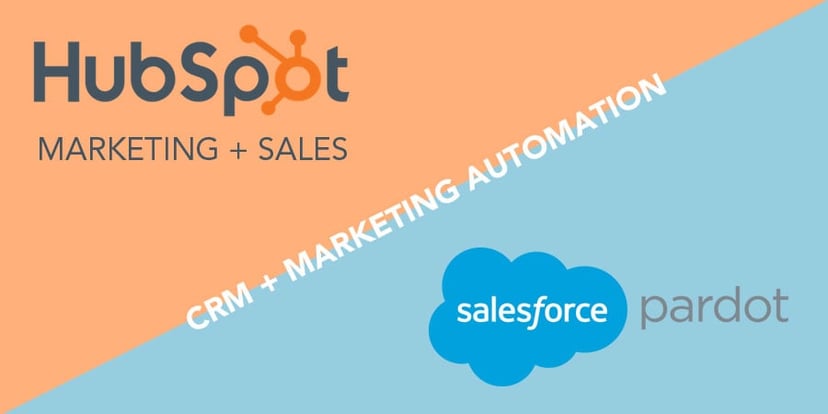 The integration of Salesforce CRM and HubSpot's marketing software is a seamless, out-of-the-box, native integration. It's no surprise that the two companies have made this easy for their customers, when you consider Salesforce was actually an investor of HubSpot back in 2011.
Installation is simple. Follow the wizard, and it only takes minutes to set up. But just like your CRM or your marketing platform didn't start running itself, the integration alone isn't going to help your team close more sales.
Like anything else, you need a plan, discipline, and commitment for Sales and Marketing to get the most value out of the HubSpot and Salesforce integration. Here are a few tips that go beyond the technical aspect of setting up the integration, and more towards the process and protocols needed to truly make it work for you.
1. Start a Conversation
Let's back up and consider why this integration is important in the first place—Marketing and Sales alignment. When done right, Marketing seamlessly passes on the quantity and quality of leads Sales needs to achieve their goals. Sales then takes the context and information passed on to them from Marketing to close more deals with a defined process. Both the quantity and quality of leads needed and the sales process are mutually agreed upon by both parties. This is where the conversation begins.
This conversation should lead to a well-thought out plan and will help you get the most value out of the integration. Here are some discussion topics to cover:
What is the mutually agreed upon goal between Marketing and Sales? What does each party need from each other?
How can you leverage each other's strengths and resources to accomplish the goal?
What are the funnel targets needed for traffic, leads, opportunities, and closed sales to accomplish the goal?
What does the buyer's journey look like for your ideal buyer/target?
What does a quality lead look like and how are they qualified (consider both MQL and SQLs)?
How are qualified leads handed off from Marketing to Sales within Salesforce?
Who are qualified leads assigned to?
What does the sequence of connect attempts look like for qualified leads in terms of the mediums (call, email, social) used, number of days between each attempt, and content shared?
How are leads returned to Marketing from Sales within the two platforms?
What are the key performance indicators to track that will provide insight into what is working and what is not?
2. Adopt an "Inbound" Sales Approach
If you've integrated Salesforce and HubSpot, chances are you've adopted an inbound marketing approach and have transformed your marketing efforts to match the way people buy. But has your sales playbook been updated to do the same? If your sales team hasn't adopted principles of inbound sales, your inbound marketing approach isn't going to be as effective.
Inbound sales is based on two principles; (1) inbound sales teams base their entire sales strategy on the buyer rather than the seller, and (2) inbound salespeople personalize the entire sales experience to the buyer's context.
Inbound sales is too big a topic to cover in this article, but the good news is that there are plenty of resources for those willing to learn. In fact, HubSpot even has free online training courses and inbound sales certification. Check it out here to learn more. Whether you're in Marketing or Sales, I highly recommend these courses to stay relevant and effective selling to today's changed buyer.
3. Prioritize Your Leads
An inbound sales approach operates on an assumption that all leads are not equal. A legacy salesperson is accustomed to receiving a list of leads, reviewing it identify those that fit their ideal buyer profile, and then randomly calling those leads hoping to find someone that's interested and ready to engage in the sales process. Not suprisingly, response rates with this approach are disappointing to both the buyer and the salesperson.
With an inbound sales approach, sales teams should create a hierarchy of leads. Any lead that is active in the buyer's journey takes top priority. Based on their behaviors, you know they're in the market for your products and services right now. The best active lead is an inbound lead. Be sure to have a documented and understood process for passing inbound leads on to your sales team and connect with these leads as quickly as possible.
If there are not enough inbound leads to satisfy your sales goals, it's ok to move on to inactive leads such as those you have a common connection with on social media or even those from lists. Just be sure to pursue these leads as a last resort and approach them with an inbound sales mindset.
Invest your time and resources to generating as many inbound leads as possible for the highest response rates and conversions to opportunities/deals.
4. Content Isn't Just a Marketing Word
Inbound marketers understand the importance of content in today's world. If you don't have relevant, quality content on your website you won't attract your ideal buyer to your site, nor will you convert them as leads. Content is at the core of inbound marketing. Why then is content often overlooked by sales teams?
In today's world, a buyer has no reason to talk to a salesperson if he can't add value beyond what the buyer can find on her own. B2B buyers have access to more information than ever before and they are spending up to 70% of the sales process researching on their own. So how does a salesperson add value and engage the buyer? One way is with content. When connecting with leads and working with potential buyers in the sales process, salespeople should have a library of content that they can choose from to offer the most helpful, relevant content to these buyers. And they should USE it.
Understand what content could be the most helpful for your buyer(s) during the sales journey, based on the buyer's journey stage they are in, the vertical they are interested in, and/or the demographics of the lead or company, for example. Create this content and discuss how to easily use it during the sales process.
Think About the Possibilities
The sync between HubSpot and Salesforce is a powerful one and can make it easy to engage with your leads like never before. The tips above are the basics, but the possibilities are endless when you have true Sales and Marketing alignment. Keep communication lines open between Marketing and Sales, and bring forth ideas to you as you dig in further. Not only will the integration and alignment make your job easier, you'll be in a much better position to close more deals than ever before!