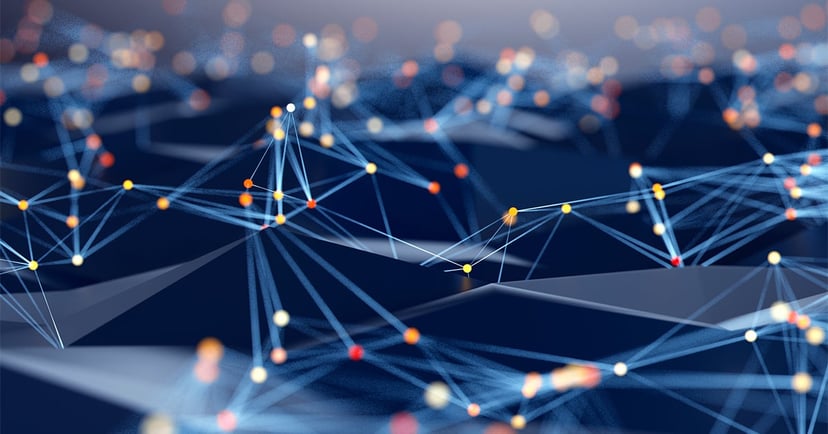 In the ever-changing landscape of SEO, one thing remains consistent: the need to increase the number of high-quality backlinks to your website. Backlinks — hyperlinks pointing from one website to another — have a direct correlation to search rankings, so the more you earn from other trustworthy sites, the more Google will reward your company's website.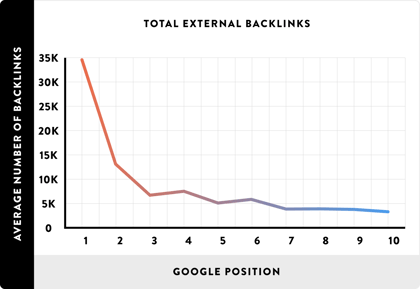 It's more than just the number of backlinks, however. What you really want is a wide variety of high-quality sites linking back to yours, and the higher domain authority they have, the better it is for your SEO.
To help you earn high-quality links from high-quality sites without having to beg for link shares, follow these four tips.
1. Pitch to Industry Trade Pubs and Blogs
For the past few years, the art of link building has basically been reduced to emailing companies and publications to ask if they're willing to share a link of yours without providing any context. It's awkward, annoying, and just doesn't feel that ethical. A better approach is to create a well-crafted pitch to editors that shows you're worthy of consideration for a featured article or guest blog spot, keeping the following top of mind:
Before and During the Pitch:
Do your homework on the publication prior to making the first contact. To what audience(s) is the publication speaking? What is their audience most concerned about? What is the tone of the writing? Is there a different angle my content can solve that will make it stand out? Answering these and similar questions will help you get a sense for the content that's most likely to be considered for publishing.
Email the publication before calling. Since a phone call (cold call) is interruptive, be sure to make your initial pitch in an email. Let the editors know that you understand their audience's pain points and have something new to offer, and bring the main points of your article to the forefront. If the email gets buried in their inbox, feel free to follow up by phone, referencing the email. This way, it won't feel like a cold call, and the editor is more likely to be receptive.
Consider paid options. Many publications will let you contribute for free, but some will charge a monthly fee to be featured. Depending on the cost, exposure, and quality of links you'll receive, it may be worth paying for these opportunities.
After the Pitch:
Incorporate backlinks throughout your article. Once you have confirmation that your article will be featured, weave in two or three relevant links back to your site as well as some third-party references. Likewise, don't overlook the importance of your author boilerplate usually given to you at the bottom of the article, as you can also include a link back to your site there.
Cross-promote your article. Once your content is published, be sure to share the article from the publication's site on your own social channels to maximize the exposure and number of link shares. Here's an example: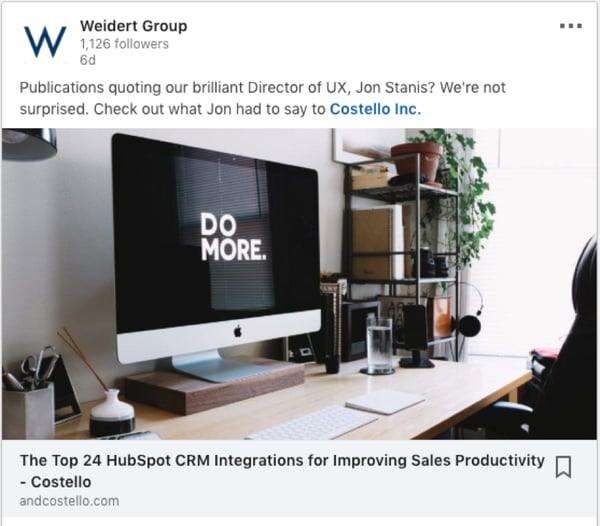 2. Leverage Content That Generates The Most Engagement
This might sound like a no-brainer, but the reality is that certain types of content are much more effective at generating links than others.
Using Infographics
Visual content, in general, is some of the best content you can share, and infographics, in particular, attract people like moths to a flame. According to The Persuasive Properties of Color, researchers discovered that color visuals increased a person's willingness to read by 80%!
People love being able to scan an infographic in just a minute or two to pick up several important facts or tidbits they didn't know before. Better yet, infographics are so attractive because they help readers visualize data, making it much easier to comprehend quickly.
Not only will other sites share a well-thought-out infographic on their site and/or social media and link back to you, but they can also share facts from your infographic and link back to you for source credit.
Mentioning Industry Influencers
People want to know what the experts and "influencers" have to say, so this type of content generates a ton of interest and shares. Consider adding callout text to your article with a quote from an expert and hyperlink it back to their website. This will help some of the main points stand out, while also positioning your company alongside the expert's thoughts through a backlink.
If you interview an industry expert for an article, that person is also likely to link to the interview on his or her own site and social channels. If they see that you even mentioned or complimented them in one of your articles, they might also share the link on their own channels, which can send quality traffic to your website.
Maximizing Interactive Content
Interactive content not only makes the page more interesting for users, it increases time spent on that page, which can boost your SEO because it signals Google that searchers found what they were looking for. Videos, quizzes, assessments, slideshares, interactive PDFs, and more have the potential of sharing backlinks because they're engaging and different than the norm. Plus, 90% of people say they'd like to see more interactive content, according to the Demand Gen Report.
Updating Evergreen Content Regularly
Visitors can come back to evergreen content time after time, as it's always useful. Yet, including relevant, timely information keeps the content regularly updated so it's never out of date. Take for example MOZ's page about Google Algorithm Change History. This particular page has over 44,000 backlinks from 3,500 domains because it's regularly updated and a topic that users keep coming back to for current information: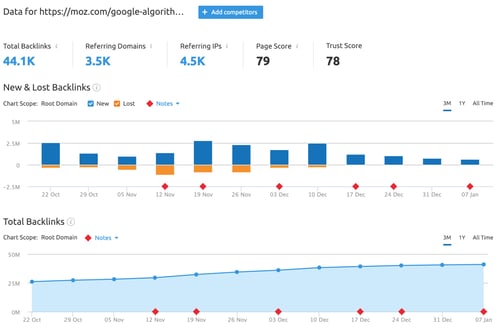 Producing infographics and interactive content, mentioning industry influencers, and updating evergreen content are some effective ways to earn backlinks, but any piece that is well-thought-out and offers a new approach to solving pain points for your audience can do the same. Remember: content quality is a prerequisite to backlink quantity.
3. Offer to Fix Broken Links
This tip is an often overlooked but simple way to attain backlinks. Find a few relevant industry sites with high domain authority and see if you notice any broken links. Then, contact that site and offer a relevant link to your own content as a replacement. There are even free tools available, like Dead Link Checker, that will scan a website for broken links and highlight which links can be replaced. This simple tactic could be a major win-win for both websites' SEO!
4. Conduct Backlink Audits
This fourth and final tip is similar to #3 in that you just need the right tools and to search a bit. Find sites that your competitors get links from that you do not. These sites are the most likely to accept pitches and add links to your content since they're relevant to the audience. Tools like SEMrush can help you get it done!
This approach can also find industry-related directory sites that may let you add links to your website free or for a small listing fee. While these links are usually no-follow links (not passing SEO credit), they can be useful if your target personas are likely to be on these sites.
Boost Your Off-Page SEO
A lot of marketers today focus on on-page SEO tactics, but backlinking and other off-page SEO factors are equally important to your lead gen success. Use the tips above to help increase the quality and quantity of backlinks to your site, and download our SEO Survival Guide for more tips on maximizing your search ranking to ensure your company is found by your best prospects.