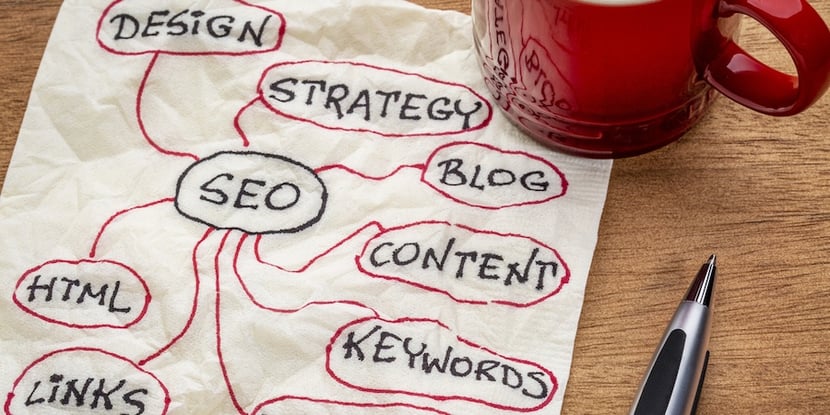 Inbound marketing is a strategy based on content, so the writing has to attract visitors to your website and convert them into leads. That doesn't happen without highly effective writers. The copywriters you depend on to create your content must also be multi-dimensional: talented, experienced and persuasive. More over, they must have an understanding of how search engines work, their impact on website traffic and how to construct content that's optimized to gain organic search traffic over time.
Truth: Not all copywriters know SEO, even if they put it on their résumé.
As a company hiring the copywriter, it's up to you to make sure they're not one-dimensional—that they actually have the technical and strategic knowledge to write effectively to win placement on search engine results pages (SERPs).
That's why SEO knowledge is a major component of our copywriter job descriptions. While writing skills are the most important characteristics for a writer; strategic SEO skills are second. Here's an overview of the knowledge we test for when evaluating copywriters.
1. Understanding of the Buyer's Journey and Zero Moment of Truth
In inbound marketing, the approach we take for SEO is one that aims to identify the buyer's journey for your most important prospects and to match that journey from their moment of buyer need/ question to awareness of you, the vendor. Google's ZMOT (or "Zero Moment of Truth") is the theory that in many, many buying circumstances, buyers no longer deal with gradual answers. Instead, they search for their questions almost immediately on Google and the answers they see first comprise that ZMOT.The more a writer can understand about a prospect's ZMOT and their extended path to purchase, the better prepared they are to write your marketing materials.
2. Ability to Leverage Keywords and Phrases in Copywriting
Attracting your prospects' attention immediately when they search requires that your pages rank high in the SERPs, and thus, writers have to structure content to appeal directly to keyword and keyphrase searches. A copywriter should be prepared to discern which keywords are more likely to create results. Even if there's a project manager to do initial keyword research, the copywriter should understand how variations could alter the likelihood of ranking in search.
Knowing where, when and how often to use keywords maximizes SEO effectiveness without diluting the message.
3. Clarity on How to Communicate the Competitive Advantage
Any marketing strategy—inbound or otherwise—doesn't exist in a silo. You have industry competitors. Any SEO copywriter takes this into consideration when positioning content, especially as it relates to demographics messaging and "big picture" thinking that surrounds promotional and growth opportunities.
When it comes to branded keywords or searches focused on intellectual property, a copywriter needs to know how to compete for rankings that swing toward your company's competitive advantage.
4. Knows the Role of Meta Descriptions and other Meta Data
Because of Google's many updates over the years, there are plenty of writers who have misconceptions about the role of meta data in SEO. We've interviewed plenty of copywriter candidates who still believe keyword metatags and meta-descriptions still are determinant of SERP rank.
That's not been the case for several years, so it's an easy acid test on whether writers really know their stuff.
However, they should still be concerned about elements, such as meta-description, because they do play an important role in attracting click-throughs from search.
Hire a T-Shaped Copywriter
Like with many roles associated with inbound marketing, the best copywriters are deeply creative, but they have analytical and technical sides as well. Follow IDEO's advice and hire a T-shaped copywriter; somebody with a depth of writing skill, but plenty of breadth to be effective for SEO.