As marketers, we all have specific things we geek out about. For me, one of those things is creating landing pages. I especially love optimizing them and experimenting with ways to improve the overall conversion rate.
With the help of robust marketing platforms such as HubSpot, almost anyone can create a basic landing page these days. But to create a remarkable landing page that converts visitors at a high level, it's important to know the best practices of optimizing your landing pages to avoid falling flat with your lead conversion goals.
Here's a set of simple steps to follow everytime you create a new landing page.
1. Clearly State What You're Offering
This seems like an obvious tip but I frequently see landing pages that lack focus or fail to clearly state what the offer is that would encourage me to want to complete the conversion form. The goal with any landing page is to instantly communicate to the user that they've landed at the right place, by clearly communicating what your offer is.
The first place to do this is in your headline. If what you're offering is a Free eBook, consider using "Free eBook: The Ultimate Guide to ...." in your headline. You can then use the subhead to be more descriptive on the value component your offer provides.
As for your body copy, it's good to be descriptive but don't get too long-winded. Break up the copy with paragraph breaks and the use of bullet points to outline the key takeaways or features your offer provides.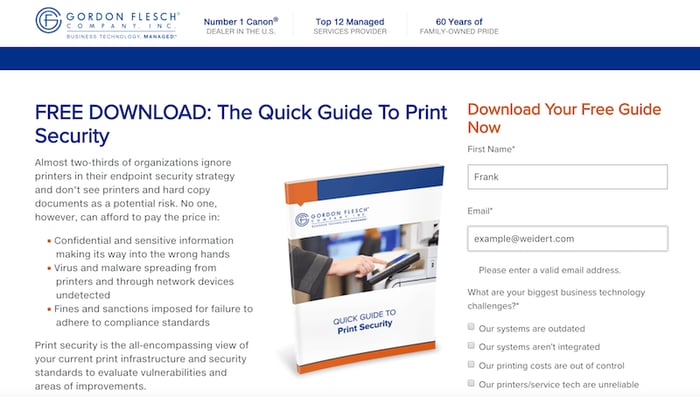 2. Create an Impactful Visual
We all love seeing what we're about to buy. This is no different when it comes to completing a conversion form with your contact information.
Before we give up our personal info, we want to see a glimpse of what we're going to receive in return. If you're offering a free content resource, show the page visitor a preview of the cover (as you saw above) or a 1-2 page sample of the actual content. This doesn't give anything away and will only help create more intrigue.
These visuals are also important when it comes to promoting your offer throughout your website, via email and on your social channels.
3. Provide Evidence
Have a pre-recorded webinar you want to repurpose as gated content on a landing page? Consider getting a testimonial from one of your webinar attendees on the value they received from attending and put this on your landing page. This same approach could be used for an interactive piece of content or a free assessment. Video can also be very powerful on the right landing page to prove your credibility and humanize your company.
Similar to wanting to see what they're about to "buy" by giving up their contact info, users also appreciate evidence that reinforces your credibility.
This is an awesome example of using both client logos and testimonials as evidence for credibility.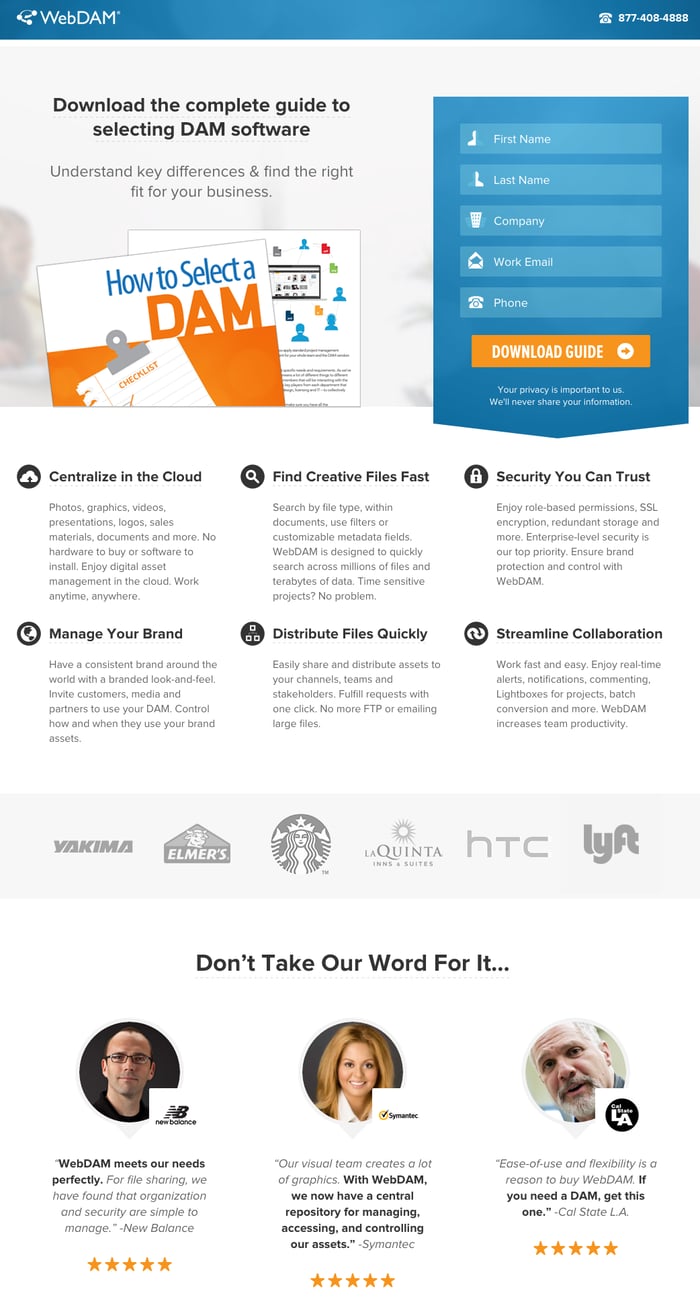 4. Use a Conversion Form Subhead
Another way to keep the page visitor focused on what you want them to do is having an action-oriented subhead directly above your conversion form.
This helps to draw their eye toward the form and is another way to remind them of what they'll receive when they fill it out.
Examples of action-oriented subheads that I like to use are:
Download Your Free Guide Now
Request Your Free Assessment Now
Get It Now!
Complete The Form to Get Your Free Guide
Sign Up Now For Free Below (see example below)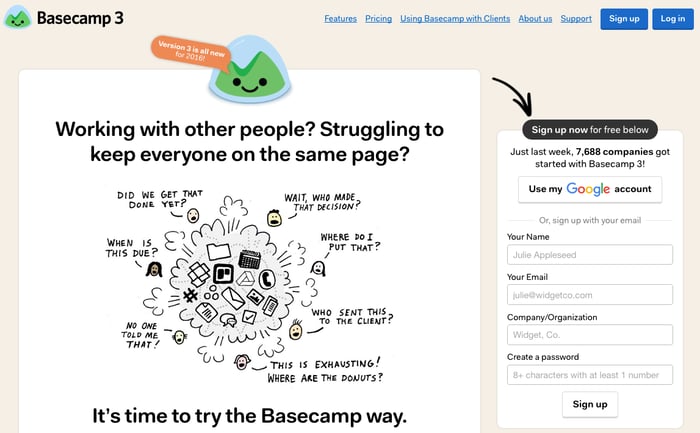 5. Choose The Right Form Fields
When it comes to crafting the perfect conversion form for your offer, it's truly a science of finding the right balance based on the value of the offer, which questions pertain to the visitor's stage within the buyer journey, and the needed information to qualify the leads who convert on your landing page.
A short form isn't always best. This can decrease the perceived value, depending on what you're offering. But for getting site visitors to subscribe to your blog (only asking for their email address), it works great.
This visual below is a good reference to work from when determining form length. Notice that after you use eight form fields, the conversion rate actually starts to increase. Again, this is dependant on the value of the content or free time you're giving in exchange for the visitor's information.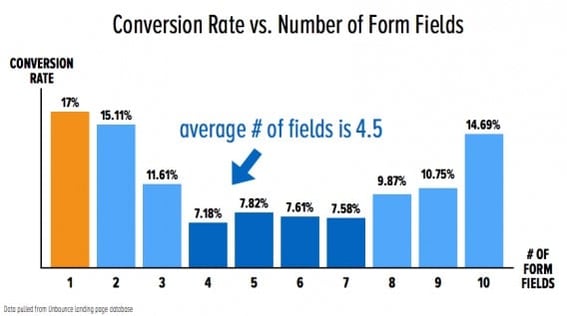 6. Avoid the Default Form Submission Button
Just because the default form submission button says "Submit" in your landing page tool doesn't mean you should use that. In fact, this label has been known to make users second guess "submitting' their contact information, especially if they don't know where and how their contact info will be used.
Some alternative, more friendly options include:
Download Now

Get Your Guide Now

Sign Me Up

Save Your Seat

Show Me This Presentation

Start Your Free Trial
When it comes to inbound marketing, experiment with these tips based on your own situation and the specific landing page you're trying to improve. Be sure to track pre- and post-optimization metrics, and if you want to truly understand what makes the biggest impact on improving the conversion rate of your landing page, be sure to test one component of the page at a time.