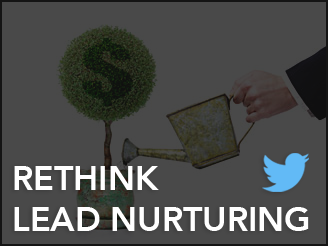 Social media is a critical channel for marketers in all industries. Whether its LinkedIn for B2B opportunities or Pinterest for visual storytelling, social platforms enable you to build a marketing strategy that connects with prospects where they spend their most time.
Tweeting content updates, posting company news on Facebook, and connecting with business contacts on LinkedIn—It's important to keep all of these tasks part of your daily marketing routine. However, these are attraction tactics, i.e. building your audience. But have you ever wanted social media to do something more? What if it worked like email, encouraging people back to your site? What if you could use lead nurturing to prompt prospects to get over their buying hesitation?
"But how can we nurture contacts on social media? There's no way to get their contact information!"
It's a simple answer, really. Adapt your nurturing strategy for email marketing and apply it to social media. Social channels such as Facebook, Twitter and Instagram don't provide the chance to collect contact information in order to add prospects into your contact database, but this doesn't have to stop you from nurturing them.
Let's take a look at how you can adopt email nurturing strategies for effective social media nurturing.
Segment your prospects.
Marketing automation software does this for you once it is properly set up. Smart lists categorize prospects based on their persona and allow you to manage emails through workflows.
Adopting this strategy for social nurturing is crucial. If you're using marketing automation software, chances are there is an integrated social monitoring system. Typically, integrations such as this will allow you to either use existing contact lists or create new lists to segment followers based upon their observed persona.
Don't fret if you haven't adopted the use of marketing automation software yet. There are plenty of marketing friendly platforms online that provide similar abilities. Tools such as HootSuite and TweetDeck are perfect examples. They allow you to create lists determined by specific criteria you choose.
Follow-up with relevant and progressive content.
Educating your prospects is a central focus of the inbound methodology. To do this effectively, it's important to provide them with progressive content. If, for example, a prospect downloads a tip sheet directly from your website, chances are you'll want to follow up later with content that's more advanced to progress their learning.
This process is possible with social media nurturing, too. For instance, if a follower approaches your company on one of the social media channels for information about a service you provide and you direct them towards your most popular tip sheet, they may reply to say 'thanks' or comment on how they found the piece useful.
This is your chance to begin to nurture them and followup with progressive content. Suggest another content piece, like a step-by-step guide on a manufacturing process that's unique to your company, to keep the interaction going and to continue educating the prospect.
Use specific campaigns.
Running various campaigns helps to focus your marketing efforts and provides a higher interaction rate.
Say you just produced a new content piece that would be useful for a number of your personas. Sending the same email to every persona wouldn't be beneficial for either you or them. Personalization with inbound marketing is important to getting more activity from the recipients. CEOs and Plant Managers will use different words, have different interests, and experience different pain points. Social media campaigns directed to each will have copy specific to those personas that addresses their different needs with unique content and visuals.
There's MORE in teamwork.
Don't go it alone. Social media channels are busier than ever and you'll reduce the time it takes – and your stress – if you utilize more people to help nurture properly. Managing email nurturing requires more than a single person to write copy for every email, create workflows, and strategize campaigns; social media nurturing takes nearly the same effort.
Have different departments within your company contribute to social media efforts and to help expedite interactions with prospects. Assign people to monitor the customer service process, too, to ensure prospects are being nurtured properly and receiving content and answers they're searching for.
Try implementing the strategies above and interact with your leads in their 'natural habitat.' Social media prospects can be nurtured just like people who've visited your site and downloaded content if you tailor your approach and keep a close eye on interactions.
Let us know how you strategize lead nurturing over social media in the comments below!