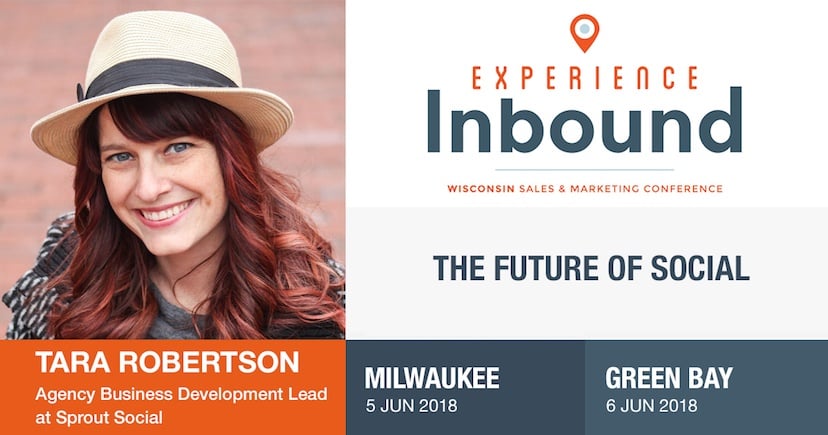 This blog is based on an interview with Tara Robertson that originally appeared on the Stream Creative Marketing Blog.
Tara Robertson is the Director of Marketing Strategy for Sprout Social, and oversees their agency partner program while also developing strategy for the entire marketing department. Before joining Sprout, Tara was the VP of Marketing at Hotjar and VP of Marketing & Creative Services for TSL Marketing (a HubSpot Platinum Partner).
This June, Tara will be making her return to Lambeau Field and Miller Park to speak at Experience Inbound for the second year. We're very excited to have her back, and to help give a preview of what to expect from her presentation, Stream Creative sat down with Tara for a video interview. Here's an excerpt from that interview:
How do you think companies should look at Facebook given the new algorithm changes? What type content is getting the best results?
It's a good question, and a question we hear a lot. I'll answer that by answering one of the things that I hate hearing when I talk to people about social media in general, which is that million-dollar excuse of "My customers aren't on social." We hear that a lot from businesses where they think that Facebook really isn't a place to be or a lot of people on Facebook aren't engaging with your business, and that actually couldn't be any more untrue when it comes to Facebook and business in 2018.
Especially with all the changes happening, meaningful engagement and authenticity, I think, are the most important things you can do from a business perspective if you're trying to advertise and promote your business. You talked about what type of content to put out there, and similar to any social media endeavor, don't go into Facebook trying to just sell your solution or sell your product; go in to try and build a conversation. So creating video, creating ways to engage. We're actually really big on user-generated content right now, so not just big picture influencers, but also who are your micro-influencers and who are the people already talking about your brand, and engage with them on a very personal level.
A lot of people are afraid of the new algorithm changes, and sure you can't just throw a bunch of money at something and that shows up first any more, but if you are engaging and are authentic and you're building something that truly speaks to your end user, you're still going to be really successful.
If you're not doing video, definitely consider that when it comes to Facebook and other social mediums as well. With video you'll get 6x the engagement, so if you're trying to just "stop the scroll" and get the eyeballs it's definitely something to work on.
For the last 5 years, everybody has talking about video like "this is the year of video", and I'm going to pivot here and go to LinkedIn, but my feed on LinkedIn is just full of video now. Do you see that as an area brands should be focusing on, especially from a B2B standpoint?
For sure, and I like that you brought in B2B there, because sometimes it's easy to differentiate B2B and B2C, and forget that it's just a human-to-human world. People like connecting with people and they like seeing people on the other end. It's just much more comforting to know who it is you're talking to, who it is you're engaging with, the people behind the brands.
So for LinkedIn, 100%, if you aren't using video, start using it. Same stat lives there that lives in Facebook: video is going to be 6x more effective to get a response than if you're just putting words out there. But I'd also say for LinkedIn that people are just starting to see it as a conversion potential. So utilizing video or utilizing ways to just "stop the scroll" – which I think is the hardest thing that you have when it comes to social media – you want to try drive things that again are not just catchy, but also authentic. So if you use video, use it in a way that you're still speaking to your end user.
Speaking of "stop the scroll", what do you think about Twitter for brands? Are people still utilizing it? What's going on with that platform?
It's a great question and it certainly comes up a lot, but Twitter is not going anywhere. I think a lot of people question whether they should or shouldn't or if they're using Twitter right, and it kind of comes back to the same answer I had for Facebook. I think in the past, people sort of saw social media as this algorithm to how many times you should post in order to get the lead, and they miss out on the fact that Twitter is the only platform out there that's actually open source. You can capture and gain all this amazing information, like people using hashtags, people talking about your brand, people talking about your competitors, and pulling those analytics to really become more data informed about the way you're speaking to customers. So rather than just looking at Twitter as medium for posting your content, we're looking at Twitter as a medium for trying to keep up with this world, and how can you actually use that data to inform your strategy as a business.
The second thing, is we talked a little bit about customer care, and Twitter continues to be the #1 platform where people go to connect with brands. What's crazy is there's some stat out there where 30% of businesses or users on Twitter don't use your @ symbol or don't speak directly to your company, but they are speaking about you. So I think Twitter is a great place to pull that information knowing that's the first place people go whenever they have a positive or negative experience with your brand.
Want to hear more from Tara about social media strategy? Join her at Experience Inbound, held June 5th at Miller Park (Milwaukee) and June 6th at Lambeau Field (Green Bay).