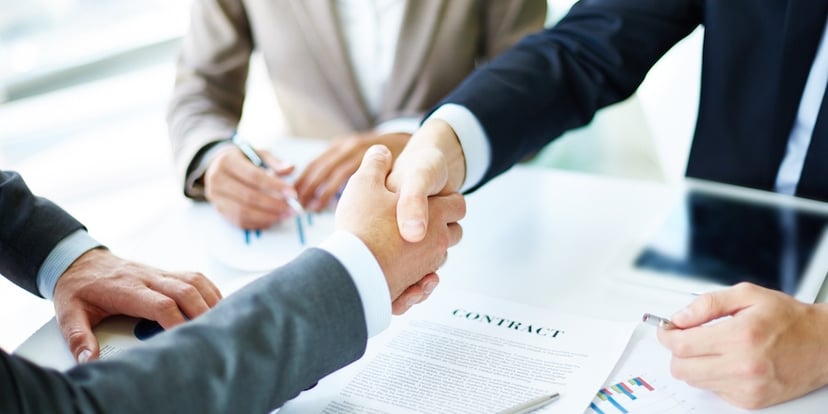 If you were to ask the Average Joe on the street to describe marketing in a nutshell, most people would probably give an answer like, "convincing someone to buy something." And for the most part, they wouldn't be wrong; except convincing someone to buy something is only half of the marketing battle.
Once someone becomes a customer, you want to make sure they stay a customer, and you're going to need some well-thought-out promotional firepower in order to do so. If only there was a place where all your customers and fans could easily stay updated, ask questions, and interact with your brand…
Sarcasm aside, social networks like LinkedIn, Twitter, and Facebook provide a great platform for nurturing your current customers, and it's critical that you use these platforms for nurturing as much as brand awareness. To help you do just that, here are 7 special tactics you can use on social media to nurture your current customers:
1. Ask Customers to Like Your Social Media Pages
First things first: whenever you get a new customer, make sure you encourage them to like your social media accounts within the first couple of emails to them. Make sure you include a link or a "Follow" button to make it extra easy, and let them know that those are great outlets to contact you with any questions, stay up-to-date on company news, potential promotions, and more.
2. Maintain a List of Customers and Evangelists
If you use HubSpot, you can organize your contacts by lifecycle stages to better manage your lists and easily identify prospects and followers who enter your social monitoring streams. This is extra helpful for keeping an eye on customers who might have any questions as well as evangelists who are actively promoting and engaging with you. Make sure you show love any customers showing extra love for your brand, and always be quick to answer any of your current customers' inquiries.
3. Use as Customer Service (Ask for Feedback)
I've mentioned this numerous times already, but social media is a great place to interact with your customers and get their feedback. Whether it's through a tweet or a comment on your Facebook or LinkedIn Page, let them know that your social accounts are a great place to ask questions or leave comments about your experience. Likewise, when people do ask questions or leave comments, do your best to promptly respond to them so others are encouraged to speak up.
4. Share Content That Improves the Customer Experience
Social media is a great channel for advertising, there's no doubt about it. That being said, you can also share a lot of content that will improve your current customers' experience, and even encourage prospects to buy-in. This could be as simple as a post from your company's blog or maybe a YouTube video like the one from HubSpot below. If you have a big enough following on Facebook, you might even consider a Facebook Live video, seeing as most of your fans should receive notifications whenever you post.
5. Run Promotions/Giveaways
If you want to keep your current customers engaged with your social media accounts, try running some promotions, giveaways, or special offers. There are several different ways you can go about it, but one good example is asking followers to share and like a post promoting your page, with each share counting as an entry. This way, your current customers can help you find new potential customers.
6. Show Community Involvement and Company Culture
When people buy something, there can often be a sense of pride attached to using it. Whether it's a fire station being proud of their fire truck or a marketing agency being proud of the automation software they use (shout out to you, HubSpot!), there's a sense of pride of being apart of a company's family—along with all the other customers and users. That being said, one way you can make your customers more proud to use your products and services is by showing them all the great work you do for the local community and by giving them an inside look at your company culture. Let them know they're supporting a good company and welcome them into your company's community with open arms.
7. Ask for User-Generated Content
Whether it's for a contest or just for daily social media content, another great way to keep your customers engaged on social media is by asking for user-generated content. For example, ask for pictures of customers using your products or service, and share all the good ones you get. A great way to convince prospective buyers to buy your products is by showing genuinely happy and satisfied customers using them.
As marketers, it's easy to get caught up looking for more followers and likes, but you shouldn't neglect all the loyal fans and customers you already have. Get them more involved on social media using some of the ideas from above, and you'll probably see some growth in your overall engagement as well.