2018 has been off to a whirlwind start as far as social media goes. Between Facebook's big algorithm change and the launching of new social networks like Vero, there's been a lot for marketers to think about as we approach Q2. To help you wrap your head around it all, Alex and I sat down at Appleton Beer Factory to clue you in on some of the big social media trends and changes in 2018 so far:
Facebook's Algorithm Change
Back in January, Mark Zuckerberg shocked businesses around the world when he announced a massive change to Facebook's News Feed algorithm that made posts from Company pages less-prioritized in the newsfeed. What sounded like a death blow to Company pages at the time has actually been less apocalyptic than some people made it out to be, however. Today, for your content to be shown in your followers' News Feeds, pages need to earn more interactions, comments, and shares on their posts, as Facebook wants to prioritize branded content that sparks "meaningful conversations." It's a move that's totally shattered the old idea that "if you post it, they will come," and now businesses need to focus on sharing unique, authentic, and attention-grabbing content—like high-quality videos—in order to stay visible on Facebook.
Facebook's Update to Organic Reach Measurement
Hot off the heels of their newsfeed algorithm change that was destined to lower the organic reach of company pages, Facebook came out and announced a big change to the way organic reach will be measured and presented in your Company page Insights. Now, Facebook shows your posts' organic reach using the same methodology it uses for paid posts to help provide more consistent data to company page admins. In the past, organic reach was measured based on how many times those posts were delivered in the News Feed, whereas paid posts where measured based on how many times those posts actually entered a user's screen. This should give admins a more realistic idea of their organic posts' reach, despite pages likely seeing lower reach than before.
Resurgence of Facebook Groups
If you haven't noticed by now, these Facebook updates have resulted in a lot of big changes for how Company pages use the network. One last effect we'll mention, however, is its impact on the resurgence of Facebook Groups. As Mark Zuckerberg said in his post above, Group posts will now be prioritized alongside posts from friends and family in the news feed, in hopes to inspire more conversations among users. This is big news for brands who participate in Groups, especially the recently launched Groups for Pages, which allow Company pages to create Groups where they can interact 1-on-1 with their biggest fans.
Social Friends, Not Just Followers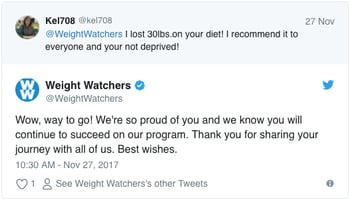 One of the coolest things about social media is that it allows people from all over the world to connect on a 1-to-1 basis with each other. For brands, this means having all your fans and followers tweet out to you whenever they have a question, problem, or awesome moment, and it makes for some really unique interactions. For quite some time now, brands have been asking their fans and followers for user-generated content to help promote their products or services, but today, brands hardly even have to ask anymore. Fans and followers are happy to share their experiences with today's companies, because they don't just see themselves as fans and followers anymore; they're friends of the brand.
According to the Sprout Social Index, 1 in 3 consumers today say they would mention a brand while sharing a personal accomplishment on social media, making those brands a key part of their personal success story. For businesses, it's all about recognizing these moments and responding to the individuals who take the time to share their stories. In fact, as many as 89% of social messages go ignored by businesses today, leaving plenty of opportunities for your company to reach out and make those meaningful personal connections that your followers are looking for. If you haven't done so already, make sure you set up social monitoring and listening tools, and keep an eye out for anyone that mentions your company or its offerings.
Want to learn more about how you can adjust your social strategy to create more business opportunities? Download our free social media eBook, How to Use Social Media to Attract Visitors to Your Website.