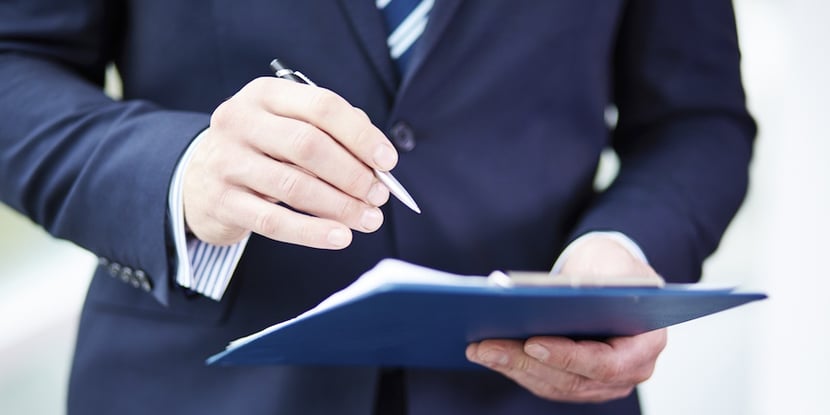 One thing about inbound marketing is certain, these days: It's evolving. What was once thought to be a way to turn strangers into visitors has progressed into a full-blown methodology of developing new business and keeping the customers you have. Inbound has redefined the sales and marketing process by putting inherent human behavior at the center of business development focus.
If you are reading this and have been lucky enough to have a company that has adopted this method of thinking, it is important to keep progressing. If you are reading this and have not yet jumped on the inbound train, the "Current State of Inbound Report" will provide you with all the details of its current performance and what is forecasted into the future.
HubSpot's latest annual report on inbound uses charts and graphs to detail the success and areas for improvement in different inbound and outbound marketing environments. They've surveyed their customers, and from this data, the report sheds light on what's changed in the last year. If you're getting started, the State of Inbound can be a helpful and compelling piece of evidence to prove that the adoption of inbound marketing is happening, and why your company is already behind.
Below are 8 key takeaways to explain the how, why, and what next of Inbound:
1. Top Marketing Priorities within Companies has Shifted
Looking at the past 3 years trends, it is interesting to see how the priorities have shifted. I believe this to be attributed to the implementation of inbound marketing. As companies fully embrace this new way of marketing, new needs develop. It is important to know what is top on your company's priority list so that you know how to best align your strategy to hit your forecasted goals and benchmarks.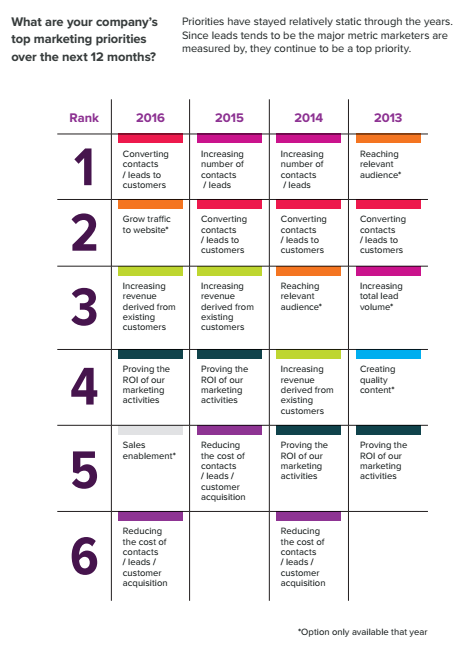 2. Outbound Marketing Focuses more on Sales Enablement
While engaging the sales team is important, it's not everything. Inbound marketers have the mindset and priority that focusing on leads while generating traffic leads to a more successful sales cycle. This puts the discovery in the hands of the buyer rather than the seller. Outbound emphasizes sales enablement because the intent of their sales cycle is to close deals quickly rather than nurture a relationship.
3. More Inbound Marketers Would say Their Marketing Strategy is Effective
There seems to be more confidence behind an inbound driven marketing plan. Only 18% of outbound marketers believed their strategy was effective in comparison to 81% of inbound marketers who think what they are doing is working. Proving ROI of marketing activities was a struggle for both, but where there was a real discrepancy was managing of the website. Those using inbound feel more in control of tweaking or editing their page intelligently based on the insights they receive from their marketing automation platform.
4. Communication is Key to Change
This ties back to marketing and sales organizations operating as one. A change can't be made unless all team members are informed. If marketing is failing to deliver quality leads, they need to ask questions to determine why. Only then will they be able to take corrective action and make the outcome better for the entire team and organization.
5. Some Sales Teams Still Aren't Using CRM
In order to work effectively and ensure that everyone is on the same page, marketers need to have the tools to track how leads are being interacted with. When actively used, CRM systems help prevent duplication in outreach along with key information about each specific lead. There are plenty of cost effective, easy-to-use solutions that can help your sales and marketing teams better align. Not only does this help simplify outreach but overall reporting.
6. Most Overrated Marketing Tactic: Outbound
No real surprise here, but this really does reinforce that the mindset of marketing has shifted. Ironically both inbound and outbound organizations agree. Year-over-year opinions about paid advertising and outbound tactics remain the same likely due to the low ROI from those types of activities.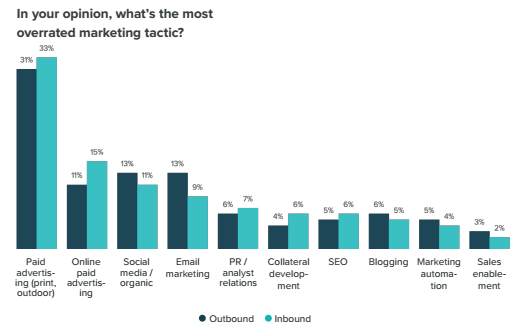 7. Companies are Experimenting with Content Over Multiple Distribution Channels
Marketers are thinking beyond their own site and looking for ways to experiment with the types of content they are developing. There are numerous channels to be explored such as YouTube, Facebook video, Instagram, Podcasts, and Medium. Being that video content is gaining popularity, many are looking for ways to take advantage of that. The challenge is making sure that your content is still reaching your target audience to bring quality traffic back to your company site.
8. Shift in Attitudes of Salespeople
Buyers are no longer responsive to old selling tactics. This has incentivized salespeople to become more helpful instead of pushy realizing the value of relationship building. Salespeople are able to capitalize on buyer interest by monitoring their engagement with content and need to work with marketing now more than ever to get an accurate picture.
As companies continue to redefine the parameters of their marketing strategies more and more are choosing inbound. This fundamental change in marketing is being successful because it stems from true relationship development and building. Marketing and sales teams are taking time to slow down and analyze how to best connect with their prospects through more intentional and helpful content followed up with meaningful and researched outreach. This movement is here to stay so take a deeper dive in what's been working and download the full State of Inbound Report.