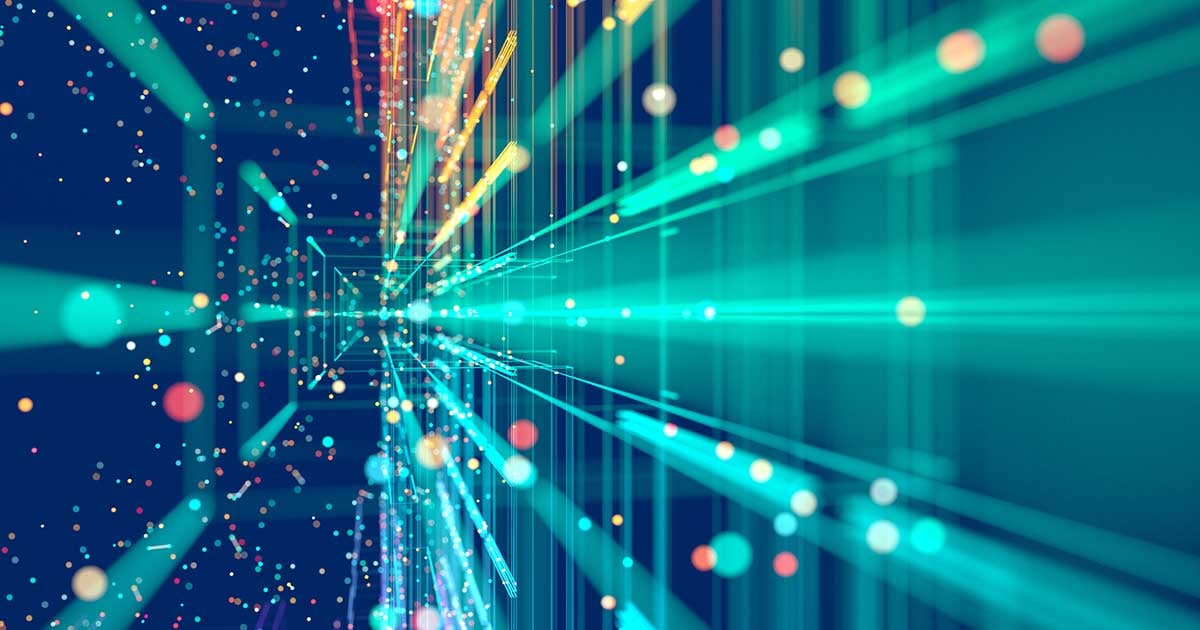 If you're exploring inbound marketing, you've no doubt read about the power of marketing automation software (and its importance to inbound success).
Using a marketing automation platform to its full potential requires planning, lots of project management, analysis of your marketing results, and having the right digital tools in your arsenal.
So, what technology do you need to do inbound marketing?
Reviewing our checklist gives new inbound marketers an overview of the things you'll need to:
Ensure your inbound strategy will help your company grow
Get internal engagement and support
Determine how much help you may need from a partner agency
Set yourself up for success
So, let's get to it!
Content Management: Keep Cranking It Out
[ ] CMS: Control the Information You Publish
Content Management Systems (CMS), such as HubSpot and WordPress, streamline your website and content management by automating tasks and integrating with other content sources. Some CMS platforms simplify content publishing using templates; others require programming code knowledge (your IT department or a third party).
RELATED: The Best Marketing CMS Platform: HubSpot CMS Hub Comparison
[ ] Content Planning: Scheduling is Everything
Marketing automation software allows for the creation and scheduling of advanced content, blogs, and emails. Yet, it's still necessary to create an editorial calendar and project plan.
Tools such as CoSchedule help create a meaningful and powerful publishing schedule, including an integrated marketing calendar and workflow/process management tool. Next, make sure deadlines are being met and projects are progressing by using a project management tool, which tracks the development of pieces and centralizes communication. Some options include Jira, Basecamp, Trello, and monday.com.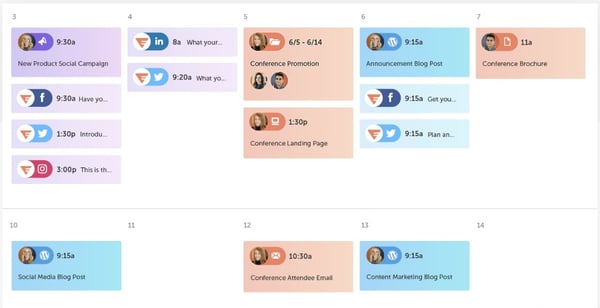 [ ] Social Media Planning: A Beast All Its Own
There are several platforms that focus on social media planning and monitoring such as Hootsuite, Sprout Social, and Buffer. Some marketing automation software has social media capabilities built in (including HubSpot), but depending on how large your social media efforts are, external tools can be useful for extended analytics, advanced scheduling, engagement management, and further brand amplification.

[ ] Graphics Tools: Make It Easy On Yourself
Add imagery to bring your pieces to life. Stock image libraries, such as iStock or Canva (integrated into HubSpot) help ensure you have fresh graphics at your fingertips. Many companies don't need an entire graphics team because stock photo libraries and online editing tools help cut down the size of your marketing team.
[ ] Video Content Marketing: Nothing is More Captivating
Last year, 87% of businesses said they use video as a marketing tool, and 59% of those who don't currently use video, say they plan to start in 2020. With almost 7,000 marketing technology and video software platforms from which to choose, is there an advantage to using a particular video hosting option? Choose a platform that covers the vital variables — optimize view count, simplify accessibility, retain strong aesthetics, and use a flexible player. Read this article to learn more:
YouTube vs. Vimeo vs. Wistia: What's Best for Video Content Marketing?
CRM: Properly Nurture Customer Relationships
[ ] Lead Tracking/Managing: Make Life a Whole Lot Easier
Inbound marketing generates better quality leads, which should be tracked and managed so they develop into customers. A Customer Relationship Management (CRM) tool is vital to your efforts, and some marketing automation platforms (such as HubSpot) have this built in. Consider a CRM to be "phase two" after getting your marketing efforts up and running.
[ ] CRM and Marketing Automation Integration: Create a Smooth-Running Machine
Every year, CRMs and marketing automation platforms are becoming increasingly integrated. HubSpot — an all-in-one example of this — is the clear leader in combining marketing automation and CRM. Salesforce, the leader in CRM, is also working toward the goal of providing a suite of options, including the Salesforce Marketing Cloud and Pardot.
RELATED: Using Integrated CMS, CRM and Marketing Automation Tools for Maximum Lead Gen
[ ] Align Sales with Marketing: Not Easy, But Worth It
With a fully aligned marketing and sales system, your business development efforts will benefit from:
Clear tracking of leads' lifecycles and sales progress
Easily calculated ROI (how marketing efforts directly led to sales results)
Better organized internal communications (see below)
[ ] Internal Communications: Build Workflows, Automate Emails, and Elevate Meetings
Some platforms are made to improve internal communications and alignment. Using Zapier, for example, posting new content online triggers an internal, automatic email to your sales team reminding them to share the content with prospects.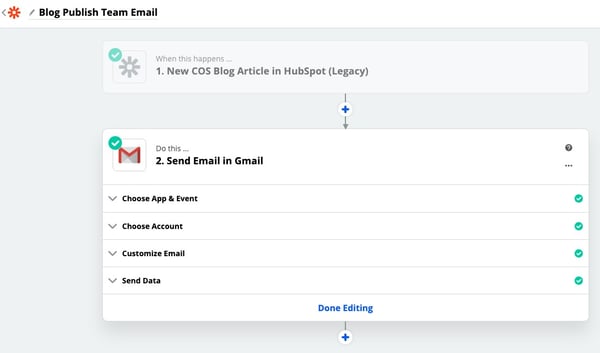 Zoom or Gotomeeting allow both marketing and sales to see when meetings happened and how they went. HubSpot's meeting scheduling tool even lets prospects automatically schedule meetings that are seamlessly linked to the contact's record in the HubSpot CRM.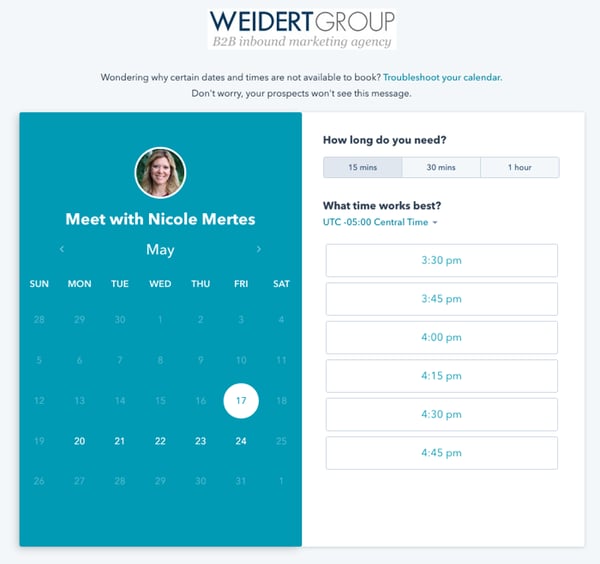 Results Analysis: Utilize the Real Advantage of Marketing Automation
[ ] Analytics Packages: Maximize Effectiveness and Optimize ROI
Most marketing automation software comes with analytics tools built in. Just make sure you're able analyze the metrics you need to track relevant Key Performance Indicators (KPIs). For example, getting started with Google Analytics is an effective, complementary (and free) tool that helps to dig deeper into your website activity.
[ ] Advanced Analytics: Explore Website Visitor Behavior
Some software shares incredibly advanced analytics to help improve website visitors' experiences. For instance, Lucky Orange's heat mapping tool shows where visitors become frustrated or confused using dynamic heatmaps and video recovery, which track every visitor's behavior.
RELATED: How to Identify & Track Inbound Marketing Metrics That Matter
[ ] Metric Visualization Platforms: See Specific Datapoints That Define Success
Some platforms allow you to combine Google Analytics, HubSpot, and all the other marketing platforms, providing a well-rounded picture of how marketing campaigns perform. Databox allows you to quickly access and visualize key metrics that help marketers know whether a campaign is on track, so adjustments and optimization can quickly occur.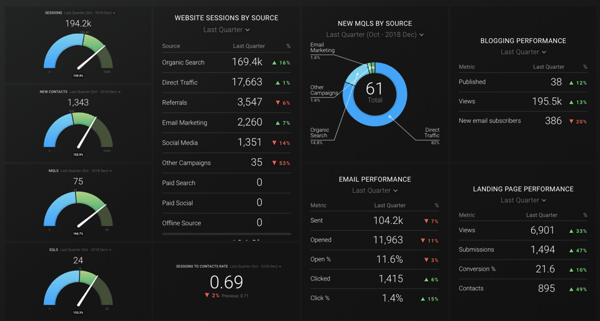 [ ] Combined Tech Stack: Marketing Automation is Just a Start
These tools are even more powerful when used in a combined tech stack. Knowing that the costs of digital marketing tactics can absorb your marketing budget, having a collection of technology-based tools that automate, perform, and report on various marketing activities can efficiently use your budget across multiple channels. The combination of marketing tools will vary depending on your type of business, its size, your budget, and your strategic goals and priorities. Here's a handy list of what we find most helpful: Elements of an Effective B2B Marketing Tech Stack [Infographic]
To sum up our inbound technology checklist, planning is essential. You don't need to check everything on the checklist! Within content management, CRM, and analytics, you could always purchase more products to jumpstart your marketing efforts. The real answer is in executing effectively.
Learn more about building an annual inbound marketing plan. Our template gives practical guidance as you build your company's annual marketing plan; just click the box below to view the toolkit and get your template.