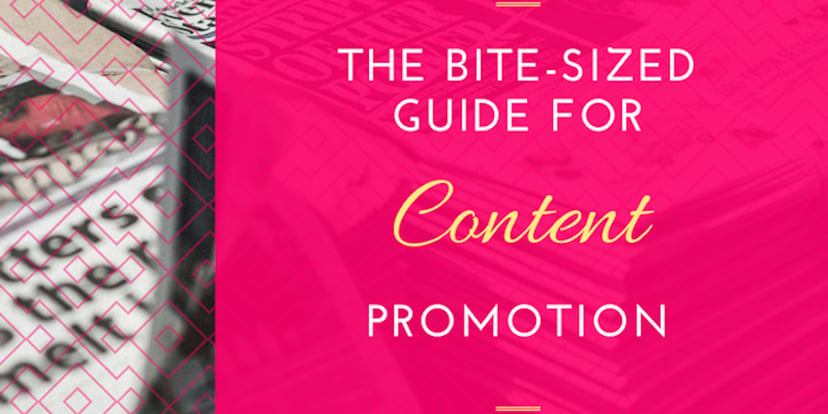 On behalf of all content writers and marketers out there, typing out a 1,000-word article after some rigorous research is only the tip of the iceberg for that content piece. Now that you've written an awesome document that will go onto the labyrinthine library that the internet is, your content needs to do just one thing: to be seen!
A quick look at the Internet Live Stats homepage will give you the number of posts that are being uploaded to the internet with every passing second - and the rate at which new content is being created doesn't seem to be slowing down. It is a hard game to play, but victories, in terms of getting content in front of eyeballs, comes with time, experience and paying attention to the smaller details.
Let's start with the basics, is your content ready to be promoted? Ask yourself the following questions when finalizing your content piece:
Is your content search engine optimized?
Have you checked your facts?
Do your feature images contain appropriate alt tags?
Are your call-to-actions well design and strategically place?
Does your meta description and headline contain keywords?
Have you included UTM Tracking codes?
Have you proofread the copy?
Below are 10 online initiatives you can utilize when promoting content online that can help to increase the visibility of your piece and convert leads.
1) Social Media
Promoting on social media exposes your content to wider audience base. Sites like Facebook, Twitter, Tumblr, Pinterest, etc, contain pools of people who turn into potential subscribers or leads. Using social media managing applications like Hootsuite or Buffer can help you manage your content to further extend its visibility.
2) Content Communities
Joining content communities on sites like Reddit, Facebook, and Google will connect you with a broader audience, but also with those who are your peers in the same profession. You can use paid platforms like Quuu, Riple or Blog Engage to reach a more curated audience as well.
3) Influencers
Influencer outreach is a great way to give your content social proof, meaning if a person who holds authority in your industry contributes to your content, you're bound to attract a larger number of readers. There may be some instances where a fee is charged in order for them to share your content.
4) Peer-to-Peer SEO
This one is a no-brainer. Contact other marketers or content writers within your professional network to organically promote your content. You can direct message them through Twitter or LinkedIn asking them to share your content on their social media handles, and you can return the favor.
5) Free Press Mentions

When writing content you're bound to mention another company or professional. Make sure you write to them letting them know that they have been mentioned. They will likely share your content as a thank you.
6) Google Adwords and Facebook Ads
Promoting your content through Google AdWords and Facebook Ads can help you reach your prospects faster. You have the ability to segment your target audience, set a budget and promote your content with objective goals.
7) Quora
Find questions that have been asked on Quora that your content answers. By adding your link on Quora, you are directly engaging with people who will be searching for your content.
8) Repurpose Your Content
Repurposing content is an easy way to recycle content into other formats such as videos, infographics, reports, e-books, etc.
9) Newsletter — Email Subscribers
If you have an existing emailing list, you can use tools like MailChimp or SendPulse to craft emails and send them in bulk to your subscribers. Make sure that your content is engaging so that readers start a conversation about it.
10) Micro Content
Micro content is short, gripping content that contains images, text or information that is meant to be a brief summary of your content. By implementing micro content ideas in your social media sharing, your audience is more likely to engage.
Try implementing these content promotion strategies measuring to see if the promotion of your piece is yielding more engagement. To read the extended version of this article click here.