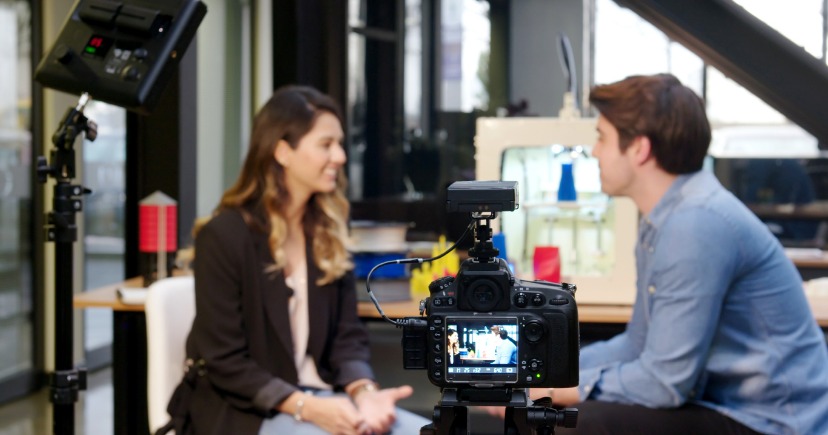 As a marketer for a manufacturing company, you've managed to navigate your way through a wide array of challenges: doing research to understand customers' pain points, creating a content plan, corralling subject matter experts to provide input into website and blog content, developing and managing social media networks, getting your website to be a well-oiled lead generation machine…
When it comes to video marketing, however, you're finding yourself a bit more dubious. You may be thinking: "Do I really have to do video? It's too daunting and outside my skill set and I can't afford the time or budget to get it done." Or maybe you have one or two videos and think that's good enough.
Well, to be blunt, tell yourself to get over it. There's no better time than now to start finding ways to either add video into your annual marketing plan or find ways to do more of it.
Need Proof of Video's Value?
Here it is, from multiple sources:
If these stats alone aren't enough to get you going, remember that 72% of industrial sourcing is done online, long before an engineer, project manager or supply chain manager makes direct contact with your sales team. Yes, eBooks, white papers and case studies have a place in the process, but given how quickly and easily video can convey information, build trust, and even create an emotional connection, it's essential for helping prospects through their research process.
So Where Do You Start?
If you're wondering where to begin, it never hurts to have a look at what those who are successful at it are doing. In research compiled by Ascend2 for Vidyard, companies who are doing well with their video marketing ranked various types of video in order of importance and effectiveness (from most to least):
Customer testimonials

Product demonstration videos

Explanation and tutorials

Interviews with thought leaders

Case study and project reviews

Event videos
With these types in mind, take a look at your content plan to see where you may be able to fit such videos.
Tips for Creating Video Content
Keep it short and sweet — 2060 Digital says it's best to keep video length to less than two minutes. However, keep in mind that if the content is compelling or if you're doing a demo, it may need to be slightly longer

Put a name on it — The video's intro and outro need to have your company's logo

Give it personality — B2B doesn't mean it has to be boring. Infuse some brand and personality to make the video more engaging

Address customer problems — Just like your blog content, your video should address pain points and provide info that prospects need

Next steps — Include a call to action so the prospects can take the next step in your sales funnel

Production quality — Prospects have some base quality requirements. A shaky shot or poor audio won't cut it. If you don't currently have the exact capabilities, or resources, why not hire a couple interns from your local college — chances are they've got the skills and are looking to exercise them
Where to Look for Inspiration...
Below are links to four manufacturing companies who are using video well — use these to draw some ideas and inspiration for your own video efforts.
Miller does an outstanding job with their videos and has an extensive library that is navigable by key business issues, welding processes and industry.

A leader in paint booths and finishing systems, Global Finishing uses videos to demonstrate its products in use, provide case studies and testimonials that demonstrate product effectiveness and offer how-to's for using various pieces of their equipment.

Ranging from a corporate overview videos and case studies as well as trade event summaries, Rockwell's videos are a nice compilation of more highly produced videos as well lower-key versions that are more personal interview driven.
This adhesives manufacturing company has a variety of educational videos filterable by packaging, construction adhesives, transportation and more. H.B. Fuller uses video to showcase its adhesive solutions for a wide range of industries, the company's manufacturing processes, and how to handle and use different products.
Video is a crucial element for successful B2B marketing. If you're not convinced yet, or are still deciding how to work video into your 2019 budget, you'll want to check out our infographic, Why Video? Why Now? for proven ways to leverage video that encourage prospects to act!
This article was originally published April 27, 2016 and has since been updated.