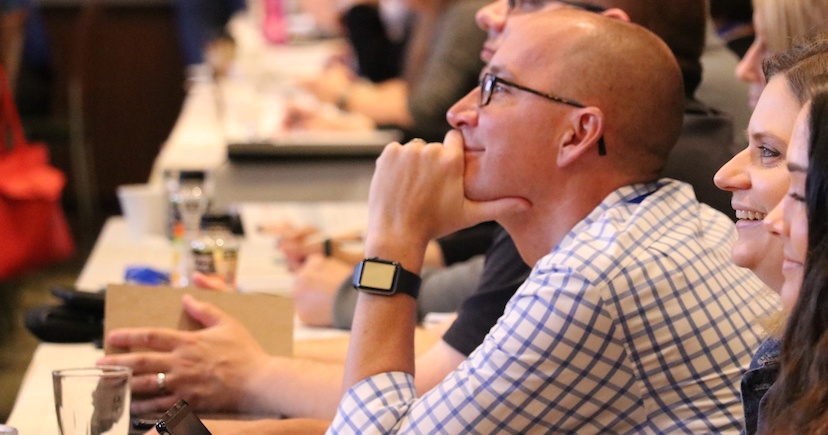 What I Learned at the 2018 Experience Inbound Conference

It's been about two weeks since Experience Inbound rocked my world, and I'm finally sitting down to capture and share my thoughts. In case you're not aware, the event was held in early June at two locations — Miller Park in Milwaukee, Wisconsin and Lambeau Field in Green Bay (Go Pack Go!).
I had a lot of "aha" moments, and hundreds who came have been saying the same thing. The goal of the event, presented by our team here at Weidert Group in partnership with Stream Creative, was to bring marketing and sales experts together to learn from the best and most innovative thought leaders in the industry, and leave energized and ready to make a difference for our companies and our clients. And, boy, did we!
Here are some key takeaways from our keynote speakers.
Jay Acunzo — Host of "Unthinkable" Podcast
I absolutely loved Jay's insights, especially as it pertains to challenging best practices. He encouraged us to break the wheel — to not cling to convention or always jump on the latest trends. Why? Because you'll work way too hard to end up with average and uninspiring results that look like everyone else's.
As marketers, we're experiencing advice overload. Anyone with an internet connection is suddenly an expert, and every shift in the industry causes a reaction instead of a well-reasoned and rational response. And just when we think we finally know the answer…we don't.
What if, instead of looking for the answer, you create your own? Think outside the best-practice box and embrace the unconventional.
JAY ACUNZO FEEDBACK BOOTH:
"It got me thinking about ways I can do a better job paying MORE attention to the customer and less to our business."
"Many times conferences are only about best practices, so it was good to be reminded upfront that best practices aren't universal. Take what you learn and make it your own."
"His cautions against over-reliance on best practices and what everyone else is doing were poignant and he did a nice job of demonstrating why it's important to have a clear goal in mind for your organization/content."
Joanna Wiebe — Founder of Copyhackers and Co-founder of Airstory
What if instead of just writing great content that engaged audiences, we used our words to actually sell more stuff? This was the premise of Joanna Wiebe's talk, Content that Converts. While many copywriters and marketers are looking for the latest techniques to hone their craft, old-school, direct-response copywriting practices often result in the greatest ROI.
She encouraged attendees to not be so afraid of creatively positioning their products or services as a solution in their blogs and other content. But she also stressed the importance of creating a framework for writing and to be very deliberate about using predictable and repeatable writing models, formulas and techniques. You can't just start unloading all your thoughts onto a page without first organizing those thoughts into a sensible framework.
JOANNA WIEBE FEEDBACK BOOTH:
"Awesome tips on how to create amazing content that converts and has a purpose."
"This was one of my favorite sessions. I thought Joanna provided great insights and practical strategies for creating content including copy, but not just copy."
Nick Holland — General Manager/VP of Product (Marketing Hub) at HubSpot
Perhaps no innovation is having a greater impact on marketing and sales than artificial intelligence (AI) and machine learning, and everyone is being impacted. The ability to anticipate a customer's next move and tailor content and engagement to his or her wants and needs (based on data, of course) is having an immense impact on marketing strategies.
We've readily seen machine learning in action on our smartphones and on Amazon in the form of recommended products, but the future of AI will be radically (and somewhat creepily) instinctive and human-like, and marketers need to stay on the leading edge of this technology and leverage its power.
NICK HOLLAND FEEDBACK BOOTH
"This was a pretty mind-blowing session. AI is huge and will definitely impact many businesses and individuals in the coming years."
"We are all affected by this topic whether it scares you or excites you."
Other Experience Inbound Highlights
It's hard to pack an entire day's worth of amazing presentations and interactions into a single blog post, especially with so many breakout sessions on everything from embracing an agile mindset in marketing, to the future of social, to writing better emails or creating better video, and more. Plus, attendees received:
Free headshots! Provided by T60
Great giveaway items provided by 4imprint
Networking after the event during Happy Hour
An opportunity to attend an event at one of two iconic venues
"Weidert Group & Stream Creative put on an amazing event. There was awesome and surprising content that helped me rethink how I approach my business. The event was seamless between sessions and the staff were super helpful. On top of the amazing content, I met some pretty cool people."
We met some really cool people, too… and we'd like you to be among them at next year's events. If you'd like to be notified about next year's Experience Inbound Marketing and Sales Conference, let us know.