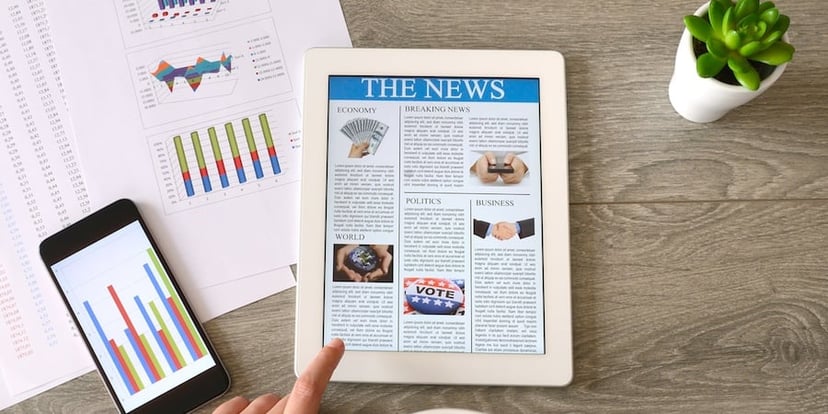 We've come a long way since the days when, for the most part, the number of "bingo cards" (reader information service cards) submitted from a magazine appearance gauged the effectiveness of a trade press program. Today we look for what's in the email box. Plus, we can expect to measure much more because we have a growing number of tools to measure our effectiveness as communicators in the service of our businesses.
Rather than seeing print and digital B2B Public Relations (PR) as an either/or proposition, both approaches really fortify each other. Print gives your program a breadth of reach, while the Internet enables PR programs to know even more about how prospects are responding to the information being put before them. Plus, digital empowers prospects to get information on sources of interest in an instant.
So what lies ahead for the trade press as we reach that arbitrary delineation known as the New Year? Let's dive in.
Can't Forget Data
In the battle for customers, technology will win the war. According to Forrester Research, by 2020, technologically astute companies will "steal" $1.2 trillion a year from their less informed peers.
In fact, AI – artificial intelligence – was named the marketing word of the year, based on a member survey conducted by the Association of National Advertisers. Marketing will be relying on approaches such as AI to build insights into which sectors of the market they need to reach. As with any mining program, the responses generated from PR efforts will provide core samples of the kinds of buyers who are responding the company's messages. Therefore…
KPIs Are Your GPS
This discussion is, after all, about where you're going, and so you want to determine where your destination is. Key Performance Indicators (KPIs) are a means of making the results of the "soft science" of B2B PR a little more defined.
Sales revenue is a good place to start, but what has been PR's contribution? Now that the bingo card is dead, once the interest of a prospect has been piqued by seeing a product release or guest editorial, they'll instantly head over to your website.
Therefore, it's a good idea to monitor your web traffic to detect blips that correspond with your PR activity. Better yet, set up microsites when possible that correspond with your program's topics for an even more accurate assessment.
Be sure to track your placements and determine the size of the audience with each appearance for a cumulative idea of the reach of your program. Also keep an eye out for traffic from mobile.
Print is Still a Thing - A Big Thing
According to Bob Favra, Content Manager for Plant Engineering magazine, "The key issue I encounter every day is the balance between what the larger media world is doing and what's happening in the manufacturing space."
He feels that a lot of social media is not where it needs to be for reaching the B2B market, and a lot of marketers are leaving the present-day needs of their customers behind. According to Bob, "Marketers need to understand what end users actually uses in terms of media – social and otherwise – to make buying decisions. In our market, that means print, newsletters, webcasts and intelligently focused social media."
Opportunities Abound in Print
Though print continues to be prominent in B2B, editorial staffs continue to shrink so there is a growing reliance on outside experts for content. This need provides an incredible opportunity to build your company's thought leadership amongst prospects.
Avoid the temptation, however, to offer up puff pieces lauding your company. Most editors will shoot these down because they have to present their publication as unbiased in order to retain respect and readership. Having your company's name in the by-line of a well written, authoritative article will keep you top of the prospects' mind when their needs require your product.
Get Out of the Silo
As we move along the year and into the future, companies will want to get more out of their activities. That means various functions need to work together whenever possible. In many companies, PR is off on its own, often because the function is outsourced.
Not only should the folks running the trade press program be aware of marketing goals that go beyond "get us some ink," but they should have a working relationship with those in the company generating content, with those working on SEO and even the sales department for an idea of what's happening on the ground.
For a Happier New Year
Of course a lot of what is going to happen in your world as the year moves along depends upon what you want to do and the resources you have to do it with. Some will see what's coming up in PR as a challenge, but in reality the technological changes that are happening are opportunities to do things better and with greater precision than B2B PR has seen previously.