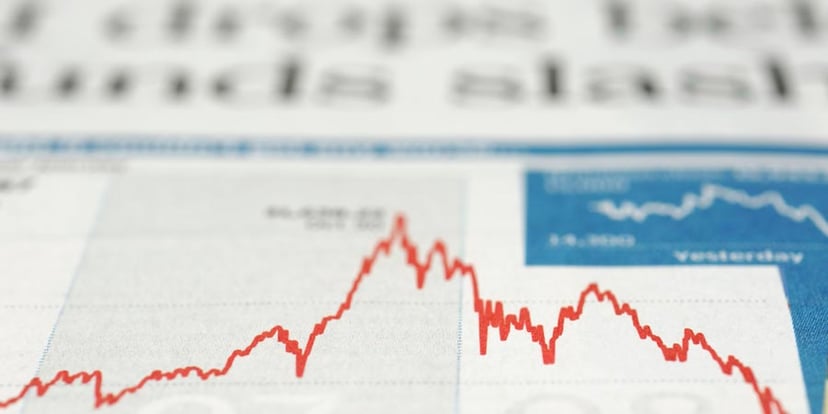 The best writers make a stand. They don't just explain or describe; they argue a point. And especially when it comes to publishing your own business blog, a compelling argument is what keeps readers interested and what helps prospects understand where your company stands.
So, how do you get started with making relevant, interesting points in content publishing? One important tactical suggestion is to start newsjacking.
One marketer calls "newsjacking" the art of "injecting your ideas into an evolving news story to generate interest around your own brand." Essentially, it's becoming a business pundit by inserting your own perspective into the rapidly moving mix of media and news to attract attention back to your website.
Of course, marketers shouldn't just go around rampantly newsjacking stories. Too much of being a news pundit will make your content boring, unoriginal, and probably annoying. But every once in a while, when a news story is really important in your industry, we recommend taking advantage of the moment and publishing your opinion on the news. Newsjack the stories that let your prospects see your company in a new light.
The key to newsjacking, of course, is to actually have an opinion—which isn't always as easy as you think. Today, I'll address one current opportunity that many financial companies could benefit form. Not every business leader will feel comfortable commenting on the subject. Yet, at the risk of being too bold is the chance to attract attention as a thought leader, so finding your ability to tread that line is at the heart of effective newsjacking.
DOL and The Fiduciary Standard:


The Story Financial Firms Should Newsjack in 2015
In 2015, one of the important stories in investing and the financial industry at-large is the proposed rule change by the U.S. Department of Labor to extend the fiduciary standard that requires financial advisors to put their client's interests above their own. The change would broaden that standard to any company that offers advice for retirement accounts.
It's a controversial but major shift in the financial advisory space proposed by the Obama Administration, and while the story continues to evolve, the debate has been heating up throughout 2015.
What's There to Jack?
One of the best attribtutes about this financial policy story and most other government regulation news is that usually these stories last a long time, and you don't have to be first-on-the-buzzer to do a good newsjacking.
Instead, I recommend letting it play out a little bit, and carefully creating a helpful piece of content that prospects will find useful and will respect you for writing.
In taking a strong stance, the important thing about newsjacking is to make a claim while at the same time offering nuanced analysis that clearly demonstrates your thought leadership. So, for instance, in this example concerning the DOL's policy, you might choose to support or oppose the rule change. But, you should also provide detailed review of what's good and bad about the rule. Another aspect to consider is to offer your opinion on previously expressed viewpoints (like the one below).
All of these components should come together to create a solid 500-1000 word article that will get your followers thinking and, hopefully, attract a few more regular readers.
Ex: Betterment CEO Jon Stein Says: "No More Conflicted Advice"
One example I found that many other small and large investment firms might be able to emulate is this recent blog post (published September 25, 2015) by Jon Stein, the CEO of the robo-advisor Betterment.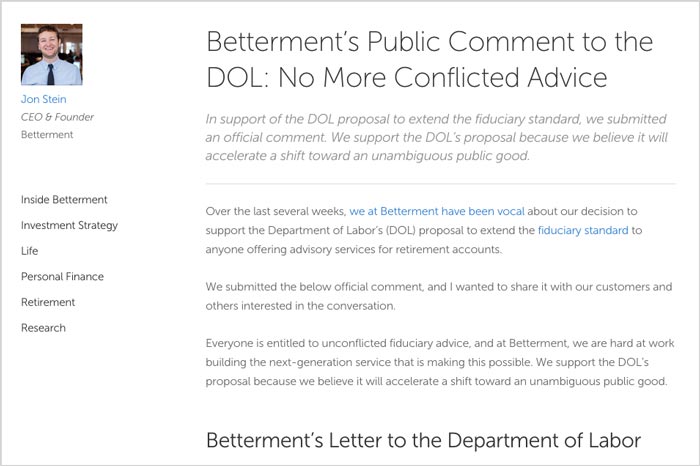 In his post, Jon Stein maintains a formal tone but unequivocally throws his support behind the Obama administration's move to expand the fiduciary standard. He provides data on his position, shows what Betterment has done to advocate for the change, and most importantly, he demonstrates to his prospects—consumer investors as well as business 401k managers—that Betterment is a thought leader and responsible vendor in the investing space.
What's clear about this case study is that Jon Stein isn't just competing against fellow robo-advisors, he's making a move against the grain of the field at-large, which has largely pushed back on the recent news.
Newsjacking the Newsjacking
Opportunities like this financial policy change don't come up all the time, so consider whether your company might benefit from taking a stand on the news. What most financial companies fail to see is that moves by innovators in the space such as Betterment, don't just come in the form of technology; they also take big, bold steps in marketing. Firms looking to stay relevant might also consider a modern approach such as content-based inbound marketing.
As you probably realize, today I've done my best to newsjack newsjacking. I don't represent a financial firm, but I think this is one opportunity many companies' marketers shouldn't pass up. For more ways to improve your business blogging and content efforts, see below for our full guide to creating an excellent online publication.