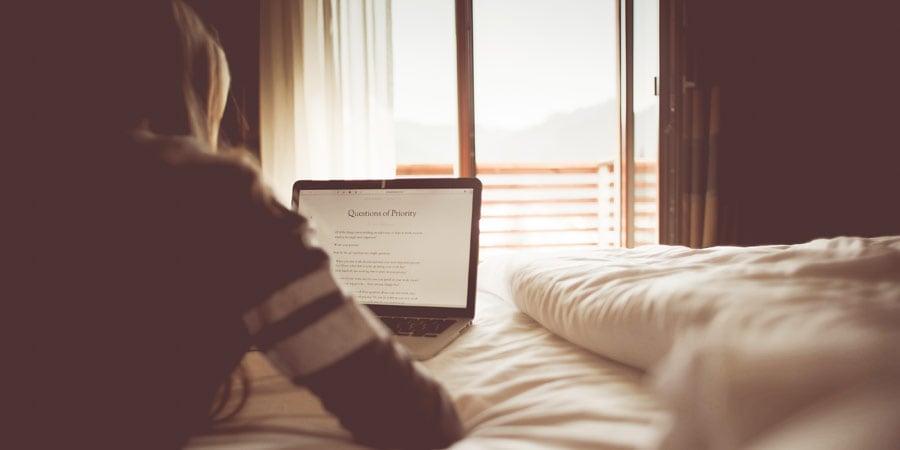 By now, you've probably heard all about the importance of blogging as it relates to attracting traffic to your website, and you've seen the statistics about the importance of blogging:
82% of marketers who blog daily acquired a customer using their blog, as opposed to 57% of marketers who blog monthly (

HubSpot State of Inbound,

2013)
79% of companies that have a blog report a positive ROI for inbound marketing in 2013 (

HubSpot State of Inbound,

2013)

Marketers who have prioritized blogging are 13 times more likely to enjoy positive ROI (HubSpot State of Inbound, 2014)

Websites with blogs have 434% more indexed pages (Social Media Today)
You're finally convinced you need a blog (or need to improve your existing one), but you have a couple nagging questions in your head: How often should we be publishing? and What volume of leads ought we expect?
Well, think of it this way: blogging is a lot like chocolate (or beer, depending on your point of view):
More is often better
Sharing often is important for attracting new friends
No one wants it when it's old or stale
More is Better
Unlike standard web pages on your site, where content is general static, a good blog needs to be updated frequently and follow an editorial plan / schedule. The more you publish on your blog, the more it will attract leads and improve your search engine optimization (SEO).
Consider that:
Businesses that blog more than 20 times a month receive 5 times more traffic than those blogging less than 4 times a month (HubSpot)
Blog frequency impacts customer acquisition. 92% of companies that blogged multiple times a day acquired a customer through their blog (HubSpot State of Inbound Marketing, 2012)
Once you write 21–54 blog posts, blog traffic generation increases by up to 30% (TrafficGenerationCafe)
Companies that blog once or twice per month generate 70 percent more leads

than those who don't blog at all (HubSpot)
Companies that increase blogging from 3-5x/month to just 6-8x/month almost double their leads (HubSpot)
61% of US consumers have made a purchase based on a blog post (Social Media Today)
These stats don't mean you have to blog more than 20 times a month to be successful. What they do indicate, however, is that you need to consistently be blogging something.
In terms of frequency, there is certainly room for publication variations based on your industry, your competitors, your staffing level, and your budget.

For those starting out, aim for publishing blogs at least twice a month and then ramp things up from there. Work to develop solid, evergreen content that addresses customers' pain points and then add topical industry posts or even video content into the mix. (If you need a little help coming up with ideas, take a look here.) Ultimately, the key is to be persistent and make small consistent actions over a long period of time. If you do, you'll start seeing your traffic and leads increase.
Our goal at Weidert Group is to post a blog every day and we are seeing this effort pay off — this past March our traffic was up 29% versus just a year ago and leads are on the rise. Other companies have seen similar results.
Share Often
In addition to sharing content regularly on your blog, you need to share that content via social media in order to maximize its effectiveness and your investment in its creation. By posting your blogs to Twitter, Facebook, LinkedIn or whatever channel works best for your business, you'll extend the reach of that content and bring more traffic to your site.
And just like blogging itself, you need to regularly post to social media so potential leads can recall your presence and eventually engage with you. At what frequency should you share on social media? Well, it depending on the channel – LinkedIn posts have a longer "shelf life," while Twitter is fleeting and will require a higher frequency. Essentially, you'll need to employ the trial and error method to see what resonates with your followers.
Keep it Fresh
Consider your blog to be like the news – if the content isn't fresh people won't come back. There's nothing worse than seeing the same stories over and over, pretty soon you stop going back to that source for information. I'm sure you can even think of a website like that right now.
The same holds true for your blog: stale content won't work. Your potential leads, customers, and the search engines will do the same for you if you don't keep things fresh. Give them a reason to visit your site by regularly publishing new blog content. Provide them with solutions to their problems, address their pain points, and engage them in industry-related news and research.
There's not a magic blog frequency that will work for every business, because each one is different. The key is to get started, keep publishing consistently and be patient. Things will take off in time and, when they do, it'll certainly be sweet.