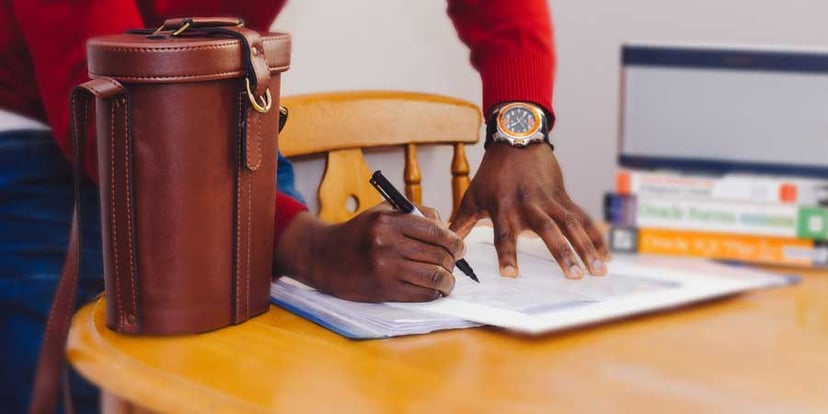 The term "content marketing" has been beaten like a dead horse (and my title's just as guilty). Countless blog posts are published each day on the topic, and the vast majority of them have the same message—plan, create, promote, analyze, (rinse and repeat). On the other hand, relatively little attention has been paid to "content management," the engine that truly makes your content marketing run smoothly.
This lack of attention is especially troublesome if you're a niche-industry B2B company who relies on freelancers to create blog content. Not only is your industry highly technical, but you're also tasked with the difficult job of coaching freelancers on how to engage your company's ideal prospects without much of an idea of the best practices and tips for doing so.
If you're in this predicament, we've assembled four simple steps to help you manage and facilitate action-oriented freelancers who are willing to play an integral role in your content marketing efforts.
1. Create a Content Playbook for Freelancers
Before you start creating actual blog topics, it's important to build out a comprehensive guide for your freelancers covering the goals and objectives of your content. This will serve as the foundation of your blog and provide clear expectations for your freelancers from the onset. In your playbook, you'll want to address the following questions (just to name a few):
Is the content a blog post or blog article?
Who is your ideal target audience?
What is the type of narrative? (e.g. 2nd person: "You" and "You're")
Is the content "topical" or "evergreen"?
Should the writer use technical jargon or casual language?
These kind of questions naturally address the objectives of your content, as they nail down the content style that engages potential leads. For example, if you're a property management company managing a blog for several of your apartment communities, the goal of your blog might be to find the best ways to attract transfers or eventual leads. You'd want freelancers to write in a casual, welcoming tone with a 2nd person narrative to make prospective residents feel "at home" before their first contact with your company. Regardless of your industry, matching the overall style and tone of your narrative to that of your industry is critical for helping you attract warm leads.
If you haven't yet, start by taking a step back and examining which content-related questions are most important for your freelancers to understand, so they can effectively speak to potential prospects.
2. Create and Share Your Content Calendar with Freelancers
While a content calendar is necessary for internal organization of blog topics, it also can help and encourage freelancers to visualize and plan for future assignments. Once you've identified some of the best topics for your target audience, try building out your content calendar according to how frequently you plan on publishing. For example, if you want to publish on your blog once per week, it will be much easier to plan the calendar 1-2 months in advance, while a daily blog that requires more careful planning and analysis could be planned two-to-three weeks ahead.
Once created, sharing your content calendar with freelance writers will encourage them to take action by asking questions and communicating early in the content creation process. This is a great way to keep writers informed and hands-on throughout the planning and production process, emulating your ideal prospects by showing a bias for action.
3. Keep a Consistent Feedback Loop Between Writer and Editor
From the content planning stage to the publishing stage, you'll want to both give and receive feedback on a consistent basis. A writer who plays a role in the content planning stage—as mentioned above—is more inclined to be action-oriented in the content production stage as well.
As an editor, you'll want to create a short-list of things the writer can improve upon (e.g. tone or terminology) and pass this onto the writer for each and every piece they write. The writers will appreciate you taking this time and effort, and make gradual improvements to their craft.
By the same token, consistent feedback should also be given to you as an editor. Feel free to ask your freelance writers to answer the following questions: Is the assignment direction clear enough? Did I provide you with the proper resources (e.g., online article or trade publications) to help you write this piece? These are just a few of the critiques that writers might have but aren't willing to address, so directly asking them these questions can start the feedback loop and encourage you to push the limits as a content manager.
4. Don't Let Them Write it and Forget it
Although feedback is critical in the content planning and production process, writer-editor communication often trails off once a piece is published. As a result, the writers miss out on promoting their work and reaching their respective networks, and your company loses out on wider brand recognition.
One way to avoid this is by sending writers a link to the published article via email or through your content management software platform. Writers will appreciate the opportunity to see their work in its final form and also catch any final edits that they might be curious about. Keeping writers engaged in the content promotion stage adds another touch point at the promotion stage of the content marketing process—ensuring that your freelancers remain hands-on and your brand continues to grow.
Give Freelancers the Keys to Your Content Marketing
Similar to how prospects are at the center of your inbound marketing efforts, freelance writers lie at the heart of content marketing. With this in mind, it's important to take a critical view of the four points above and find the best ways to encourage their participation throughout the content marketing process. Much like your customers, freelancers have the ability to become promoters of promoters of your brand—increasing the reach of your blog and allowing your company to attract more leads.