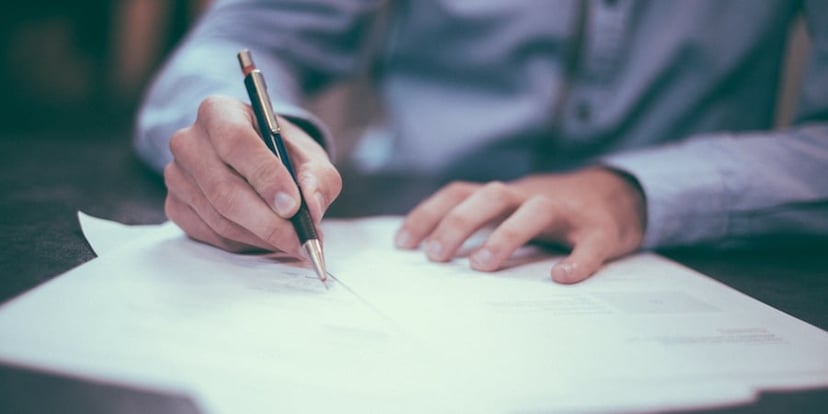 It's often difficult for small and medium-sized companies (with small marketing departments) to keep pace with the volume of marketing content produced by larger competitors. If you're in a situation where you compete against much larger companies for search relevance and online ads, chances are, you're getting bludgeoned by the big guy in market.
Without a strong, internal team of writers, publishing a blog that meets your content marketing and SEO needs can be a difficult task. We've seen small companies where one marketing manager (a writer at heart) has tried to do it all, and, honestly, it never works. Either the one-person blogging machine gets tired a few weeks into the blogging effort, or the blog fails because the marketing manager never really had the in-depth expertise to write to prospects' needs.
How Can You Develop Content Marketing without Writing Help?
The answer: Think like a publisher—not just a writer.
Inbound marketing (and content marketing more broadly) is about gathering content of multiple types—written, spoken, visual, recorded, etc.—and packaging it as efficiently as possible for prospects to find and utilize as they begin to consider a purchase. A good publisher will draft new content when necessary, repurpose content if at all possible, utilize multiple media types if efficient, and extract expertise from key people throughout the company. To be effective in content marketing, marketing managers have to take this multi-faceted, flexible approach to regular content creation.
In this article, we'll focus in on three keys to effective content publication when your writing team is limited: interviews, videos, and guest blogging. These tactics are critical in industries that don't traditionally have large marketing teams, such as industrial manufacturing and distribution, and as you'll see, this line-up of three tactics offer a way forward if you feel overwhelmed from trying to write all the marketing content yourself.
#1. Interview Subject Matter Experts to Expedite the Writing Process
One of the top reasons marketers fail to keep creating blog content is because of their inability to dive deeper into buyers' pain points and areas of confusion. This issue can easily be solved if you start to integrate subject matter experts from your company into your blog planning and writing process. In industrial companies, we encourage marketing leaders to interview their colleagues in engineering, operations, and sales, to (1) identify more about their buyers' questions, (2) highlight advantageous aspects of the company's competitive advantage, and (3) generate new areas of content topics.
Interview subject matter experts is a simple way of educating your blog audience—and yourself—while ensuring that the content is as helpful as possible to prospects. In writing your interviews could be used as a backbone for a thesis-driven article, or they could be formatted as a Q&A article. Either way, interview material usually speeds up the writing process for the writer because the subject matter expert provides much of the brainstorming and contextualization required for an article simply by talking.
Here are three tips for your next interview:
A. Ask questions your prospects have
The purpose of any interview is to educate your audience(s), so you want to be sure you're speaking their language. Sprinkling in common prospect questions will encourage them to stay engaged and feel as if they're part of the conversation.
B. Keep it casual
Few pieces of content are as boring as mechanical interviews. You want the transcript to read like a normal conversation, so don't be afraid to include speech imperfections, laughter, and other human indicators that make the interview authentic.
C. Keep it short
Interviews can hook in readers for the long-haul, but a line has to be drawn somewhere. If you think it will take your audience more than five minutes to read through the transcript, consider publishing the interview in two parts. You're likely to generate return blog traffic, and will have another fully-developed content piece ready to be scheduled later.
#2. Use Video to Showcase Your Company Assets
According to a Demand Metric report, 74 percent of B2B marketers said video converted better than any other medium in 2015. If you haven't taken advantage of this medium, it's time to hire a video production firm or marketing agency to help you form a strategy for reaching and engaging prospects through visual media.
Whether it's a customer testimonial or demo showcasing your products and/or services, there's great opportunity to build brand credibility in just 1-2 minutes. Videos are prime for sharing on social media platforms as well. Think about the last time you scrolled through your LinkedIn newsfeed. What pieces of content stood out the most? Judging by likes, shares and comments, I'd be willing to say it's a high-end video showcasing a specific brand.
Even more appealing is video's use throughout the marketing and sales funnel, as video content can be shared to attract leads, as well as nurture them once they've become qualified. The value is continuous with video, making it one of the most effective marketing tools today.
Light video production can also be paired with subject matter expert interviews to capture your company's non-marketing staff that might be compelling in their ability to authentically describe your company's value by explaining how they do what they do. In every company, there are people who just have a knack for talking—on camera or off. If they're willing to be interviewed for a video, you can skip much of the writing all-together and make their voices part of your content marketing efforts.
With all videos, just remember to transcribe your recorded media, so that Google gives you full credit for your content.
#3. Encourage Participation from Guest Bloggers & Expert Writers
Hosting a guest blogger is one of the most simple and effective ways to produce high-end content for your blog. Not only are guest bloggers enthusiastic about tapping into a new audience, but they can also provide some of the best insight within your industry—establishing your blog as a thought leader.
Some of the primary benefits include:
A. An increase in blog traffic.
Guest bloggers are typically primed with a large following, which opens pathways for new visitors to discover your blog and find additional blog content.
B. Greater social visibility.
There's a good chance your guest blogger will share their content on various social media channels, but it also wouldn't hurt to ask for a social mention. This will drive traffic to your blog while potentially earning you a few Twitter and LinkedIn followers along the way.
C. Establishing your blog's reputation.
Whether you've been producing content for years or are just getting your feet wet, featuring an expert guest blogger is key for catching the attention of your prospects, and earning repeat traffic.
Compare Your Results
With a more efficient process of creating online content, your marketing team will have more time to analyze and interpret that results of each form of content. Armed with this insight, you'll be able to create content that targets prospects and offers new pathways for engagement—helping to grow your small to mid-sized business.