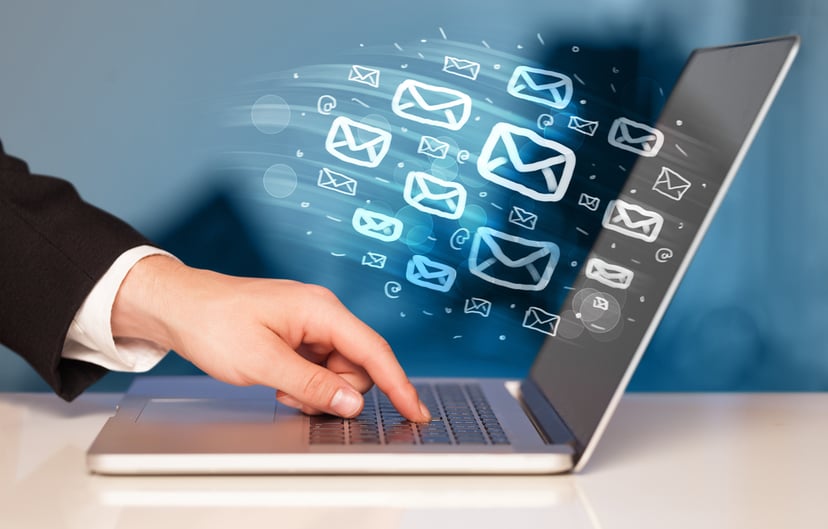 Leads are the lifeblood of any business, and cultivating names to add to your list takes time and energy. Cultivating a quality list of leads requires work—creating new pieces of gated content to feature on websites, writing blogs that are filled with keywords being searched by prospects, and sharing valuable information across social media.
Alas, a list is only as good as the work that goes into actually maintaining it. Nurturing your list of contacts throughout their buying processes and keeping them interested and engaged is an important part of inbound marketing. In many cases, email is the natural first point of contact—but with so much competition to stand out in a crowded inbox, it's never been more important to make sure your messages don't fall flat.
Here are 5 actionable tips that you can start putting into practice today to get more out of the emails you're sending to your list of leads:
1. Send from a person, not a department.
There's a common misconception that marketing emails should come from a generic company email address, but doing so could actually cause more harm than good. While there are some positives to using a department email (most notably that one person won't be on the hook for receiving all those out-of-office replies that are sure to come once the message is sent), this approach could cause your email to be DOA (deleted on arrival). Think of it for yourself: are you more likely to open an email from marketing@company.com or laura@company.com? Sending your emails from a specific contact at the company will help give your messages a human touch that a department name just can't match.
2. Include a headshot with your signature.
We're all used to seeing the standard email signature line: name, title, company name, email address, phone number, and so on. Play up the human touch of your email by including a headshot of the sender. This helps the reader feel a sense of connection with the sender of the message, and putting a friendly face with the name will help future messages to stand out among the crowd. Check out this example from HubSpot:

3. Write subject lines that will leave your readers wanting more.
The subject line of an email is arguably the most important piece of real estate associated with the message. Well written subject lines can convince your readers to open the email instead of hitting delete before even seeing what's inside. Make the most out of your subject line by describing the distinct value of the message to entice readers to open and learn more ("Reduce downtime by 37%" rather than "Are you as productive as you can be?"). You'll also want to pay close attention to the character count of your subject line, given that so many emails are opened on mobile devices.
4. Carefully craft your content to resonate with your audience.
Once you've created a subject line that's sure to hook your contacts, write the main message of your email in a way that will keep your contacts engaged. Avoid emails that are too lengthy; these will turn off people with short attention spans (which is most of us). Instead, focus on communicating the value of your product or service – what it can do to improve some aspect of the reader's life/job – with energy and clarity.
5. Never underestimate the power of visuals in your email.
Humans are inherently visual creatures. Our eyes are drawn to graphics, and including graphics in the design of your emails can help to emphasize the main takeaways of the email so readers don't miss anything by skimming through blocks of text. Visuals can take many forms: images, quote blocks, bulleted or numbered lists, videos, and so on. Consider what types of visuals will stand out to your audience and use them as appropriate to drive home the main point of your message.
Email is a powerful tool that cannot be ignored for inbound marketing. Start putting these quick and easy tips into play when planning your email strategy to ensure that your messages will resonate with your audience and don't end up in the trash folder.