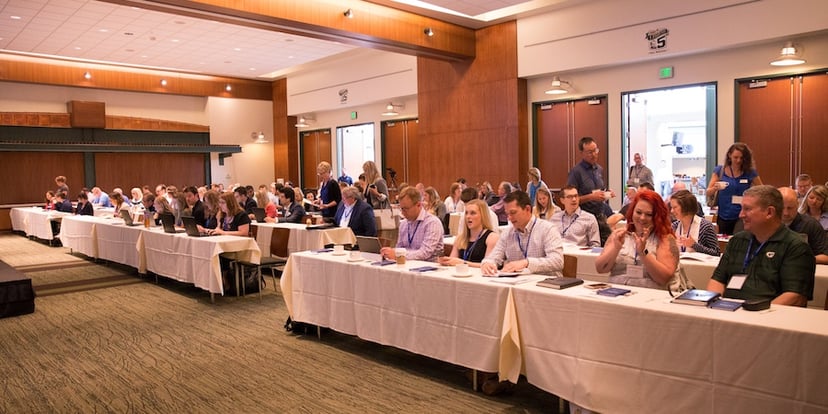 Last week we wrapped up Experience Inbound 2017 — the best inbound sales and marketing conference in Wisconsin and, dare I say, the Midwest! Not only did we have a fantastic group of speakers, sponsors and attendees, we also held the event at two fantastic locations — Lambeau Field and Miller Park. As a relatively new member of the Weidert Group team, this was the first Experience Inbound event that I attended (and also helped plan). As a team, we implemented three inbound tactics that helped make the events successful. Try using the following strategies to see even greater success for the next conference, trade show, or industry gathering you put together.
Don't Start from Scratch
It might seem obvious, but don't forget to start your event promotion by reaching out to past attendees. Instead of purchasing lists (don't ever do that!), start looking for prospects right in your own database. If this is the first year that you're putting on your event, create a few personas of ideal attendees (job title, company name, industry, proximity to event, etc). Create a list of contacts in your database who meet your criteria, and reach out to them with a personalized invitation. You can also send invitation emails to other contacts who have opted in to receive communication from your company, including blog and newsletter subscribers and those interested in receiving promotional messaging.
Help Spread the Word
Don't limit yourself to invitational emails when promoting your event. While helping to plan Experience Inbound, I saw the power of creative content and team involvement! Try parsing out elements of your event agenda, and use them to power and inspire your content creation. For example, our planning team wrote a series of blog posts using information we gathered from speaker interviews we conducted, top take-aways participants could expect from the event, and reasons why Experience Inbound could not be missed!
We also used these bite-sized pieces of event information to create social media posts for our company profiles, tagging speakers and sponsors, using #ExpInbond, and linking to the event registration page. We didn't stop there, though. We encouraged all of our team members to share our promotional posts on their personal social channels. We also wrote a series of posts and prompts, and created a number of optimized images that team members could easily share on their social profiles each week. We coupled these efforts with a number of ads on Facebook, LinkedIn, and with our fantastic sponsors through print and digital media.
Another quick and effective tactic included adding banner images to our website and email signatures, promoting the event and linking to the event registration page. Talk about maximum exposure and reach with each visit and message!
Create Enticing Content Offers
Once the event is over, the conversation doesn't have to be! A great way to gather hot leads after your event wraps up is to create relevant, gated content offers — providing you with helpful, qualifying contact information. These offers can be incorporated at the end of presentations, in follow-up emails to attendees or even in a 'sorry we missed you' email to registrants who were unable to make it to the event. Providing a "next step" after the event concludes will also help keep your company top-of-mind and further position it as an industry thought-leader.
When putting together an event for your company, there are many strategies you can employ to make it a success. Try using the three inbound tactics above to leverage the power of your current contact list, promotional reach, and post-event plan even further. Also, keep your calendar open this coming summer for Experience Inbound 2018. We'd love to have you join us!
Meanwhile, check out our Inbound Marketing Activity Checklist below for even more ideas.