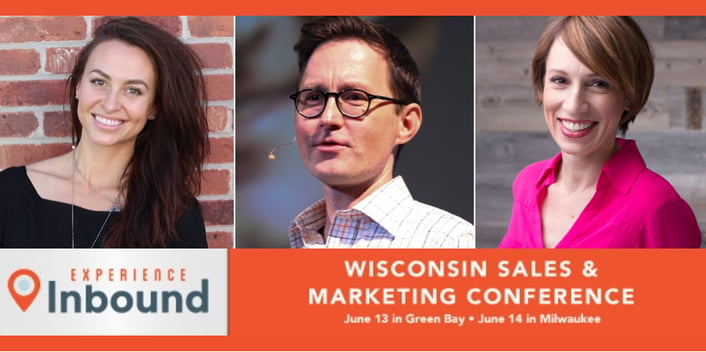 There are a lot of marketing conferences to choose from, and you're probably weighing your options. Are you wondering which one offers the best value? If you're reading this, you're likely considering Experience Inbound in the mix.
You can choose to attend Experience Inbound 2017 on June 13 at Lambeau Field or June 14 at Miller Park in Milwaukee. Aside from being held at some of the most iconic professional sports venues in the U.S. and, arguably, the world, it's what happens inside these walls that will be a game changer for you and your organization.
Whether you're new to inbound marketing or consider yourself a pro, you'll gain practical knowledge and learn strategic tactics from some of the best inbound experts on the planet. Here are the five things you'll learn and why you'll come away saying that Experience Inbound was the right choice.
1. How to Get Started and Then Optimize Inbound Marketing
The inbound marketing landscape is continually evolving and improving the way we engage with audiences. But businesses are evolving, too—at a pace that is accelerating so fast we can barely keep up. The future is bright, yet ominous at times, and Sam Mallikarjunan, Principal Marketing Strategist at HubSpot and former Head of Growth at HubSpot Labs, has incredible insight into how companies need to change to survive in this new reality. Part of that survival requires a powerful, actionable plan. Greg Linnemanstons, President of Weidert Group, will give an overview of how to create a plan that results in qualified leads. Even if you're fully engaged in the inbound approach, you'll benefit from the best practices and customer-centric ideas shared by Shree Kalluri, Forte and Nimblify Founder, CEO and Chief Customer Officer. If you're new to inbound, you'll be inspired by Jen Spencer's presentation on how her company went from startup to $2 million in one year (Green Bay only). And if you've still got questions about optimizing inbound after all that, our Q&A time with two companies that have successfully launched their own inbound programs will provide you with an opportunity to get answers.
2. How to Improve the Relationship Between Sales and Marketing
Sales and marketing really have the same goal, right? Engage, nurture and convert prospects into loyal customers. But for some organizations, the relationship between sales and marketing is tenuous at best. It's important to align the two if you want your company to truly reap the benefits of inbound marketing and succeed. It starts with creating a service level agreement within your organization and mapping out a buyer's journey. Sales expert, Nicole Mertes, Director of Business Development at Weidert Group, will share actionable ideas to refine your content strategy, create smarter lead nurturing campaigns, and excite your sales team. Jeff Coon, Partner at Stream Creative, will offer best-practices in visual communication and branding along with research from neuroscience and behavioral science, and give insight into how to shorten the sales cycle and improve your closing rate.
3. How to Create Killer Content (And Actually Engage Customers)
Engaging content is at the heart of any successful inbound strategy. It's what attracts people to your website, builds trust and nurtures sales leads. At Experience Inbound, you'll learn how to leverage digital assets, video storytelling, Facebook ads and more to not only increase engagement, but engagement with people who fit your buyer persona.
Video is increasingly important in content creation, and Tony Gnau, Emmy Award-winning journalist and founder of T60 Productions, will share about using video storytelling to build trust and close sales. Mike Grahl, VP of Digital Platforms for the Milwaukee Bucks will share his expertise on marketing automation to grow and fuel the sales pipeline by capturing data and creating a customized level of engagement. Steve James, Partner at Stream Creative, will demonstrate how to amplify your reach with Facebook ads. And Andy Crestodina (Milwaukee only), shares the secret to getting your audience to stay, read, believe and click.
4. How to Get Found Online
You've created killer content. Great! But it's frustrating to spend time, energy and money writing a brilliant blog post or creating a video worthy of cinematic acclaim, only to discover that the analytics reveal abysmal engagement. It becomes increasingly difficult to promote your content when search, machine learning, user-technology, and marketing landscapes continue to change.
Britney Muller, SEO Content Architect at Moz—a pioneer in SEO—is among the speakers who will share tools and executable tactics necessary to adapt to an ever-changing digital marketing landscape. You'll leave ready to meet the challenge of effectively promoting content to your desired audience.
5. How to Keep the Conversation Going
Possibly the most valuable take-away will be the relationships and connections you form with other attendees through networking. Collaboration and conversations with others who face the same marketing struggles as you do fuels innovation and thought leadership. The organizers of Experience Inbound have been very deliberate about incorporating networking time into the day during breakfast, lunch and in between sessions. Most anticipated is the special happy hour event where attendees can enjoy the historic settings and storied atmospheres of the Green Bay Packers and Milwaukee Brewers venues. In addition to engaging with other attendees, you'll rub shoulders with the speakers, inbound agency partners and specialists who participate throughout the day.
Wherever you're at in your inbound journey, Experience Inbound has something for you. The event is open to anyone interested in taking their marketing and sales efforts to the next level with strategic and actionable takeaways.