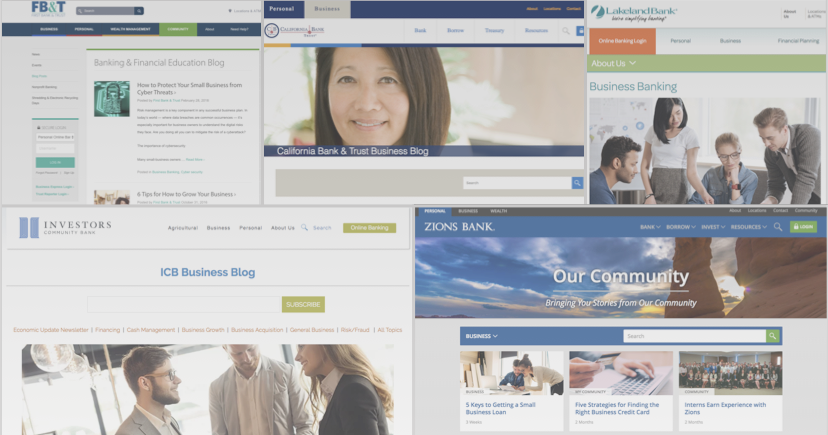 There's no industry more in need of content marketing than the business banking industry. Anybody who's searched the web for tax help in April has experienced the onslaught of personal finance advice available online. But in the world of B2B finance, few local or regional business banks have yet taken advantage of the fact that a high number of B2B decision-makers search for business-related financial help online. And that's reflected in the currently low prioritization of regular blogging and content creation among community business banks.
Today, we're highlighting 5 business banks that target small to medium-sized businesses and that take an aggressive approach to lead generation by writing top-notch online content for business owners, CFOs, and company accountants. The advice these banks offer tends to focus on business lending, security, and credit—the kind of focus that appeals to business leaders looking for strategically useful content, not light reading.
Emulate These 5 Business Banks' Blogs: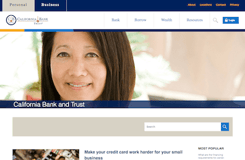 California Bank & Trust has a great weekly blog covering a wide span of business banking topics, such as cyber security, risk management, business decisions, and vendor management. This company clearly understands the art of attracting visitors with awareness-building content. I've yet to read one of their articles that comes off as "sales-y." One that stood out from earlier this year is "How to Know When to Expand Your Business." Certainly worth the read and worth subscribing to..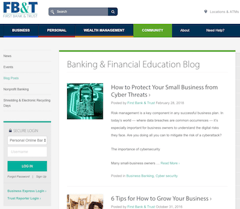 An example of a steady blog with a mix of truly helpful wealth management and business banking content, First Bank & Trust publishes its Banking & Financial Education blog on a variety of banking topics. With a distinct spin toward business and commercial banking, they frequently cover economic, market and federal banking news, as well as topics of interest to business owners with headlines like "Can the Federal Funds Rate Affect the Economy?" and "Transferring Your Family Business."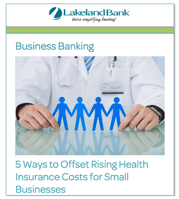 Lakeland Bank has plenty of articles aimed at business readers, but the marketing staff writes on much more than just B2B, covering personal finance as well as banking technology topics. Their business banking section is one of the more helpful publications we've seen. One recent article that's valuable is "How to Juggle Seasonal Inventory and Manage Working Capital."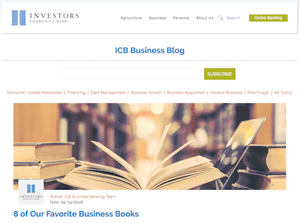 An example of a blog dedicated solely to business topics, Investors Community Bank publishes once a week on business growth, financing, strategy, cash management and fraud prevention. This Weidert Group client has worked hard to make sure its content is helpful and addresses questions its business bankers are frequently asked. With helpful content like "Are You Taking Full Advantage of Your Community Bank's Local Connections?" and "SBA 7(a) Loans: Should You Look for a Variable or Fixed Rate?" it's as if an experienced banker is sitting across the desk having a conversation with you.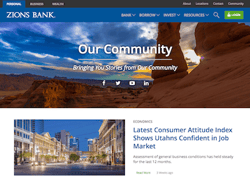 Zion Bank's blog is one of the friendliest from an organizational and user experience standpoint. It's also extremely community-friendly, featuring regular posts on regional economic conditions (such as "Favorable Business Conditions Drive Jump in Current Outlook, But Utahns Less Sure About Future") and celebrating small business success stories. Readers can peruse business finance and personal wealth planning/education topics as well.
How to Build a Great Financial Blog
As an editorial note, one of Weidert Group's specialties is content-based inbound marketing for B2B financial service companies, like banks. One of the hallmarks of a good inbound marketing blogging effort is producing content regularly. In fact, creating a blog is not that different than starting a regular publication. You need effective writers, great editorial strategy, and efficient use of technology.

Notably, one of the banks above — Investors Community Bank — uses HubSpot as a blog and marketing automation platform. HubSpot helps companies get set up for success producing a professional blog marketing effort.

For a complete look at how to build an effective business blog, no matter if you're in finance, or another industry, like manufacturing, check out our guidebook below.