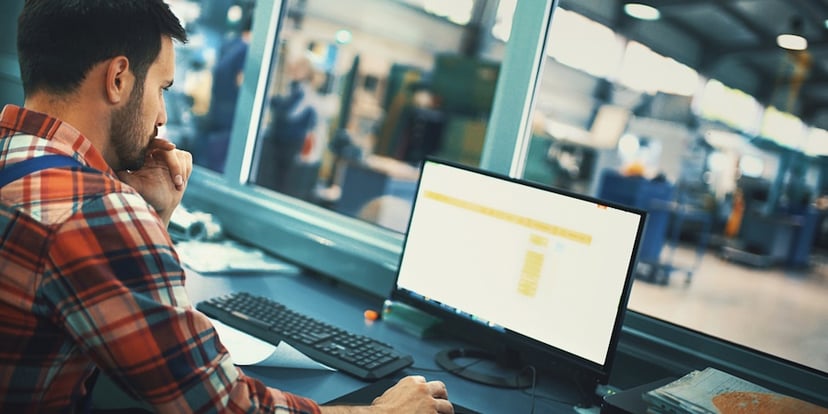 Staying on top of the latest marketing trends in the manufacturing industry isn't easy – especially if you're just getting started in your role as a marketer for an industrial. What you need is a stable of high-quality "go-to" resources to turn to when you need to find products and suppliers, when you want to understand what's going on in the industry, and when you're looking for support to help you deal with a specific issue. We're going to point you in the right direction with an overview of some of the best websites, directories and publications for today's manufacturing marketers!
If you want to skip straight to the details, here's the list. Read below for a description of each and how to put them to work for you.
Manufacturing Marketing Resources:
ThomasNet and The Thomas Blog
MacRAE's Blue Book
Mfg.com
IQS Directory
GlobalSpec
Alibaba
Industrial Marketing Today
Industry Today
IndustryWeek
Design News
Manufacturing.net
NIST/ME and their Manufacturing Innovation Blog
SCORE
Finding Products & Suppliers
Whether it's getting found yourself, staying ahead of competitors or finding contract manufacturers and suppliers today, the Internet has made it easy with the help of online supplier and manufacturer directories.
ThomasNet is probably the most well-known directory for U.S. manufacturers, going back nearly 120 years. Likewise, The Thomas Blog is also a great source for manufacturing-related marketing tips and news about the latest trends, making it a helpful one-stop-shop

Similar to ThomasNet, though featuring more Canadian suppliers, MacRAE'S Blue Book is one of the largest directories in North America, with more than 1 million suppliers and 10 million product listings. Other sites that provide exhaustive lists of suppliers are mfg.com, where you can connect with buyers, engineers, and purchasing professionals, and IQS Directory, offering access to industrial manufacturers, suppliers, and distributor

Need help finding or designing a specific part? GlobalSpec is a search engine, information resource, and supplier directory that helps manufacturers and engineers quickly find what they're looking for in their database of more than 180 million parts and product engineering educational resources
The most comprehensive resource (though by no means exclusive to manufacturing) is Alibaba. Alibaba has quickly become one of the largest manufacturer directories (and most-visited websites in the world). Alibaba connects wholesalers based in China with more than 200 businesses around the world, making it possible for a U.S. company to find a manufacturer abroad.
Getting the Latest News and Insights
Trying to stay up to date on the latest manufacturing news and trends? There are plenty of great websites that discuss what's going on in different manufacturing verticals, and provide valuable tips and insights for marketers.
Industrial Marketing Today offers actionable insights for manufacturing marketers, with less focus on industry news and more on helpful marketing content

Industry Today focuses its articles on more than 20 different manufacturing verticals, and offers a helpful Resource Center with hundreds of case studies, eBooks, infographics, and more
IndustryWeek also offers a variety of vertical-specific resources and updates
Design News shares articles spanning a wide variety of industries, but focuses more on the latest tech, materials, software, and other information that's particularly helpful for design engineers
Last but not least, Manufacturing.net is arguably the best one-stop-shop for manufacturing news and articles on the web. They cover just about every vertical, and every big story within those verticals. If there's a new regulation or trend you need to know about, they've got you covered
Connecting with Business Pros
So far we've shared resources that apply to relatively narrow challenges. But what about overall business performance – where do manufacturing marketers turn when they need guidance related to "big picture" issues like growth and profitability? You'll be happy to know that there are also great resources that offer collaborative training and expertise.
NIST/ME, a division of the National Standards and Testing, is dedicated to helping manufacturers increase their competitiveness in the marketplace. Whether it be through assisting with their local MEP (Manufacturing Extension Partnership) Centers or their Manufacturing Innovation Blog, they have a number of resources available for manufacturers in every state. The MEP National Network works side-by-side with small medium-sized manufacturers, providing resources to help them reduce costs, improve efficiencies, develop the next generation workforce, create new products, and find new markets
SCORE, a non-profit partner of the U.S. Small Business Administration (SBA), is the nation's largest network of business mentors, helping small businesses grow (and helping entrepreneurs start businesses). SCORE pairs company leaders with mentors who are experienced in all aspects and stages of business development

BONUS – The Weidert Group Blog
Fair warning: shameless self-promotion ahead! Weidert Group specializes in marketing for industrial companies and manufacturers. From blogs like this one to our advanced content pieces, like our Website Planning and U/X Guide and What is Inbound Marketing for Industrial Manufacturers eBook, we know what works for B2B companies like yours, and we're always adding new content to our blog and resource library. You can subscribe here for email updates whenever we post a new article, and also use the search function at the top of the article to find more blogs like this.
Did I miss anything? If you know of any other resources that are valuable for manufacturers, leave a comment below!