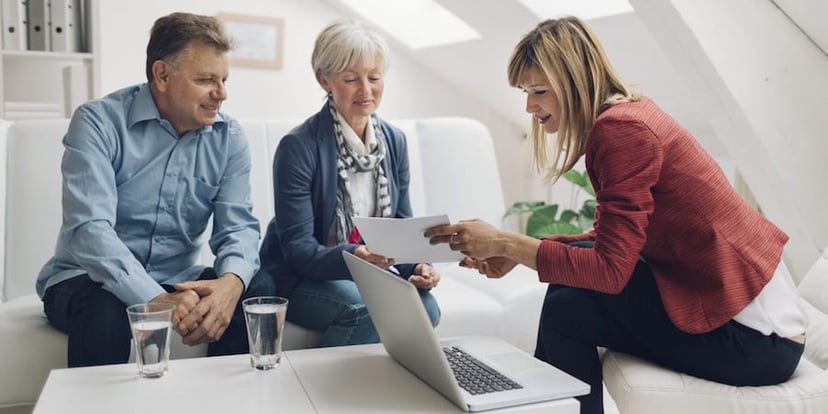 Most insurance carriers don't have the multi-million dollar marketing budgets that some of the big-name companies do. The top five advertisers among insurance companies each spend more than $200 million annually, with behemoth GEICO topping $1 billion. Smaller carriers' marketing budgets simply can't compete.
For insurance companies that sell through independent agents rather than going direct to consumers, the task of marketing their products and services becomes even more daunting. Not only does the company need to rely on agents to offer its products to potential policyholders—those agents also need to be equipped with tools and messaging to convince their customers, too.
There are some insurance carriers making strides in accomplishing both by adopting some of the methodology from big-boy ad campaigns and by capitalizing on the differentiating factor of their agents as trusted advisors. Here are three ways they're making it happen:
1. Show Some Heart
Borrow from Emotional Advertising Tactics
Watch a television commercial for any big-name insurance carrier and you'll notice one thing—they're connecting on a heart level. Humor, a touching story, a self-deprecating sports star—they're connecting with viewers in ways that were unheard of for insurance carriers a few years ago.
The result is the breaking down of insurance industry stereotypes which historically have been viewed as stodgy, uptight, serious and, dare I say… boring. They're also attempting to break down another stereotype—the one that suggests those in the insurance industry are tight-fisted money-mongers.
They're not. How do I know? I worked as a marketing professional at a regional property and casualty insurance carrier for several years. From my experience, I can honestly say that the individuals I worked alongside were some of the most caring, compassionate people I know—from the corner office to the mail room.
It's time you let your agents and policyholders know the softer side of your insurance company, because people want to do business with people, not faceless corporations. Use social media to show life behind closed doors. Post photos of that food drive, your annual campaign to raise funds for a local nonprofit, or congratulate an associate on their service anniversary. Encourage your agents to do the same.
Another effective tactic is to invest time in interviewing satisfied policyholders. Let them tell your story and promote it on your social channels, website, sell sheets, through email, and in other ways. Work with the agent who has an established relationship with the customer—the one who had his home restored after a fire or the business owner whose expenses went down as a result of reduced work comp claims.
2. Lose the Insurance Jargon
Help Independent Agents Translate Industry Content
I had limited knowledge of the industry when I started my insurance career, having spent the prior 20 years working for small nonprofits. On my first day, I met many wonderful people who had worked at the company for 20, 30, even 40 years, and many of the agents' careers were just as impressive.
There was only one problem; the jargon and insurance lingo they acquired throughout those years threw me for a loop, and it fell off their tongues like drool from a Saint Bernard.
Endorsements

—You mean, like the ones for sports drinks, right?

Premium—The best, of course.
Monoline—The single file line that leads to the bathroom?
Umbrella—But it's not even raining!
Let's not forget the acronyms: BOP, PIP, MVR, BI, CPP, MOD—the list is endless.
It took a while to overcome the language barrier and translate the industry-speak into layman terms. Agents are charged with the same task. When you, the carrier, provide customer-ready content that makes it easy for agents to communicate with potential policyholders, you provide an assist in fostering a comfortable purchasing decision. By providing great content to your agents, you're positioning them as the experts and, ultimately, helping them make the sale.
3. Make It Easy for Agents
Delight Your Agents with Best-in-Class Resources
It's not uncommon for an independent agency to have dozens of insurance company logos displayed on its website. As a result, agents have a difficult time keeping straight the various offerings of the carriers they represent.
Ease of doing business is one of the main reasons why an agent will promote one carrier over the other, even if the competing carrier's product is less expensive. Agents want to know that the process will go smoothly and that their clients will experience fair, quick, and convenient service when dealing with the carrier.
In addition to a smooth process, agents want resources that offer value to their clients and give customers reasons to engage with them when things are going well, not just when they need to file a claim or change coverage. In the agency realm, relationships are the key to their success. Providing relevant touch points throughout the buyer journey helps build trust and loyalty.
As the insurance carrier, encourage agents to use and share your safety blog posts, risk management tip sheets, and inventory checklists. Did OSHA adopt a new regulation that might affect business owners with fleet vehicles? Make sure your agents know about it so they can inform their commercial clients.
By offering great content, you also provide opportunities to capture qualified sales leads that can be passed along to your agents. In an age where consumers can now bypass any human interaction and purchase insurance online with a single click, inbound marketing tactics for the insurance industry become crucial by capturing client data and showing what products and services they're interested in.
Developing a marketing strategy to reach your agency force requires that your communication pieces stand out from the crowd. Remember, with so many other carriers vying for their attention, you need to make each and every engagement worth their time and attention.