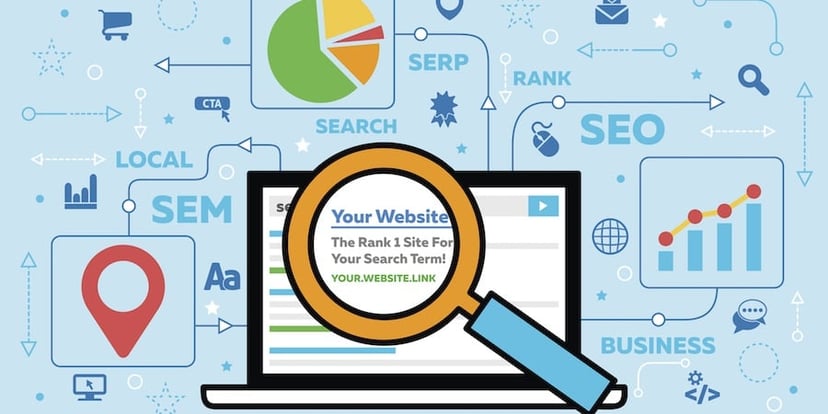 SEO is constantly changing. Google and other search providers continually adjust their search algorithms to try and provide the most relevant information to their users. They want to provide accurate information and fight off things like fake news and spam. It is a war of attrition.
2016 saw a ton of changes to Google's algorithms, and the first half of 2017 has continued the pace with 4 major changes so far.
Here are some of the latest trends and how you should address them to improve your SEO in 2017.
SERP Snippets
The biggest thing in 2017 so far has to be search snippets, also known as ranking in position zero because it is above the first result on a SERP. Now I personally expect to find information on Google itself instead of having to go to a website from a specific search result.
For instance, recently at Experience Inbound 2017, Britney Muller gave a keynote presentation, and I wanted to see if she had done any of Moz's Whiteboard Friday videos. I searched her name and white board Friday and, there on the search page, was a video link right to her latest contribution.
Search for "how to improve my SEO" in Google and you will get the result right on the SERP. In my most recent search of this, mtu.edu was the winner of the zero rank position showing a few ways to improve your SEO without leaving the search page. Google also has their 'People also ask' area, which is meant to build off of the user's current search to get them to stay engaged longer.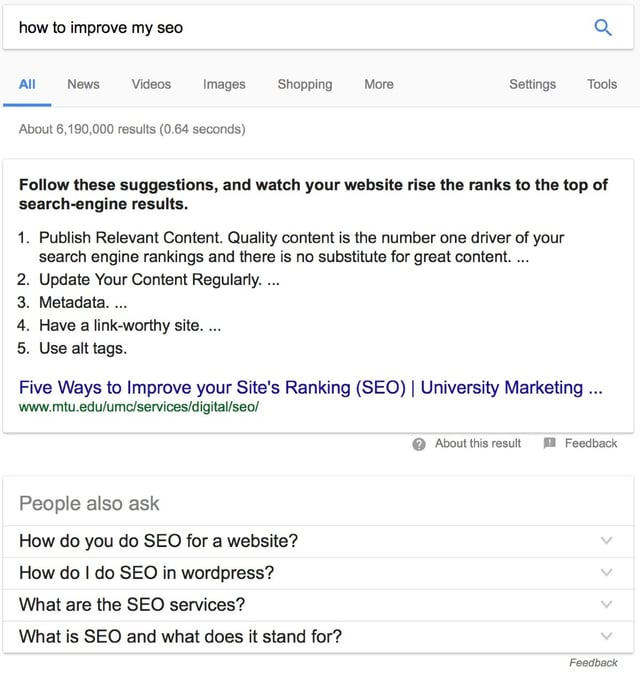 Additionally, snippets are powering voice search. The success of the Amazon Echo has resulted in a flood of other voice-powered devices and integration of voice assistance into other devices. When you get a response to a voice search from Google Home, it is the snippet that is the response.
How do you take advantage of these Google Snippets? This is an area of confusion right now in the SEO world. Several individuals and companies are trying to nail down what determines if a page is featured in a snippet. Searchengineland.com gives the following procedure to get featured in a snippet.
Identify a common, simple question related to your market area.
Provide a clear and direct answer to the question.
Offer value added info beyond the direct answer.
Make it easy for users (and Google) to find your page.
As an example, if you search for "How to write a blog" you get HubSpot in the featured snippet. The same blog post also happens to be the first result, but it is actually not very common for that to be the case.
HTTPS
HTTPS is becoming more important and easier than ever to implement. For instance, I recently did a changeover for a website hosted on HubSpot and it took less than two hours of work to have it completely redone. Obviously this can vary based upon your website provider and setup, but it is too easy to ignore.
If your website is not HTTPS encrypted yet, it should be on your to-do list for 2017.
301 Redirects
Google announced that 301 redirects would no longer have any impact on a page's ranking, and that you could safely redirect a page, passing its authority on to your new page.
This is mainly to help with HTTPS transitions, as Google wants as many websites as possible to move to HTTPS. The move does require that your old web pages at http://www.mywebsite.com redirect to https://www.mywebsite.com. Since Google does not give you a page rank hit for 301s anymore, this should not be an issue.
However, others have said that 301 redirects still have an issue with passing anchor text relevance.
The important thing is that you should not put in a redirect unless you have no choice, so it is important that your URLS follow good SEO from the start. This includes short character counts, less than 75 if possible, with target keywords in them.
AMP
Accelerated Mobile Pages are a good way to help your SERP position. They are featured by Google when it recognizes a page as AMP eligible, and is very good for time relevant news articles and blog posts.
AMP focuses on improving the user experience of website content, which is why Google is promoting them.
If you're on a major platform such as Squarespace or Wordpress, it is relatively easy to implement AMP for your site content. If your provider does not give you the ability to use AMP, you should still follow the direction that AMP gives us, namely make sure that your website pages load as fast as possible!
Stay on Top of Your Site
Websites take a lot of work—more than one person can easily manage, even if it is their full-time job. When you have multiple people working on your content, it is even more difficult. Having a good site auditing tool is very useful to make sure that best practices are being followed.
Google Search Console will tell you if there are any major issues such as AMP page errors or 404 errors from links to your site. Make sure your site is setup in Google Search Console and that you address any issues that it reports.
Moz has a newly upgraded site crawler that will give you even more details on URL lengths, redirect chains and duplicate content. SEMRush also has a site audit tool.
You need to use one of these tools and let it notify you when it finds an issue.
Longer, Better Content
We all have way too much content coming at us all the time, and we have no time to waste on this same old bit-size content. Really useful content is usually longer with more detail. Think quality over quantity (of posts, not words). I would rather read a giant blog post that has a ton of information in it than a bunch of tiny posts.
Click-Through Rate
One of Google's ranking factors is the click-through rate. Do visitors to your site, once they have visited from a SERP, bounce back to the SERP, or do they click through to other content on your site such as a landing page or related blog post?
You want to optimize your content to maximize your click-through rate. This can be done with A/B testing and other CTR optimization methods.
More Changes, Faster
Changes in SERP ranking algorithms seem to be coming faster than ever. Just look at this chart of changes to Google in 2016.
I am seeing changes to Google's SERPs all the time, and these changes are unlikely to slow down. In fact, with other new technology trends, like machine learning, expect them to increase in frequency.
The main takeaway is that you need to provide your target personas with the best content you can and make sure that Google can understand it. Keeping the users top-of-mind is where you can add real value and grow your bottom line.