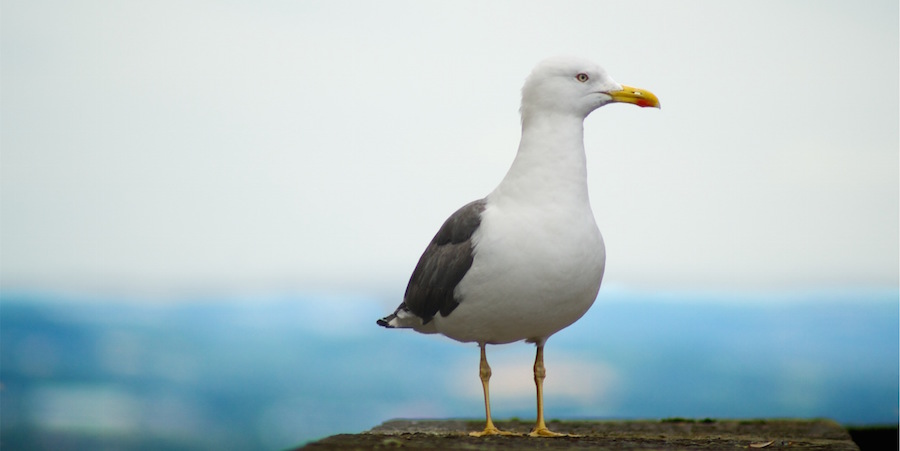 With the business world becoming so online-focused these days, it's no surprise to see more and more businesses hopping on social media to promote their brands. Companies are always looking for new and improved ways to reach out and connect with their audiences, and social networks are the perfect answer for that in 2014. It's not just their promotional capabilities that make social networks a great marketing channel, though; networks like Twitter have also become a popular source for companies' customer service. Rather than dialing a 1-800 number and talking to a service rep, now users can hop on Twitter and start up a conversation with your company. In fact, 59% of today's companies monitor social media for this purpose.
In order to develop an effective customer service system on Twitter, there are several things every company should do. If you're planning on using Twitter as a customer service source, make sure you follow these 8 best practices:
1. Create a Dedicated Customer Service Profile
Though most companies will be able to get away with only having one Twitter profile, you can take your customer service to the next level by creating a profile dedicated to just that. Take a look at Time Warner Cable for example. Not only do they use @TWC for general company information/promotion, but they also use @TWC_Help to respond to issues and notify followers of service problems. By having a clear distinction between the two, customers know where to turn when they need help, and because TWC's support team doesn't have to monitor every @TWC mention for complaints, they're able to administer help more quickly and effectively.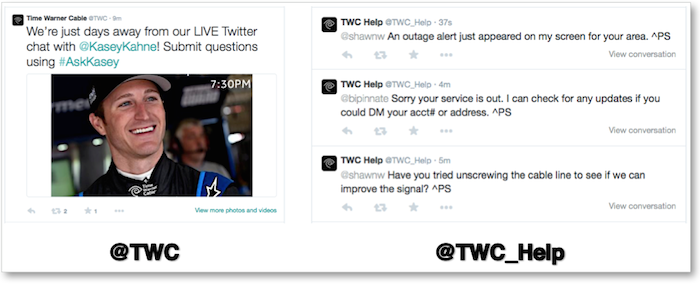 2. Monitor More Than Mentions
One of the biggest mistakes companies make when monitoring Twitter for customer service is forgetting to monitor more than just their Twitter mentions. You'll automatically receive a notification every time someone mentions your Twitter handle, but what about all the other times people talk about your company and don't include the @ mention? Surely those are still conversations you'd like to see. Rather than just monitoring the easy stuff, use a social media management system like HootSuite to monitor any mentions of other keywords that are important to your brand. These monitoring systems search every Tweet on Twitter for your desired keywords, so be sure you're looking out for things like:
Your Company Name

Company Nicknames (e.g., "P&G" for "Proctor & Gamble")

Product Names

Hashtags
3. Don't Automate Responses
Though you might want to make it a point to respond to every single complaint sent your way, you can't let a robot automatically do it for you. When you use automation software to send an automated response, you're already signaling to the customer that their problems aren't important to you. If they were important, customers believe you'd have an actual person ready to help them. That being said, in order to let your customers know that they're your top priority, make sure you respond to every complaint with a personal response. This shows them that you're paying attention to their individual needs, and helps create a stronger feeling of trust. Which leads to my next point...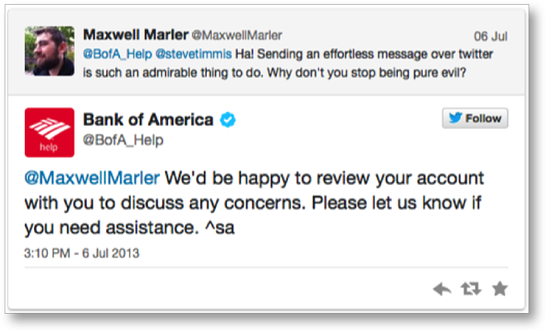 4. Respond Promptly
According to a recent study by social media analytics company Simply Measured, the average response to a customer service inquiry on Twitter is 5.1 hours. However, according to market research firm The Social Habit, 42% of social media users expect to receive a customer service response in less than an hour. Notice any problems? In order to provide the best customer service possible, make sure you have someone consistently monitoring and responding to any inquiries. The faster you can respond, the more satisfied your customers will be.
5. Hire Customer Service Reps Carefully
Your customer service reps are some of your most valuable assets when it comes to building a relationship with your customers. Their helpfulness and friendliness can play a large role in determining how customers perceive your company. With this being the case, don't just assign Twitter customer service duties over to your intern. Sure they might be knowledgeable about the social network, but service is your top priority. There have been many instances when companies sent a Tweet that they've regretted, and once it's online, it might as well be there forever. Put your Twitter customer service duties in the hands of experienced customer service reps. Even if it takes a little training, you'll be able to rest easy knowing it's in the hands of an experienced team.
6. Promote Customer Service Account on Website
One thing I see fairly often today is businesses not taking the opportunity to put their Twitter info on their "Contact Us" page. They usually have their social media icons displayed elsewhere – which is great – but when it comes to the page where customers go to contact them, they leave out one of their biggest sources. Even if your customer came to that page to find an email, phone number, or address, simply advertising that Twitter is an option can only help your cause. You can even embed a Twitter feed on your page to show your account interacting with customers to encourage their use.

7. Promote the Positive
The unique thing about customer service on Twitter is that everyone can see it. It isn't a one-on-one, private phone call; it's a conversation on a public network of millions of users. Because of this, businesses need to focus a lot of attention on being careful with what they say. And while it's important to be extra cautious when handling negative situations, you can't forget to share any positive feedback from your customers as well. That public conversation works both ways, and if someone has something great to say about your company, don't be afraid to hit em' with a Retweet and brag a little. The promotion can help portray a positive company image.
8. Move the Conversation Away from Twitter
As you know by now, Twitter can be a great customer service solution. Its biggest drawback, however, is that each Tweet is limited to 140 characters. And if you're having an in-depth conversation with the customer you're helping, 140 characters aren't going to cut it. If the conversation gets too drawn out, make sure you can move it somewhere else like an email or phone call.
Whether you use Twitter as your sole method of customer service or you simply respond to inquiries as they arise, these tips should help you make the best of every customer service interaction. To learn how your business can get started on Twitter, download our free eBook, "How to Use Social Media to Attract More Visitors to Your Website."