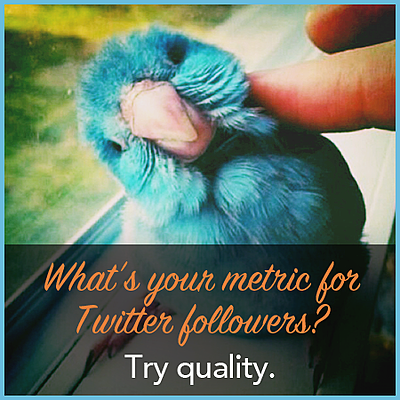 Measure the quality of my Twitter followers? Well, that's just crazy talk. Why would I, as a B2B marketing manager, want to measure that when I can just so easily tally up my number of followers, retweets and favorites every month? After all, hard, cold metrics are what truly count…and when I say count, I mean those are the metrics that my company's management team can easily understand as success measures for the time and effort I put into Twitter.

True, quantity-related Twitter metrics are easy to see, pull together and understand. And yes, these metrics do offer a basic level of understanding of how well your Twitter account—and your content—is performing. However, we all know measuring quantity for quantity's sake is a waste. Quality matters, and from an insight's perspective, it is arguably more important when it comes to your Twitter following, especially for B2B companies.
This is not to (entirely) imply that you shouldn't want a large number of followers, they just need to be the right ones. You know, the ones who align with your target personas and target customers—the ones who are ready to regularly interact with you. The ones who like and share your content.
So, how can you determine the quality of your Twitter followers? What can you do to improve it? Where can you find quality followers to start with?
Getting Started With Follower Quality
Because follower quality is subjective, there's not necessarily a right or wrong way to measure it, nor is there an "Easy" button to clearly analyze the quality of your following. However, it's going to take careful thought, some planning and organization, and a little persistence.
Start by looking at the current level of engagement your tweets receive; retweets, replies, and favorites. These measures can be obtained directly through your Twitter account or you may choose to utilize a tool like TweetStats, TweetReach or HubSpot's Social Inbox to pull your stats. From there you can evaluate how many followers are engaged with your content and who they are.
In addition to engagement level, you should also review your followers' bios. Is your follower list filled with people that align with your customer targets and with whom you would want to build relationships? Or do you have an abundance of "eggs" and people not truly related to your business? If you have fewer quality people than you'd like, then you know the quality level isn't where it should be and that you need to make some improvements. Aside from reviewing profiles one at a time in Twitter itself, there are several free tools you can use to examine the bio data of your followers, such as follwerwonk and others.
Next, look at which followers have engaged with you and develop quality/qualification categories to put your followers into that are relevant for your business. Here are a few basic ones to get your thought process started:
Social Leads – These followers have interacted with you on a regular basis (initiated by them or by you), provide you with ideas and accolades, and share and favorite your content. They are part of your target persona and are purchasers or potential purchasers of the product/service you provide.

Evangelists – These followers regularly share and/or favorite your content, along with other content related your industry. Their profile indicates they are in a target industry for your company and are potential purchasers of the product/service you provide.

Spectator Leads – These are followers who don't interact with you but are potential customers or influencers relevant to you industry. Perhaps they're vendors, suppliers or just someone interested in your industry. They most likely follow more accounts than are following them back.

Irrelevant/Spam – These are the followers who have an egg as their avatar, who either don't have a description or have a description that touts the ability to get you 10,000 followers for $5. You don't want to follow these accounts back and may even decide to block them altogether.
Beyond these four quality categories you may also want to have separate categories for followers who are not current or potential customers, such as competitors, news outlets, etc., or others that may make sense for your business. Consider the idea of making your social follower categories mirror your customer lifecycle stages. How would you categorize them in your CRM? Maybe your followers belong in your CRM!
Next, segment your followers by setting up Twitter lists into which you can organize your followers according to the quality categories you've determined. Twitter lists will help you organize your feed so you can see tweets coming only from those specific people at a quick glance (keep in mind you cannot tweet by list membership though!). Lists can be public, but you'll probably want to keep the lists you're using private. You can create lists either directly in your Twitter account or in any number of other Twitter management tools, like Hootsuite, Tweetdeck, plugg.io, and others.

Nurturing High-Quality Followers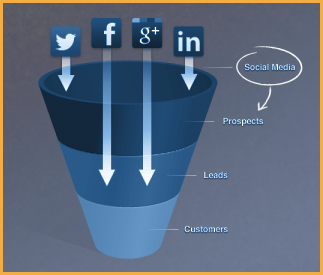 With your lists created, you'll be able to actively engage your most important followers on a regular basis to maintain their overall quality, and nurture other followers to improve their quality level. Keep in mind a tweet's life dwindles roughly between five minutes and 2.8 hours (according to both Betaworks and bit.ly, respectively), so the more you can actively engage your followers directly, the better.
This active engagement helps add personality to your interactions, helps keep Twitter social (versus it just being a news feed) and helps build relationships with potential customers and key industry people (e.g. trade media). Such engagement should take the form of:
@Mentions to key followers with messages or questions
Replies to @mentions directed to your account
Thanking followers for sharing content
Retweeting business-related content that followers share
Commenting on content shared
Answering questions asked
Offering congratulations, etc.
Locating New Followers That Fit Your Target
Beyond looking at the quality of your current followers, you should be proactively seeking out the kind of quality people you'd like to have follow you and begin building a relationship with them. It takes a bit of consistent detective work, but if you know where to look you're sure to find those allusive followers.
Begin by analyzing your competitors' Twitter followers to find relevant people to follow and potentially interact with. These people have either shown an interest in your competitor or your competitor has shown an interest them. Either way, those folks may have an interest in your company as well and are worth following.
Follow and monitor your competitors themselves – this is where that private list comes in handy. What are their followers saying about that company? Are they puzzled, angry, or searching for resources? These may be people you should follow and — using your best judgment — reach out to with a question or an appropriate resource when the timing seems right.
Determine common issues and frequent questions asked by current customers. For the best results, be sure to poll your customer service reps, account managers and service technicians. With this list in-hand, you can start searching for keywords and/or hashtags related these questions/issues to find related posts. These posts may range from someone asking for contractor recommendations to how to resolve a supplier issue or someone seeking opinions about the best industrial control supplier. The simplest way to do this is via the search box at the top of your Twitter page or via the search function in Tweetdeck or any other social monitoring service.
While easy to do, only measuring the quantity of Twitter followers you have just doesn't mean much. The important thing to look at is the quality of who is following you and that you begin to build followers relevant to your business. It will take more time and effort to measure and build quality, but in the end it will be well worth it.