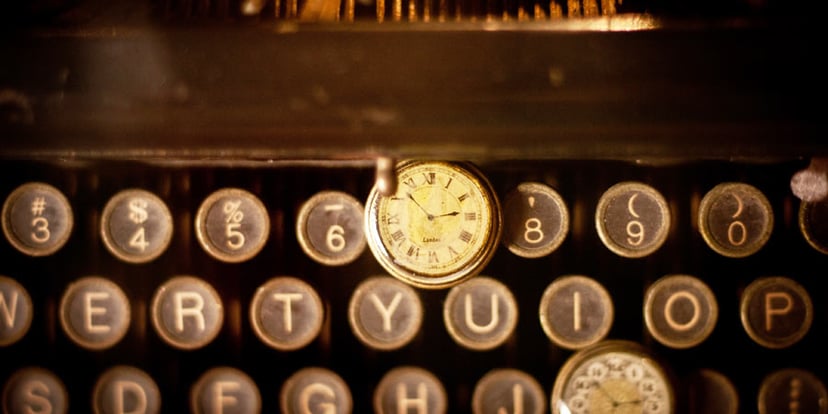 Despite launching more than 9 years ago, Twitter is still a relatively unknown social network for many business professionals. While it's true that 85% of B2B marketers use Twitter to promote their company's content, many of these social accounts are being run by just one person in the marketing department—usually a younger, tech-savvy employee—leaving everyone else out of the loop. With content sharing on social media being an integral part of every inbound marketing strategy, however, it's important to have a strong employee presence online—especially with Twitter and LinkedIn.
Given Twitter's popularity and inclusion in mainstream society today, most people in your company probably already have a good idea what Twitter is like or about, but when it comes to knowing the best practices for sending a tweet, retweeting or mentioning someone, sharing an article, or posting a photo, many people wouldn't know where to start—and it's not just the older employees either. According to a recent report by GlobalWebIndex, only 59% of Millennials have a Twitter account, followed by 48% of Gen Xers, and 31% of Baby Boomers. This means roughly 4 out of 10 Millennial-aged employees are just as clueless about Twitter as any Gen Xers and Boomers, making this a great time to teach your entire staff about its best practices and how to maximize your content sharing potential.
To help teach your team about the basics of using Twitter, follow these tips on how to craft the perfect tweet and Twitter persona:
Be Professional
Use proper grammar and spelling. First and foremost, your Twitter profile is a direct reflection of you and your opinions. People won't just be judging what you say, but also how you say it. Whenever you send a tweet, always do a quick double check to make sure you didn't spell anything wrong, misplace any commas, or make any other errors, as you want to give off the best possible impression. Sometimes it will be necessary to abbreviate some words to get under the 140-character limit, but we'll get to that later.
Be Helpful
Tweet helpful articles, advice, opinions, etc. One of the most common problems people have with Twitter is that they simply don't know what to say. Some are thrown off by the 140-character limit, while others struggle to figure out the appropriate subjects to tweet about. An easy, safe way to avoid both of those problems, however, is by sharing industry-relevant articles with your followers, and offering your advice or friendly opinion on something. Think about what your target personas would be interested in, and give them what they're looking for. Most headlines are formatted to be less than 140-characters anyways, and if the article is interesting or helpful, it's a surefire way to build a good reputation with prospects and followers. Likewise, apart from sharing articles, if you can help answer questions or provide useful insights, your B2B audience is sure to appreciate your tweets. If you still don't know what to tweet about, look at a popular profile in your industry and try to follow their lead.
Be Concise
Eliminate the fluff from your tweets. Because tweets are only 140 characters, you don't have nearly as much space as you do on LinkedIn to get your point across. Not only that, but it's been shown that tweets with fewer than 110 characters get 17% higher engagement than longer tweets. To help keep your tweets short, sweet, and to the point, make sure you cut the fluff from your writing by eliminating unnecessary pronouns, prepositions and prepositional phrases, redundancies, and expletive constructions. For example:


Links use 23 characters; pictures use 24. Before you add any pictures or links to your tweets, be aware that they'll eat up a good amount of your characters. No matter how long or short your link is, however, it will still take 23 no matter what. If you end up sharing both a link and a picture, you'll only have 93 characters left to get your point across, but don't let that discourage you: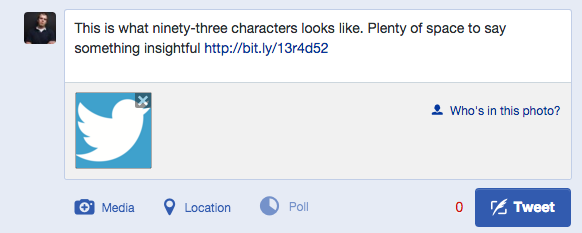 Use appropriate abbreviations and contractions. Though it's always best to spell everything correctly and use proper grammar, sometimes it's necessary to abbreviate words for the sake of conciseness (e.g., dept. for department, appt. for appointment, w/ for with, etc.). As long as you can avoid sounding like a teenage texter and stick to the known abbreviations, you'll be just fine.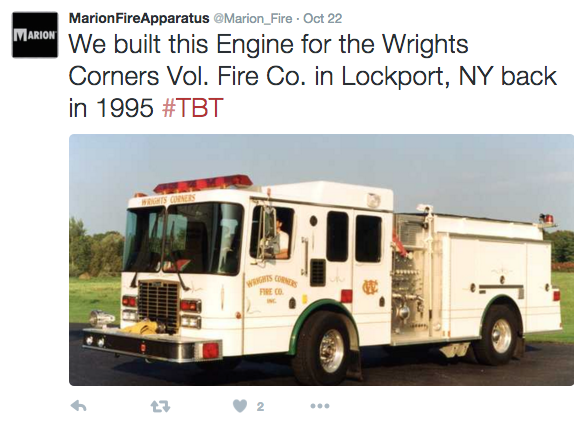 Be Attention-Grabbing
Add a picture to your tweet. When you're just starting out on Twitter, it's easy to see all the new posts in your feed, because you aren't following a lot of people yet. Once you realize how crowded it can become as you follow more people, however, you'll realize why pictures and videos are so helpful for standing out in the crowd. Pictures can increase engagement on tweets by up to 150%, and looking at the screen shot below, it's easy to see why. Just look at how much more space tweets with pictures get than the plain, text-only tweets: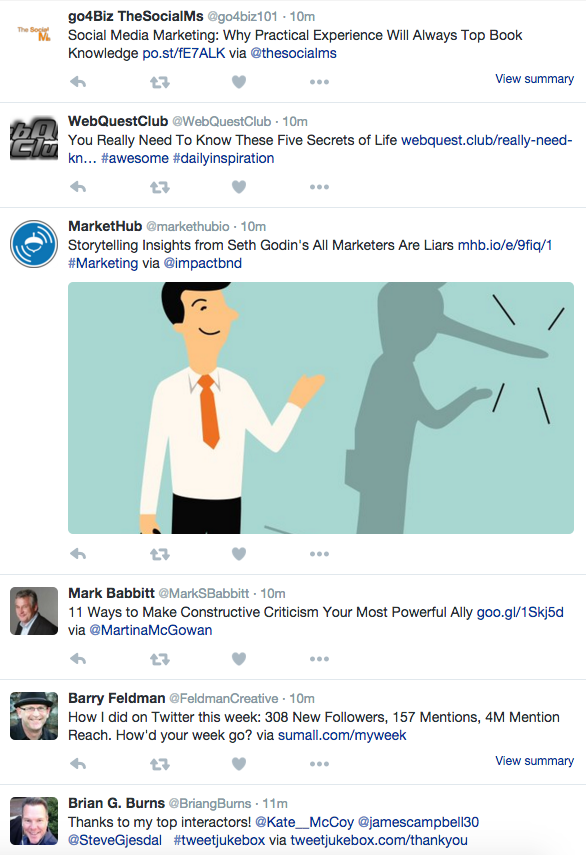 Use relevant hashtags. Don't let hashtags confuse you. Think of them as tag-able keywords in your post that make it easier for other users to find posts containing those keywords. In reality, all they do is make your post more search friendly. Use the pound symbol before common keywords that you know people will be searching for and using to maximize your findability.

Be Personal
Don't just spam followers with links. Though your number one reason for using Twitter might be to share your company's blog articles, the last thing you want to do is only share your company's blog articles. Spark up a conversation with someone else, reply to the tweets mentioning you, or remember to share your own link-free nuggets of wisdom every now and then. You can even get away with sharing a picture of your morning coffee if you really feel like it (although we wouldn't recommend this every morning). Whatever it takes to let your followers know that there's an actual human behind that digital profile, and not just a content sharing robot.
Just because Twitter might be more random and less business-related than LinkedIn, doesn't mean you should ignore its content sharing potential. There are many reasons for B2B businesses to be using Twitter, and now is the perfect time to get your whole team involved before you're really behind the trend. Make sure you follow the fundamentals above if you need help getting started, and download our free eBook below for even more tips about using Twitter for content sharing and lead generation: