In most business-to-business contexts, it'd be a mistake to set your sights on generating general mass appeal. If you make equipment, sell logistics systems, or even provide accounting services to businesses, then you definitely have target customers, whether they belong to a specific geographic market, a group of industries, or a size category.
As a marketing agency, we're in the same boat. We have a distinct focus on constructing target personas to define our marketing content, and we bring that targeted research mindset to every company we work with. Learn more about our "whole brain" approach to target persona construction in today's video blog:
Transcript
Before your prospect knows your business's name, they're never, of course, going to search the web (i.e. Google) looking for you. Research says that the buyer's journey is 70% of the way done before they ever make contact with a potential seller. And so, they're quietly learning, gathering information, pulling case studies and white papers, and learning about potential solutions to their needs before the seller knows they're even interested.
Where we start the discussion is trying to understand who it is your creating content for, and to that end, we always start with target personas.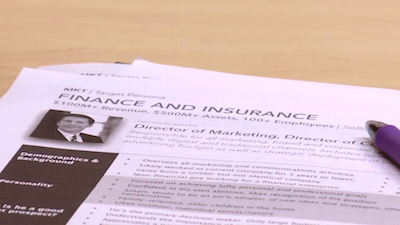 We try to understand that persona personally, individually—understand who they are as a professional; understand who they are as an individual. What motivates them? What are the kinds of things that scare them? What are the kinds of things that get them excited and showing up on the job eager to tackle their problems?
And, what we do when we're creating content is imagine that the persona that we've constructed is reading what we're writing. Or that persona is searching for a solution.
We're trying to anticipate the questions that they ask so that we have the answers. So that the next time they have a reason to search, and your company's name comes up again, and they come to your website, they start to believe that you're one of the foremost authorities on that subject.
And next thing you know, they're registering so they get your blog every time it comes out. Now, you've got a relationship with them; now they've asked you to put content in their inbox once or twice a week or three times a month. And they're looking to you as an authority that they trust and will depend on to stay current and at the top of their game.