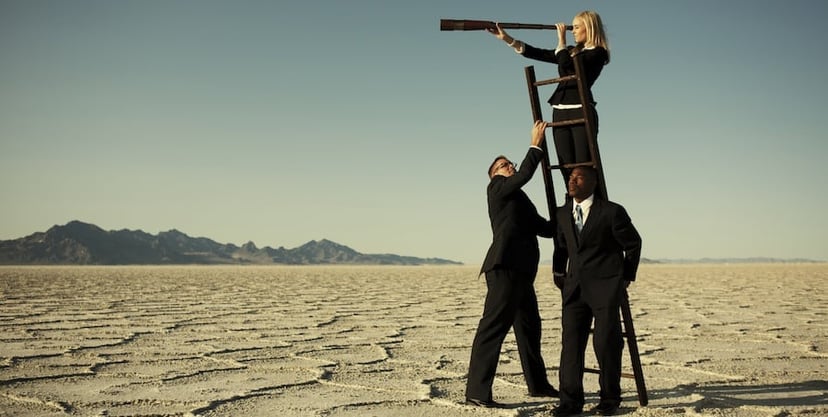 Every business wants to secure that coveted top position in the organic search results of Google, but once you get there, is your website's search listing fully optimized to get the attention of your prospects and encourage click-throughs?
This goes beyond writing a compelling meta description for your website pages and is something many businesses have either overlooked or haven't spent the time to implement. Enter the world of Schema Structured Data, also known as Microdata.
What Is Schema Structured Data?
Schema Structured Data originated from Schema.org, and is a form of programming language that can be added to your website's HTML to enhance your website's search engine results page (SERP) listing with specific business information, ratings & reviews, images, helpful quick links to sections of your website, sitelinks search box and hundreds of other features depending on your type of business.
Schema isn't new and you likely see it everyday when using Google or other search engines. In fact, Schema.org is a collaborative effort between Google, Bing, and Yahoo! since it helps to enhance the user experience of search users by quickly finding the information they're searching for.
This overview from Moz does an excellent job further explaining Schema.org Structured Data if you want more background.
Examples of Website Schema Structured Data & Microdata
Like I mentioned above, you likely see Schema in search results everyday but what's better to help explain the possibilties of Schema Structured Data and Microdate than seeing it firsthand.
This article would scroll for days if I showed every possible Schema example but here's a few snapshots of the cool ways, depending on your business, you can dress up your search listings to stand out among the crowd and get more click-throughs to your website.
Schema Sitelinks Search Box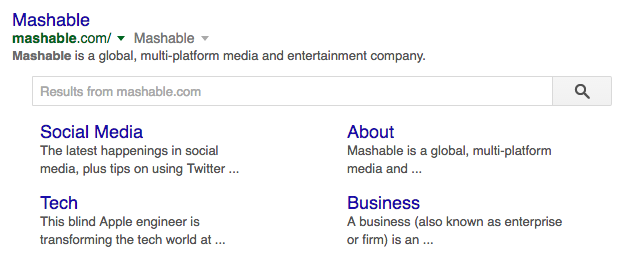 Not only does this search box help your website listing stand out but helps aid users with typing in the exact topic they're looking for. This article here explains the specific Schema code to use for adding this search box to your home page search listing.
Schema Product Rating

Assuming your product has strong consumer ratings, this specific Schema is an instant eye-catcher.
Schema Business Contact Information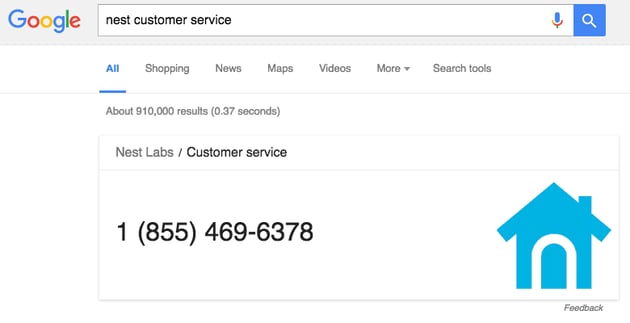 Nest not only is leveraging product ratings Schema but they've added key business contact information such as their customer service number that appears right in the SERP along with key business information and social media links in their Knowledge Graph listing on the right side of the SERP.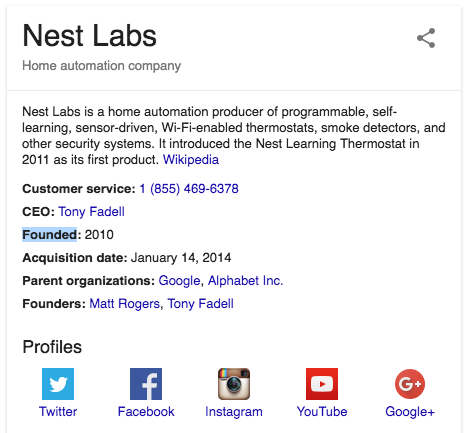 To get a deeper sense on all the available Schema vocabularies, view this page of commonly used types by business/website type.
How to Begin Using Schema Structured Data & Microdata
There's many ways to begin using Schema markup code for your specific website, and some markup is easier to configure than others.
The hub of the various organized Schemas as noted above is Schema.org, specifically their Schemas page. This resource is for those that are more technical and have at least some programming experience and knowledge.
If you need some handholding through the process, check out Google's Structured Data Markup Helper. It's a very helpful tool!
Depending on your type of business there's also some various Schema markup creator tools such as Schema-Creator.org.
Once you begin to implement your own Schema, you can test it using Google's Structured Data Testing Tool.
The thing to remember is be strategic on what Schema you plan to implement and make sure it has a purpose with improving the user experience of the search users you're looking to attract. Then start testing to see what it does to attract more click-throughs by monitoring your organic search traffic.