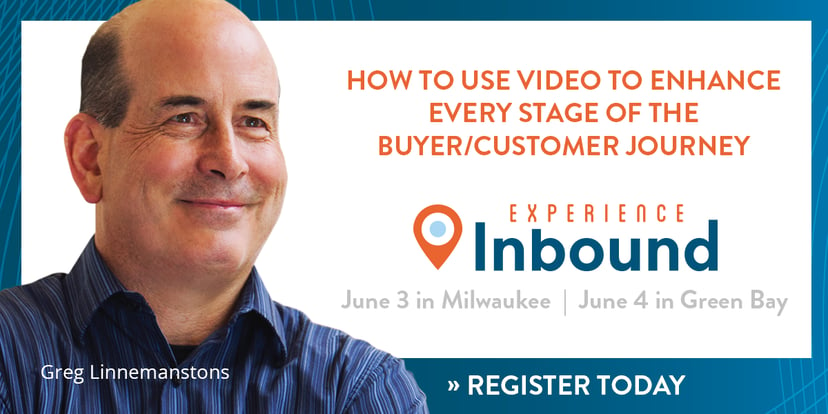 It's not a secret that video can be an effective part of your inbound marketing strategy. But for years the effort and cost required to include it in your marketing toolkit was prohibitive. Times have changed and video is more accessible and affordable than ever. Check out this video from Greg Linnemanstons, president of Weidert Group, as he gives you a sneak peek of what you will learn during his Experience Inbound session, "How to Use Video to Enhance Every Stage of the Buyer/Customer Journey."
TRANSCRIPT:
It's been well documented that people today overwhelmingly prefer video content over all other media. Whether they're learning about a new idea, investigating a process, getting caught up on new products and technologies — really anything — they want video!
In my upcoming Experience Inbound presentation at Miller Park on June 3 and Lambeau Field on June 4, I'll show you how to use video to address all of your prospects' questions throughout their buyers' journeys and continuing through their experiences as a customer. I'll give you actionable ideas for all stages of those journeys, from initial awareness to consideration to final purchase.
Attend this session and you'll learn how to use video to:
Answer prospects' burning questions
Enhance your company credibility with customer testimonials
Introduce prospects to the individuals on your leadership team
Showcase your company culture through actual team members
Walk people through a process, or demonstrate a product capability
Tell your company story through a variety of storytellers
Demonstrate product superiority or proprietary properties
Enhance new business proposals with personalized video
Communicate efficiently and enhance relationships with customers
Advances in technology have put video within every organization's budget and capabilities, and this is your chance to learn how to put it to work for your business! Join us June 3 at Miller Park and June 4 at Lambeau Field for this and many other valuable sessions. Learn more and register today at experienceinbound.com.