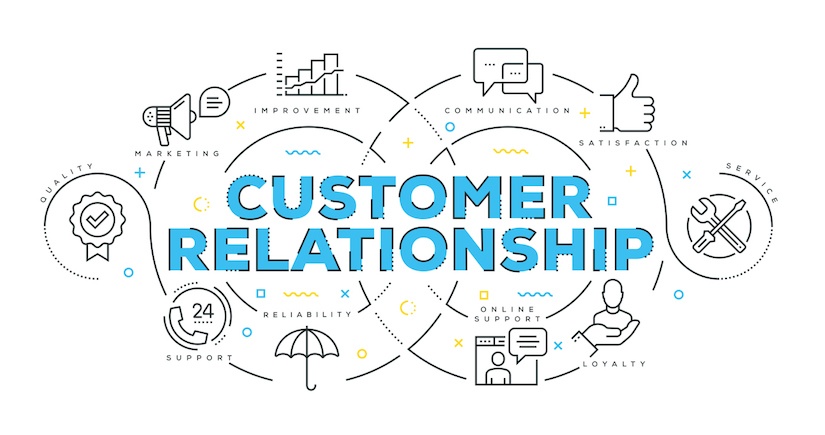 Some analysts suggest that acquiring new customers costs five times more than retaining existing ones. For manufacturers that produce highly considered goods with longer sales cycles, that figure may be even higher.
Many efforts are made on the part of sales teams to stay engaged with customers, anticipate their needs, address problems and outwit the competition in order to keep them happy and keep them coming back. Increasingly, marketers are playing a crucial role in reducing customer churn by creating better user experiences after the sale. The marketing department may not work on the production line, but it can play a major role in setting expectations and providing customer support in the following ways.
1. Create a Resource Center
Buyers of manufactured goods are following the lead of average consumers when it comes to their questions about products and services; they try to find answers on their own. Your customers may not always think to visit your website and may conduct an online search instead. If this happens, you definitely don't want them landing on the competition's doorstep because your website failed to show up or give them the information they were looking for.
To help avoid this scenario and boost your website's SEO, start by creating a frequently asked questions (FAQ) section. To truly leverage SEO and boost your site authority, however, go beyond the basics and provide detailed resources. These resources may be made available in the form of a product catalogue or operator's manual containing information on each of your machine's specs, how to use it, troubleshooting tips, warranties and more. You could also provide a complete illustrated parts listing along with corresponding makes, models and year numbers.
Providing detailed information about your products demonstrates a helpful attitude and transparency, which is refreshing for many potential buyers and existing customers. Of course, not every question can be answered through an online query, so you'll want to make it easy for people to contact you, which leads to point number two.
2. Make Support Available in Various Forms
The face of customer service has changed dramatically over the last several decades. What once took place over a phone call is now being driven by chatbots, virtual assistants, voice commands and a myriad of other technologies. Customers have come to expect service almost in real-time and at any time of day. The following advancements have helped make attentive, real-time customer service more of a reality for many corporations, both big and small.
Online Chat Support
While not the newest technology on the scene, online chat has evolved in recent years, making it easier for someone to ask a general question and get a quick answer. Many companies staff their online chat service 24/7 to ensure quicker service. Due to more advanced mobile accessibility and applications, customer service reps don't need to necessarily be tied to a service desk to field questions and can work remotely when needed.
Artificial Intelligence (AI)
Some major corporations are using chat features that rely on artificial intelligence to answer less complex questions. These features are becoming more "life-like" with each iteration, and customers may never be aware that they corresponded with a machine instead of a human.
HubSpot Service Hub
Documentation is a critical aspect of customer satisfaction. HubSpot recently rolled out its own Service Hub feature, making it easy for users to leverage this tool. Using automation and intuitive software not only helps ensure customers receive what they need; customer service representatives also benefit. The software allows documentation of issues and customer data so that other service reps can see previous service history to provide quicker response times and more consistent support. Tracking can also be made easier with the use of ticket numbers. This all leads to happier customers and employees alike.
Email
It's surprising how many companies don't prominently display a general support email address or have dedicated customer support contact information listed on their websites. While a contact form certainly can serve a similar purpose and capture user data, many people prefer the more personal method of email. Make both options available on your site and make them easy to find.
Social Media Messaging
Some industrial manufacturers discount the role of social media in their marketing strategies, which is a mistake, in our opinion. Not only can it help strengthen your brand and help with recruiting efforts, it also can serve as another avenue for customers to connect with you.
Increasingly, customers are using the messaging service of social channels, such as LinkedIn and Facebook, to make inquiries or request support. It's already a standard for many B2C companies whose customers like to keep up with their favorite brands, and it's a growing trend among B2B manufacturers as well.
3. Provide Training and Education
While there's something to be said for a good-old-fashioned conversation or email, showing an answer is often much more powerful and helpful than telling someone. This is especially true for customers who have questions about assembly, installation or retrofitting a machine or other product.
Instructional videos serve as a vital tool and should be prominently featured on your website in your resources section. Of course, in-person training and service is an option as well, but there's something to be said for the on-demand accessibility of video which allows users to do-it-yourself and feel a sense of accomplishment.
Video can answer common questions about how to use a piece of equipment and can serve as a visual FAQ session. It also can demonstrate how to troubleshoot common problems, how to clean a machine, how to check for wear-and-tear, and a host of other topics.
While all this technology can lead to greater customer satisfaction, one of the most important factors is having service reps who are empowered to take action quickly without having to get approval. Train your customer service reps and marketing staff to know how to handle inquiries, and give them the tools they need to provide the best customer experience possible.
If you need help revising your website and implementing these tools to improve your customers' experiences, reach out to us at Weidert Group. We can help you take a growth-driven design approach to improving your website to offer these features rather than doing a complete overhaul, getting you faster results that are more affordable.