Appleton, Wis. — Weidert Group, Inc., a full-service business-to-business inbound marketing agency, is proud to announce the promotion of Justin Harrison to the position of Associate Creative Director. After over two years of managing clients' website development projects — from initial scoping to final testing and training — Harrison now shares responsibility for overseeing the design strategy and execution of all current accounts and the company's business development efforts.This position is a new one for Weidert Group, with Harrison reporting to the agency's Vice President, Creative & Operations, Meg Hoppe.
"Justin has demonstrated an impressive combination of creative talent and strategic thinking," said Hoppe. "The quality of his work and the thinking behind it are hugely valuable to our clients," she added.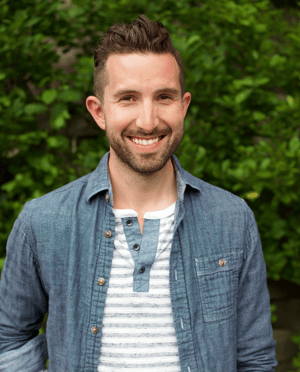 Harrison's previous title, Web Development Manager, provides insight to his background and skill set, which made him ideally suited to this new position. After graduating from UW–Stevens Point (web and digital media development), Harrison gained traditional graphic design experience at a Wisconsin Rapids print shop. He then spent nine years in Madison designing packaging and displays for a B2B company.
These professional accomplishments prior to joining Weidert Group have resulted in a well-rounded creative force. "If it's art, I'm interested. Modern digital trends are exciting, yet I still have a soft spot for print because a physical, tactile feel has its place, too," Harrison said.
The addition of Harrison's position was triggered by Weidert Group's ongoing growth and focus on meeting customers' inbound marketing needs. Hoppe added, "Justin's wide-ranging experience with all types of design helps clients establish and leverage effective inbound marketing tools across many platforms. In fact, our website growth-driven design process was spearheaded by Justin who intuitively improved upon HubSpot's platform, making it smoothly flow internally and adjusting it based on client feedback."
About Weidert Group, Inc.
Weidert Group, founded in 1980, is a full-service business-to-business inbound marketing agency that has been a certified HubSpot Agency Partner since 2011, and achieved Platinum status as a top partner in 2015. HubSpot is the global leader in marketing automation software, with over 56,500 customers in more than 100 countries. Weidert Group provides all components of an effective inbound marketing and sales effort, including web design, search engine optimization, content strategy, social media strategy and promotion, lead nurturing, marketing and sales training and process design, and overall marketing management. Clients represent primarily business-to-business organizations in complex industries such as industrial manufacturing, distribution, insurance, and financial services.