Appleton, WI (August 10, 2017) Weidert Group, a B2B inbound marketing agency and Platinum Level HubSpot Partner, has earned one of HubSpot's 2017 Impact Awards. The Sales Enablement Award is given to the agency that has made the most significant impact for its client by executing HubSpot's sales enablement services. Weidert Group helped the Gordon Flesch Company secure more than $1 million in new sales directly attributable to inbound marketing and sales enablement programs.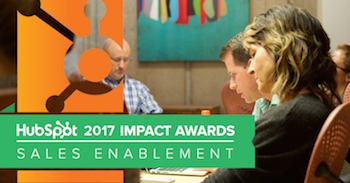 Sales enablement is the technology, processes and tools that empower sales teams to sell efficiently at a higher velocity. David McNeil, VP Global Partner Program and Strategy at HubSpot, said Weidert Group's skill and innovation in aligning its client's marketing and sales teams was worthy of recognition. "Weidert Group has set an example for how businesses everywhere should be transforming their marketing and sales with inbound. Their strategic approach to attracting, engaging, and delighting customers has not only built valuable relationships with their audience, but has driven growth for their agency and the inbound movement. Our team here at HubSpot is proud to call Weidert Group a Partner and recognize them with this award," he said.
Greg Linnemanstons, Weidert Group's president, says credit should also go to the client partner that took advantage of sales enablement. "The Gordon Flesch Company saw the potential for sales enablement to transform the relationship between their marketing and sales teams. These two teams generate far greater results when there's alignment and shared goals, and when they use the right tools for turning qualified leads into customers. With their teams aligned, the Gordon Flesch Company generated more than $1 million in new sales directly attributable to the inbound marketing and sales enablement programs we helped them implement," he said.