Appleton, Wis. — A little more than four years after purchasing and moving into their new office space, business growth is forcing Appleton, Wis.-based Weidert Group, Inc. to move into a larger facility. "When we moved in 2014, we employed 11 people and figured we were set in our new space for 10–15 years. We simply didn't anticipate the kind of growth we were going to experience," said Weidert Group president, Greg Linnemanstons. "By the end of 2017, revenue had grown 170% and our staff more than doubled! So, last year we put our building on the market and started looking for our next home."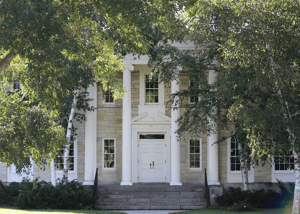 Weidert Group will move to its new location by October 1, 2018 — a building formerly known as the Kimberly Library on the old Institute of Paper Chemistry Campus, located on East South River Street in Appleton, Wis. Initially, the company won't take up all the available space in the new location but, with future anticipated growth, it expects to eventually occupy the entire building which represents more than three times the space they're currently in.
In addition to the office move, Weidert Group announced staff promotions and new hires triggered by business growth. Four key members of Weidert's leadership team were promoted as part of a reorganization that recognizes the importance of their respective accountabilities.
Meg Hoppe, formerly serving as creative director, was promoted to Vice President, Creative and Operations. Hoppe joined Weidert Group in 2000 as a copywriter and has been a shareholder and a member of the leadership team since 2003.
Michelle Reindl, formerly business manager, was promoted to Vice President, Administration, and is responsible for finance and human resources. Reindl joined Weidert Group in 2003 and has been a shareholder and part of leadership since 2013.
Nicole Mertes, formerly director of business development, was promoted to Vice President, Client Services and Business Development. Mertes joined Weidert Group in 2015, and has been a shareholder and part of leadership since 2016.
Frank Isca, formerly a senior inbound consultant, was promoted to Inbound Strategist. Isca joined Weidert Group in 2008, and has been a shareholder and part of leadership since 2013.
Amanda Retzki, formerly an inbound specialist, was promoted to Inbound Consultant. Retzki joined Weidert Group in late 2016 after starting her career with Saint Mary's Press in Winona, Minn.
Kelly Wilhelme, formerly an inbound consultant, was named as Weidert Group's new Marketing Manager. Wilhelme started with Weidert in 2015 as a project manager, and has been a consultant for nearly three years.
Weidert Group also announced the hiring of two team members to fill newly created positions. Cory Retzlaff joins Weidert as an Inbound Consultant, while Stephen Fischer comes aboard as an Inbound Specialist. Both men bring with them impressive track records and professional accomplishments. Retzlaff helped Werner Electric achieve explosive growth during his nearly 20-year tenure with them, resulting in their recent Fox Valley facilities expansion. Fischer most recently served concurrently as digital marketing specialist for Exactech, Marine Travelift, Inc., and Shuttlelift, all Sturgeon Bay-based businesses sharing common ownership.
"Everything we're announcing today — from the new office location, to the promotions, to the new hires — is a direct result of the incredible growth we've experienced and the opportunities we see that will likely continue our trajectory," said Linnemanstons, "We're confident these moves will position us as an employee-owned business that continues to help our clients outperform industry peers, while giving us the horsepower to do likewise."
About Weidert Group, Inc.
Weidert Group, founded in 1980, is a full-service business-to-business inbound marketing agency that has been a certified HubSpot Agency Partner since 2011, and achieved Platinum status as a top partner in 2015. HubSpot is the global leader in marketing automation software, with over 48,000 customers in more than 100 countries. Weidert Group provides all components of an effective inbound marketing and sales effort, including web design, search engine optimization, content strategy, social media strategy and promotion, lead nurturing, marketing and sales training and process design, and overall marketing management. Clients represent primarily business-to-business organizations in industrial manufacturing and related services, financial services, insurance, A/E/C industrial services, and industrial distribution.