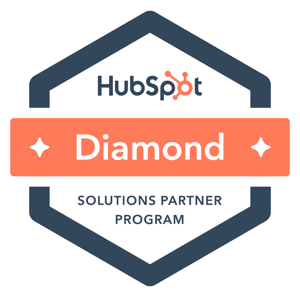 APPLETON, WI, April 2020 – Weidert Group, a full-service business-to-business inbound marketing agency, announced today that it has earned the title of Diamond Solutions Partner from HubSpot, the world's leading marketing, sales, and service automation software.

A certified HubSpot partner since 2011, Weidert Group becomes the 33rd inbound solutions partner in the U.S. to achieve Diamond tier status, and is the first and only inbound agency headquartered in Wisconsin to earn that elevated distinction. HubSpot Diamond Solutions partners are among the most visible and influential within the global HubSpot community, regularly collaborating with HubSpot product developers and strategists on cutting-edge capabilities and technologies that impact business growth.

Greg Linnemanstons, president of Weidert Group, described the HubSpot Diamond Solutions Partner designation as both an achievement and a responsibility. "It's well-earned recognition for our team and the hard work we've done to earn our place among 32 other talented inbound agencies. The Diamond designation also challenges us to deliver on an even higher set of client performance expectations. At the same time, our clients will also benefit through our increased visibility and even better access to HubSpot thought leaders responsible for innovations that drive products, services, technical support, and ultimately our clients' success."
About Weidert Group, Inc.
Weidert Group, founded in 1980, is a full-service business-to-business inbound growth agency that has been a certified HubSpot Solutions Partner since 2011, and achieved Platinum status as a top partner in 2015. Weidert Group provides all components of effective inbound marketing, sales, and customer service efforts, including web design, search engine optimization, content strategy, social media strategy and promotion, lead nurturing, voice of the customer programs, marketing and sales training and process design, and overall marketing management. Clients represent primarily business-to-business organizations in complex industries such as industrial manufacturing, distribution, insurance, and financial services.
About HubSpot
HubSpot is a leading growth platform. Since 2006, HubSpot has been on a mission to make the world more inbound. Today, over 73,400 customers in more than 100 countries use HubSpot's award-winning software, services, and support to transform the way they attract, engage, and delight customers. Comprised of Marketing Hub, Sales Hub, Service Hub, and a powerful free CRM, HubSpot gives companies the tools they need to Grow Better. HubSpot has been named a top place to work by Glassdoor, Fortune, The Boston Globe, and The Boston Business Journal. The company is headquartered in Cambridge, MA with offices in Dublin, Ireland; Singapore; Sydney, Australia; Tokyo, Japan; Berlin, Germany; Bogotá, Colombia; and Portsmouth, NH. Learn more