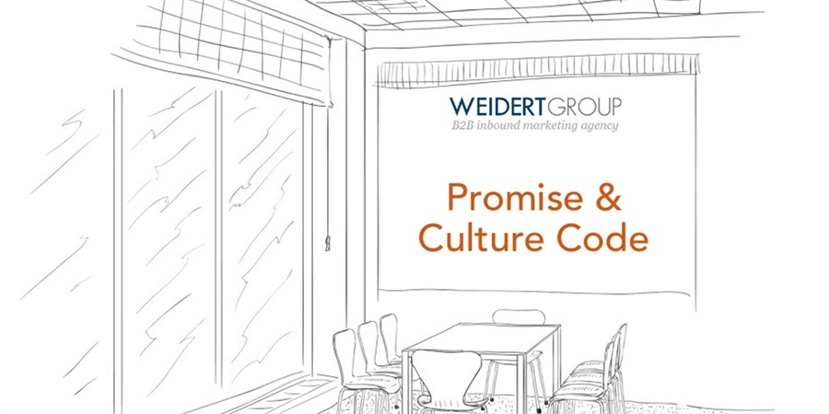 Weidert Group is defined by its service and promise to our clients. Today, we're proud to release the first-ever Weidert Group Promise & Culture Code. The code is a living document for our company—describing who we are, how we work, and what our promise is to our people and our clients. In the SlideShare and video below (see transcript), learn about how our culture is unique, why we built the Weidert Group Promise & Culture Code, and where we see it taking us in the future.
View the video within the SlideShare below.
You can view "Inside the Weidert Group Promise & Culture Code" on YouTube here.
Video produced by: Tatiyana Jenkins

Greg Linnemanstons (President, Weidert Group): The theory is that a culture code will help attract new people, new leads, and public attention by giving people a promise about what they can expect.
It was important to do the Culture Code because talent is so critical to Weidert Group, and attracting and keeping talent means you have to put a stake down about who you are. Because if we want to attract the kind of people who are good fits for us, we had to get better at articulating who we are and what we're about.
Stephanie Czajka (Project Manager): The culture code just gives people the ability to have their voice heard, and I think, in a smaller company like Weidert Group, it helps us employees make ourselves heard. In the development of it, we all came together as a group, and I think for myself personally, it's a strong reference point to go back to.
Jamie Cartwright (Marketing Manager): A lot of what made me see myself at Weidert Group was the kind of culture that goes on here—that we have here.
We all have a very strong sense of trust here at Weidert Group—that we're actually all very much on the same page. And I think that comes through in the Culture Code: that there's a lot common ideals that we all agree on.
Stephanie Czajka: I think that we all got input and say in the Culture Code, and I think that was very obvious. It wasn't just like "these are the rules; you have to follow them." It was more: "How do you want the company to be?"
Greg Linnemanstons: So, we wanted to be able to communicate what we're about, what our values were, how we worked, what our commitments were to our people, and we felt like we've built our good culture, and the Culture Code gave us a way to talk about it.
Stephanie Czajka: I think that the Culture Code is definitely actionable. I think that it unites the group, and helps us all to think of innovative ways to better our company and better ourselves.
Greg Linnemanstons: It's equal parts: This is how we're going to behave with each other and this is the kind of place we want to have. But it's also: This is how we're going to work, and this is what we expect from each other. And, what we promise others can expect from us.
Jamie Cartwright: And so, that really means that all of our staff members are trying to stay up-to-date on the latest information on the industries we serve, the latest technology in inbound marketing, and the latest best practices.
Greg Linnemanstons: As we grow, as we become more diverse in our capabilities and our make-up, I expect that the Culture Code is going to evolve, and be an organic, dynamic set of principles for us.