If you've been with us for a while, you might have noticed a few months back (September 20, but who's really keeping track?) that we launched a new site. If you're interested in what it took to get our launchpad site off the ground, you can check out Justin's recap here. But today we want to share two of our biggest takeaways from Weidert Group's first round of the continuous improvement cycle.
To back up a bit, the continuous improvement cycle is what happens after your launchpad site is live. It's a set timeframe (ours is 4 weeks) during which you go through four steps: Plan, Build, Learn, Transfer. We're going to talk about our two biggest findings during the Learning phase and explain how we transferred what we learned into our next continuous improvement cycle plan.
Learning #1: Users were Clicking on Specific Words to Learn More
One thing we noticed from our HotJar data was that people were clicking on specific words in the body of text on the pages, like on the About Us, Consultation Request and Pricing Pages. We took that as a sign that those people wanted to learn more about that specific keyword, so we either elaborated on that topic or hyperlinked that word to another page that explains that topic further (based on the context of the body that keyword was in). This way, the visitor is able to continue learning and he or she has the opportunity to stay on our website longer, so it's a win-win!
Learning #2: Form Placement is Critical
When we were building our Inbound Marketing pillar page, we didn't take into consideration that if we put a form at the top of the page, visitors would think that in order to access the content, they'd need to fill out the form first. You can see below that most people were jumping off the page right when they saw that form – they didn't realize that they could simply scroll past the form field to get to all the content.
Our solution was to move the form below the topic tabs. This way if visitors want to download the content they can, but they also know that they can access it all without submitting to a form.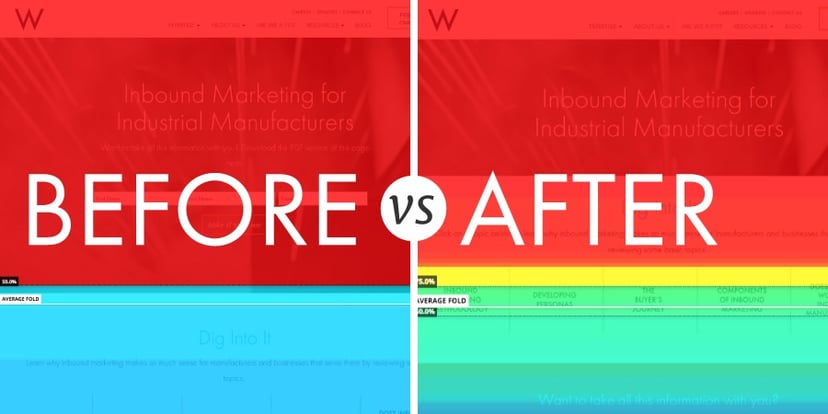 We're continuing our C.I. cycles and, as we learn more, we'll keep sharing the knowledge. In the meantime, if you're interested in growth-driven design, download our GDD ebook to learn more about the process and how to implement it.