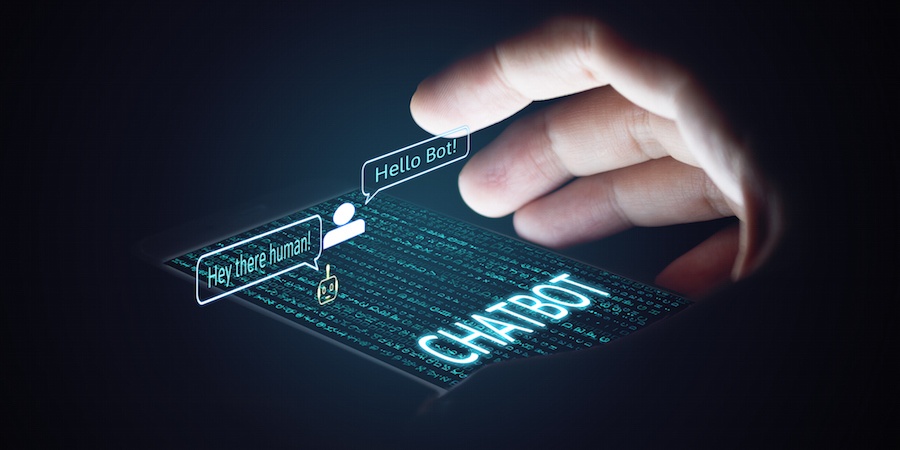 In early March, I came across an expansion pack called Cats Against the World for one of my favorite games, Cards Against Humanity, a party game for horrible people. Upon checking out, I was asked if I wanted to receive information about my order through my Facebook Messenger app. Since I check Facebook more often than my email, I checked the box.
After a few weeks, I still hadn't received my order. I wanted to contact the company to see what was up, but it was late and surely past business hours. I was just about to put a reminder in my phone to call during my lunch hour the next day when I remembered the company sent my order confirmation via Facebook Messenger. I immediately responded to the initial message and anticipated a response within the next day or so.
My exchange went as follows: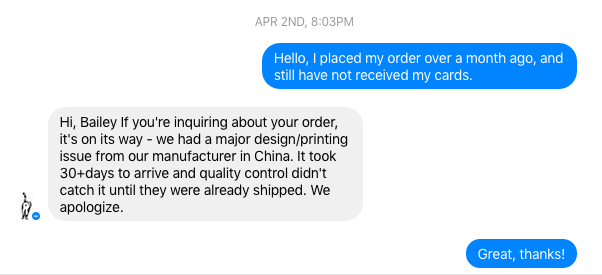 I was pleasantly surprised to immediately receive a personalized response that both answered my question and provided an explanation for the delay. I didn't have to wait for business hours to inquire about my order nor wait for a response. I'm sure my conversation was with a bot, but I instantly received a personalized answer to my concern at my own convenience on an application I frequently use—an experience I couldn't have had just two years ago.
What Exactly are Chatbots?
Chatbots are Artificial Intelligence (AI) programs that simulate conversations with people, often prospects and clients, to answer their questions and concerns. Chatbots utilize rules to respond to certain commands with scripted responses as well as artificial intelligence that allows the bot to gain knowledge and adapt over time.
Chatbots are most commonly seen in two forms: virtual assistants and messenger apps. A virtual or digital assistant is a form of artificial intelligence (AI) that is, according to Tech Target, an application program that can understand natural language and complete electronic tasks for the end user. Messenger apps, on the other hand, are applications where bots respond to discussions led by humans. This blog post is focusing on messenger apps, which could be your own company's messenger app, a messenger app on your website, or an app you build through a popular social media platform, like Facebook Messenger, Slack or Telegram.
How are Chatbots Relevant to Inbound Marketing?
A major part of inbound marketing is creating useful content for prospects who are seeking answers to specific questions. Regularly publishing blogs and advanced content is crucial to being a resource to these prospects, but at the same time, they can be limiting. If the prospect has further questions or concerns, they either have to move to another blog in search of the answer, potentially causing them to bounce from your website, or wait until you're available to respond during limited business hours.
Additionally, according to Chatbot Magazine, this is the first time that messaging apps are being used more than social media apps, which is HUGE!
How Could B2B Companies Benefit from Chatbots?
Increased engagement: Even more than clicking through your website and leaving feedback, chatbots foster a back and forth conversation, rapidly increasing engagement and the exchange of valuable information between the prospect and your company.
Convenience and efficiency: Chatbots are always available to clients for their 3 a.m. questions with immediate responses, and they are constantly gathering and analyzing data for you to review so you can subsequently apply new tactics to your marketing strategy.
Smooth transitions from marketing to sales: Chatbots are able to ask questions and, based on the answers received, qualify prospects and send them directly to your sales team.
Simplified payments: Some chatbots, like those on Facebook Messenger, even have the technology for customers to pay within the app rather than having to navigate to your website or payment page.
More data points: Conversations between your prospects and a chatbot are sure to generate a wealth of information including their interests, complaints, commonly used words and phrases, FAQs, times they are online and much more.
Personalization: Chatbots have the ability to personalize their conversations, just as you would on the phone or email. Check out why personalization is so important for marketers here.
For examples of how companies are using chatbots, check out this article from MobileMonkey.
Common Concerns
1. Security
If you decide to join the chatbot bandwagon, do make sure your chatbots are safe, secure and encrypted. Your chatbot should continuously evolve and improve as technology becomes more complex.
2. Are Chatbots Going to Replace Humans?
The chatbot technology is still in its early stages, and it hasn't quite grasped the nuances and colloquialisms that a real human would use. However, they are a great resource for prospects and clients who want to learn more about your products and make a decision. They're also useful for companies that want to learn more about what their prospects are looking for and inquiring about.
3. How Does a Bot Know How to Respond to Complex Questions?
Well, the fact is, bots are currently fairly simple in design. They are based on a set of rules and functions using machine learning, and only function and respond as well as the designer intends for it to. Therefore, if a question is too complex for the bot to understand, it may require the person to rephrase their question, which can be frustrating for users. For the most part, though, bots are pretty great at accurately responding to specific inquiries. Also, you have to take into consideration that bots get smarter as more people interact with them—they gain data, and their developers evolve them to communicate more efficiently and conversationally.
The Future is Chatbot
The way that chatbots are growing in popularity and contributing to the user experience (UX), we're likely to see a significant increase in their use in the coming months and years. B2C companies, like Cats Against the World, Lokai and Charity, and Burberry, have rapidly been joining the chatbot trend, but there's no reason B2B marketers shouldn't be doing the same.
Technology around chatbots has great potential to improve UX, simplify decision making, boost productivity, acquire more useful data and even break down language barriers. Remember that chatbots are in the early phases of development, so we're still not sure of all their capabilities. Considering current trends and popularity, it may be well advised to consider the use of chatbots before your competitors beat you to it!
Still unsure about the chatbot trend? Check out BotList and Chatbots Magazine to see what new bots are trending and how various industries are using them.